The Branding of a company is very important and it gives the first impression of your company to the customers. The design of the brand gives the judgment about your business and thus it should be very memorable and attractive. A professional branding or logo leaves a good image about your concern and also results in a great impression about the business. With today's modern trend, you can design various creative and elegant designs for your brand name which leaves the potential customer to identify your company immediately.
The Brand is much more than the name of the company or its logo. It is the combination of all the experiences and impressions of a concern which includes the public relations, vendors, employees, customers or the communities. There are efficient people who represent the image of a company behind every good brand. When the expectations of the customers are met by the company, the loyalty of the brand is automatically developed. Thus, it is very important to focus on the design of the Brand name which should be descriptive about its services or products, memorable, short and attractive.
Before designing the brand, decide if it is going to be used on business cards, website, CD's, clothing's or printing materials, stickers, pens, on the products sold, or on any social network. Thus, plan accordingly and choose the appropriate designs or colors for your brand. Create a powerful logo with graphic design for your brand name which should speak about your business. It should be bold and distinctive and should be able to advertise about your company. A Tag line is also important for a Brand which could express the benefits of your concern and could leave an impression in the minds of the customers.
The important elements in a Brand design are the logo, names, tag lines, trademarks and packaging. The brand of the company mostly attempts the customers to purchase the products or services. Therefore, the name of brand also plays a major role in the success of a business. There should be a life in your Brand designing with a good combination of the color, visual appearance or style, name, topography, intensity and the size. Appropriate usage of these elements will provide uniqueness to your brand. You can also use a hired professional to create your brand design to make it more memorable.
Branding & Corporate Identity Designs
Artisan by David Weik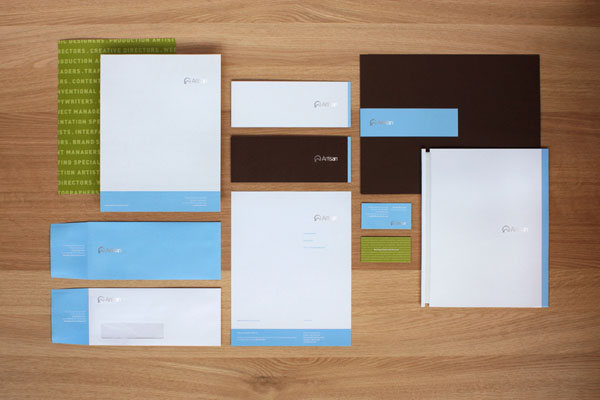 The author was inspired by a slogan of the company 'Matching Talent with Success'. Thereby he has skillfully married up businesslike atmosphere and refined artistic vibe. The design has an ample open space and utilizes elegant typography. The color scheme is neutral and formal and greatly contributes to the general feeling.
Corporate Identity Persona Optimus by True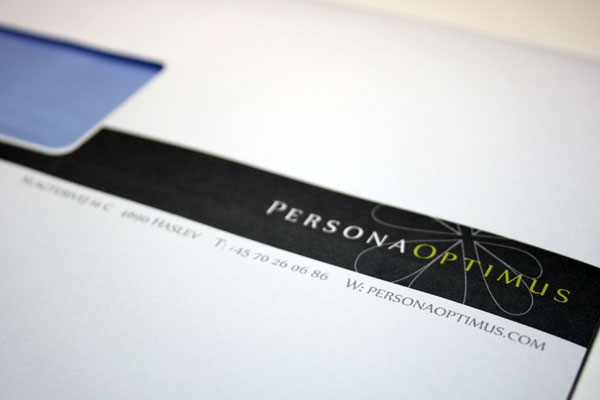 Corporate Identity Persona Optimus by True also has a tidy and slightly ornate design that is overfilled with plenty of fresh air. In such an environment the content always stays in focus, giving priority to the vital information. Nice touch of delicate vector flower that marks business cards and some other stationery items adds a beautiful note of naturalness.
Business Cards and Post Cards by Alan Murphy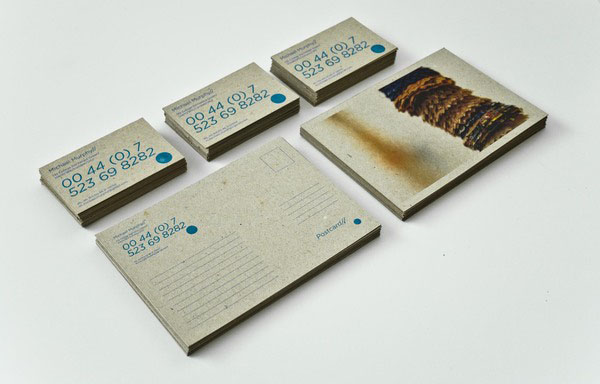 What catches the eye is a material used for printing. Rough and raw cardboard nicely plays with a gentle cyan color and simple typography. Although the copy in some cases is a bit seamless yet the overall design is harmonious and original and is easily scannable.
Jorge Galvez Identidad Corporativa by Eddy Ortiz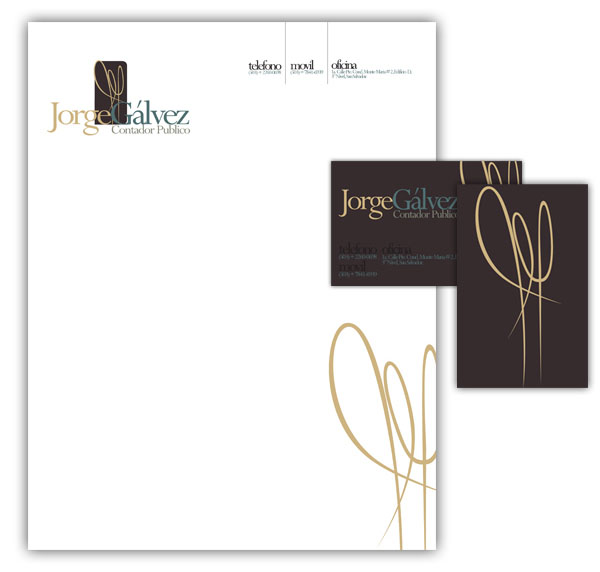 The artist leverages both black and white to deliver a pleasant impression. The classic color choice goes well with some elegant decorative elements and subtle typeface. The content is densely packed together so that every item of brand identity has a strong open feeling that unobtrusively focuses the attention on the key points.
Deformedia New style by Nazir Khasavov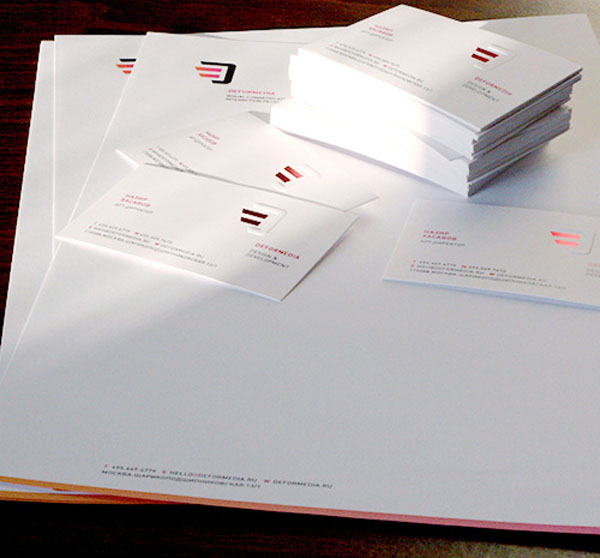 Deformedia New style by Nazir Khasavov is another project that prefers utilizing plenty of white space. It includes only vital information and logotype. Clean white backdrop exudes an image of perfection and completeness. The bright relatively huge stripe that dissects one of the sides of the booklet is a lovely twist that complies with the theme and links some mockups together.
altreforme by jekyll & hyde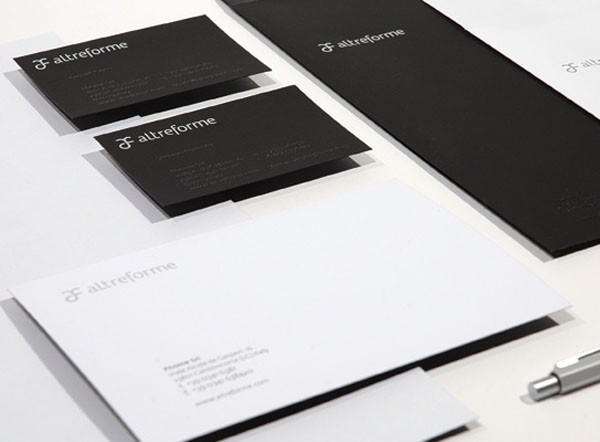 altreforme by jekyll & hyde is charged with high-tech and automotive vibes that harmoniously co-work together. By getting the most out of black and white color palette, the designer is managed to use contrast and a luxurious appeal to match the tone of a company. A considerable amount of white space strengthens the impact.
Various Branding Projects by Ebru Yildiz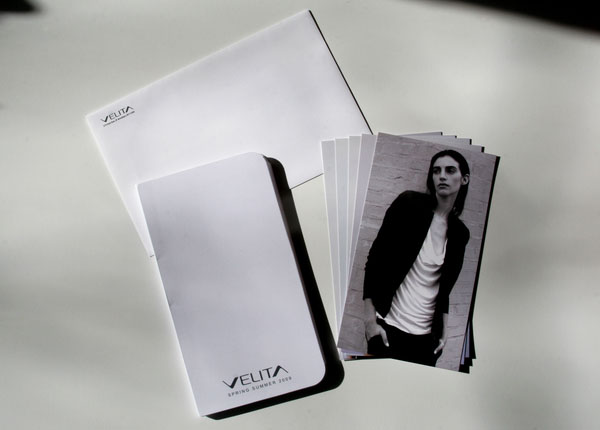 The author demonstrates several favorite projects. Here you can find monochrome solutions that rely on open feeling and carefully arranged content; a vibrant design that is based on bold coloring; examples with letterpress touch or photo background. All of them have a high quality and meticulous attention to details.
Salon Ziba Branding by Martin Fitzpatrick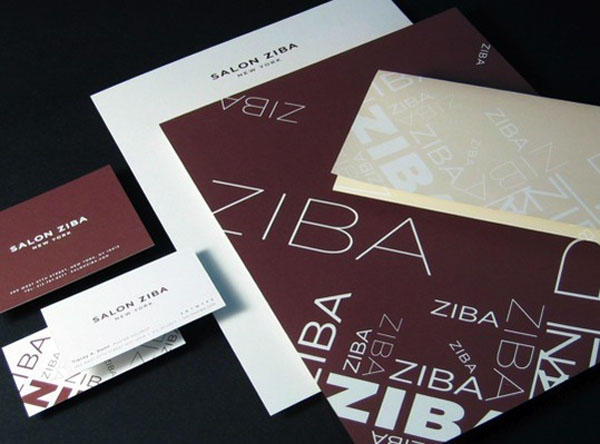 Here typography treatment steals the show. The artist skillfully utilizes several matching styles of the font to create an original and functional background. Although the project is targeted at a female audience, yet, there is no lavish decorations that can scare away. The primary color palette is also quite neutral and universal.
Select Miriello Identities by Miriello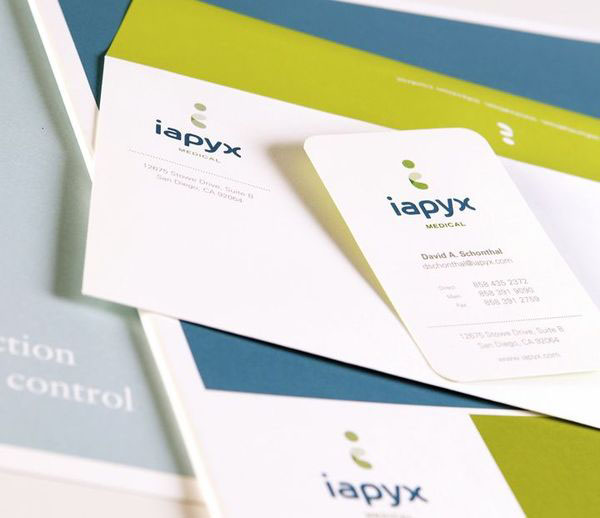 This is another selection of brand identity projects. From dynamic and vivid to elegant and sophisticated, the artist had an opportunity to work in various areas. Here, you will find some interesting solutions that can give you a spur. Some of them go for a modern and contemporary look while others prefer deriving benefits from the retro style.
B&R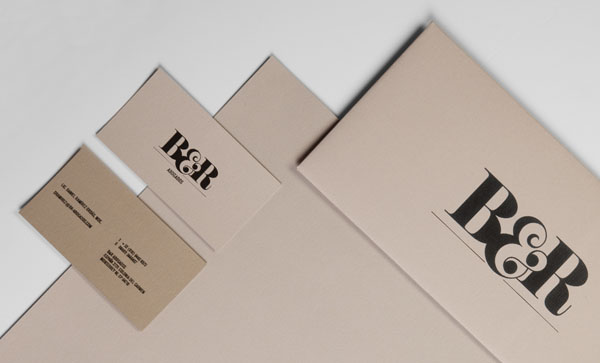 B&R is a professionally crafted corporate identity. It sheds the light on the company in a simple yet eye-pleasing way. Although the stationery items can't boast of impressive appearance or gorgeous coloring, however namely minimalistic approach gives it a cutting-edge feel and separates it from the others. The author uses only vital elements such as logotype and contact information.
Norton sons by moving brands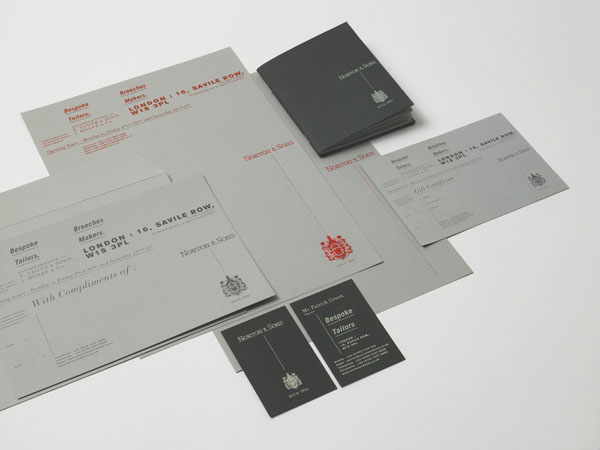 The design dishes up information in a clever and attractive way. Everything is neatly arranged and structurized. The team employs possibilities of typography to lay emphasis on required data without cluttering the design. Black, red and white are three main tones that are used to meet the company's image and create an appropriate aesthetics.
ITI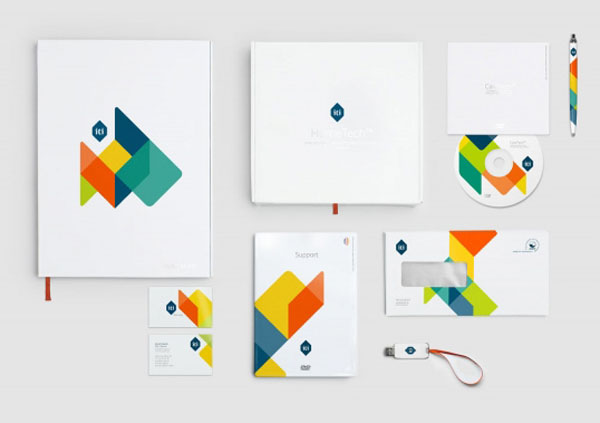 ITI is marked by a splash of bright colors that forms a visually-interesting intricate shape. Lots of white space, geometric vibe, and conventional arrangement let show freedom, variety and enormous potential inherent to a company. Each item looks friendly and a bit playful.
Moller/Holm by Jesse Mallon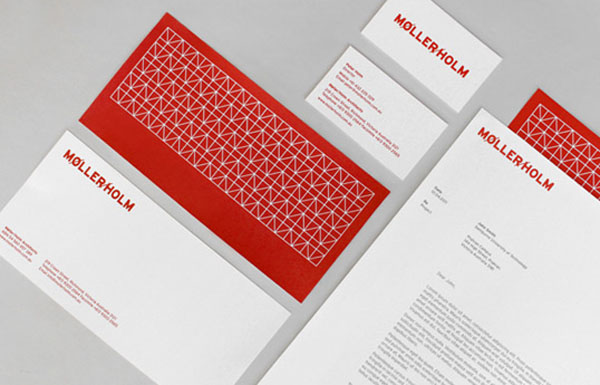 The two-tone coloring can do wonders, and Moller/Holm by Jesse Mallon is a vivid proof of that. The author demonstrates how to take advantage of challenging red and bored and overused white and create an outstanding brand identity design that reflects the heritage and has a touch of elegance.
Wallas by BURO UFHO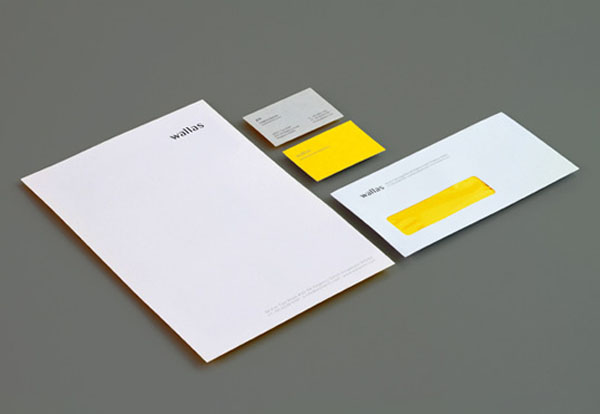 Wallas by BURO UFHO reaps benefits from the minimalist, including just vital elements, so as the name of the company and a small fragment of corporate information. Nevertheless, the solution creates enough aesthetics to compliment the brand identity and right feel for the potential clients. Yellow color adds extra freshness and energy.
Sam Tootal by Manual goes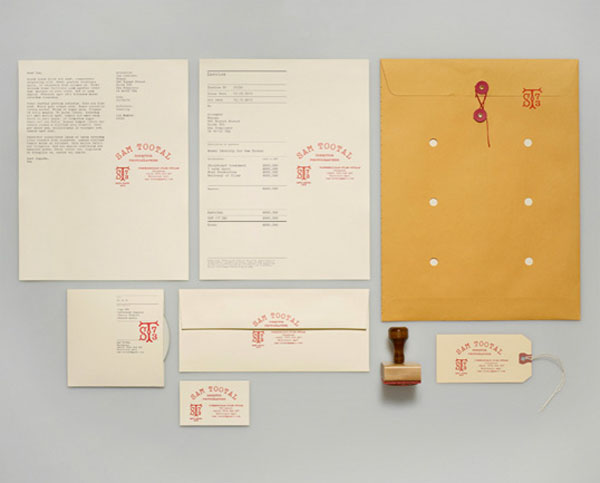 Sam Tootal by Manual goes for a subtle vintage feeling. Typography, an arrangement of the content and gorgeous logotype, together delivers the unforgettable first impression. Letterpress effect, natural materials, twine, stamp-like decor reinforce the effect.
Berg and Berg by Heydays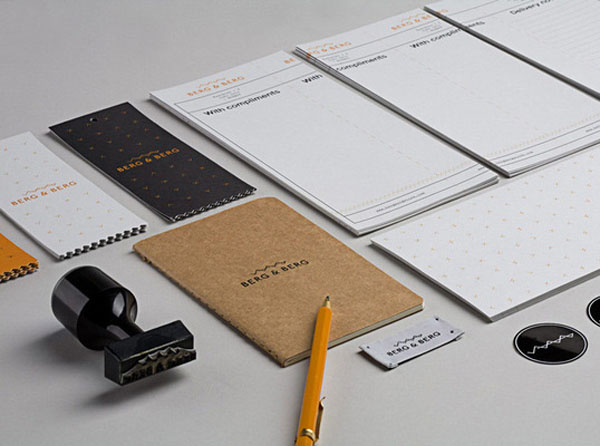 The team has done an excellent job of developing a full visual identity. Using handcrafted stamps, high-quality paper, and complementary natural materials, it is managed to create a top-notch project. Beautiful patterns, quite neutral color palette, well-thought-out amount of white space and modular system create a fantastic experience with personality and charm.
Perrine's Wine Shop by Alvin Diec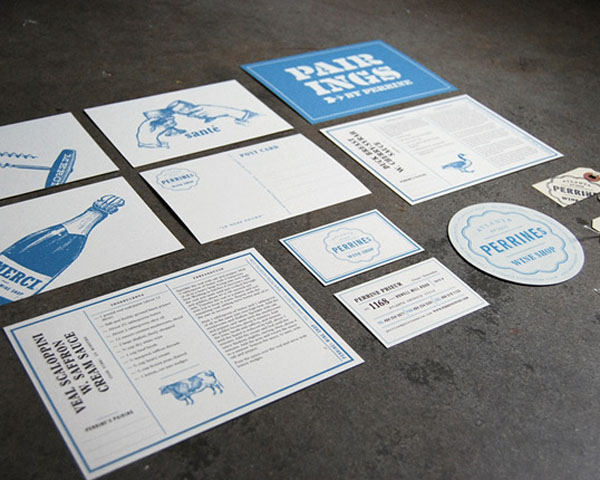 The project is filled with passion for food and wine. Although the color scheme is not characteristic for such type of companies since blue is usually associated with other spheres; however, it adds a certain zest. Moreover, it fits the vintage graphics, illustrations and black color used for displaying copy. The design has a structure and an artistic atmosphere.
Fast Eddie's Barber Shop's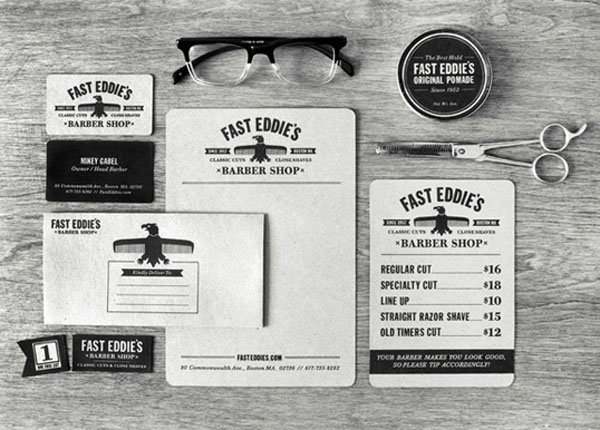 Fast Eddie's Barber Shop's brand identity has a distinct sense of hipster style and masculine spirit thereby producing marvelous and matchless general feeling. Inspired by traditional American barber shops, the project gets its beauty from Gothic typeface scanned from a book, iconic eagle illustration, black and white coloring, and robust layout.
Fruita Blanch by Atipus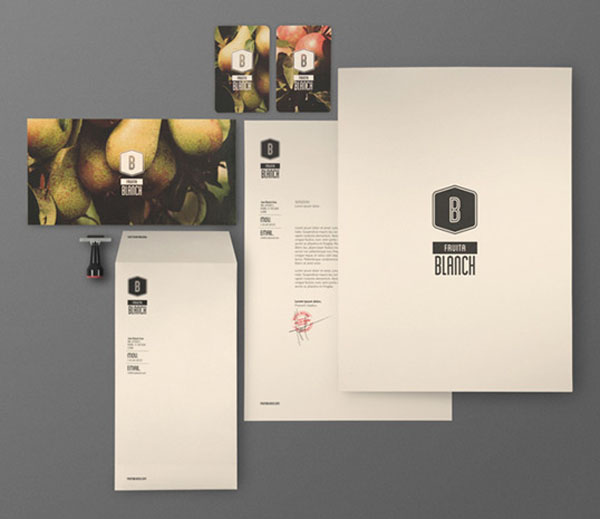 Fruita Blanch by Atipus imparts an impression of purity, naturalness, and professionalism. From logotype to typeface, the team has crafted every tiny detail. Photo background blends into the overall design, complementing the logotype and enriching the aesthetics. In some cases, mockups feature information that is neatly arranged in a column and placed on the left side, while in others there is only a blank paper with a logotype that identifies the company.