The @font-face allows the web users to download a specific font from the internet and can install them on your computer. There is no necessity that the web designers need to stick to a particular set of fonts that are already available, they could just choose and download any type of fonts from the webpage. Of course, there are a handful of fonts available on the web but however, the CSS rule of @font-face offers the simplest, strongest, and the most flexible designs of the fonts. Also you need to check which fonts can be legally used and that could be freely accessed.
The fonts are quite easy to use and do not depend on the Java Script as well as supported by majority of the web users. There are few important things that are needed to be considered while downloading the fonts such as caliber, resolution, aesthetics and size. It is advisable to use the fonts that are above fourteen points so that the content is clearly visible to everyone.
In case you are working with digital devices, the resolution must be 72 dpi and 96 dpi resolution for the Microsoft monitors. You need to be very cautious about this aspect because if you download 96 dpi to a 72 dpi monitor, it may look larger when compared. In case the content is for computers and digital devices, try to choose Sans Serif Fonts. Avoid fonts that are too ornamental or that have striking colors or overlight backgrounds because the users may not be able to rescale it. Most of the fonts available at @font-face are licensed and compatible for commercial projects.
The @font-face was created years ago but it was supported by the browsers only recently. You can embed beautiful fonts from here and has the following extensions like *.eot (Embedded Open Type Microsoft), *.svg Scalable Vector Graphics (XML web graphics iPhone), *.woff Web Open Font Format (Mozilla), and *.ttf standard TrueType font. You can start using these fonts as a web designer, your life totally changes and becomes easier and it also gives a better impact towards your career. For better communication and designing, the complete knowledge about the fonts is truly essential for the web designers.
Free Fonts for @font-face
Aaargh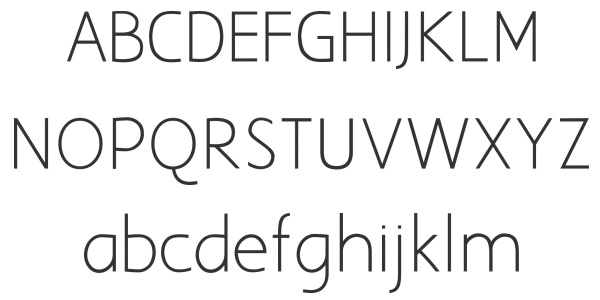 Aaargh by Tup Wanders is a classic sans serif font whose beauty lies in functionality since it is an ideal choice for displaying long copy. It has just one style (regular) and 129 glyphs that are presented in uppercase and lowercase. Although the number of glyphs is not impressive, yet, it supports various languages from English to Swahili and Zulu.
Afta Sans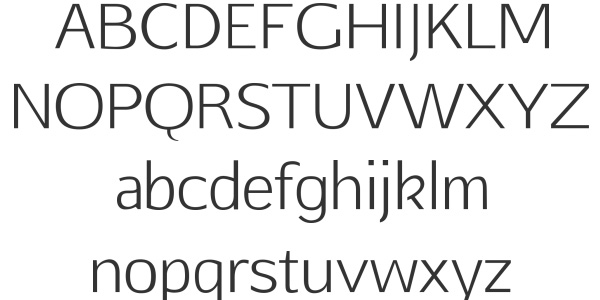 Afta Sans comes with 219 basic glyphs and two common styles (italic and regular). Its smooth lines make it look elegant and delicate though it remains sharp and legible when it comes to showing the content of different length. It speaks numerous languages: Danish, Dutch, English, French, Italian, Swedish, and others. Note, it is available under OFL license
Amaranth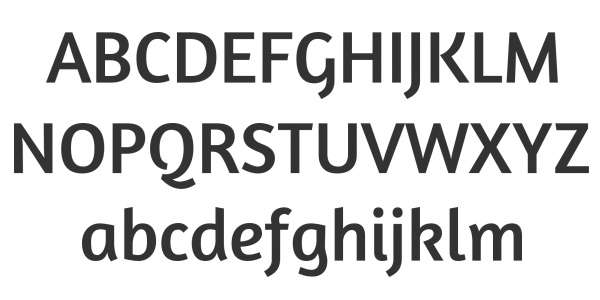 Amaranth has a more weighty and solid look in comparison to the previous two examples. It has roots in Sans Serif type family so that it is widely used to display text on the browser and mobile screens. It ships with four styles (regular, italic, bold and bold italic) and more than two hundred glyphs covering alphabet symbols and punctuation marks.
Lacuna Regular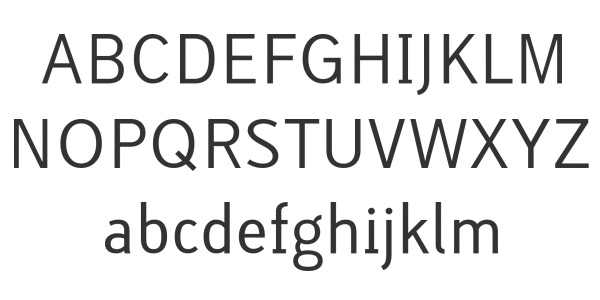 Lacuna Regular is chic and graceful thanks to visually blacker type color, a feature that is inherent to sans serif fonts. It works equally good whether you employ it to show copy or headlines. It has two options: regular and italic and contains a total of 236 glyphs, including syntax symbols and alternate characters. You can write in Latin-based West and Central European languages.
Nobile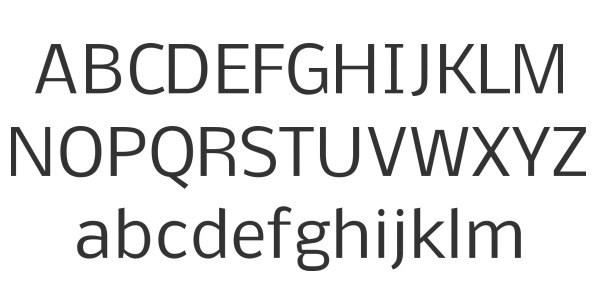 Nobile has a subtle artistic flavor that enriches appearance of this vivid representative of sans serif family. It is delivered in six styles: regular, italic, medium italic, bold, bold italic. A number of glyphs vary from 344 to 490, so that it is quite universal when it comes to displaying copy and a bit limited when it is needed to set titles apart from the content flow. It supports a ton of languages including Czech, Turkish and Belarusian.
Artifika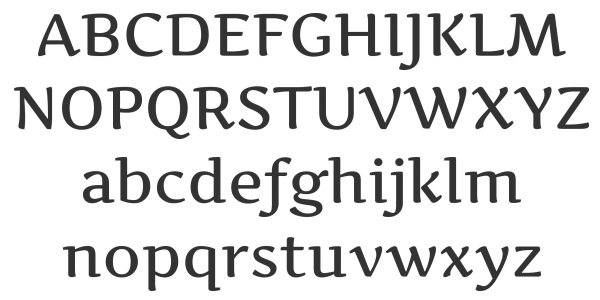 Artifika is classified as a traditional Serif font with beautiful strokes that add an extra elegance and chic to the letterforms. It is presented only in a medium style that thanks to relatively thick lines are suitable for decorating headlines and giving a small copy more visual weight. There are 258 symbols covering integral characters, punctuation marks, and alternative uppercase letters with sleek swashes.
Droid Serif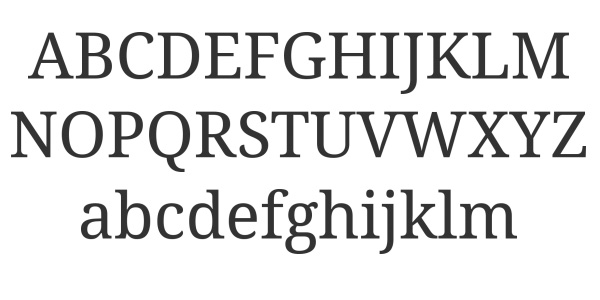 Droid Serif is a marvelous typeface that has a subtle high-tech vibe that was created to meet Android platform. It is available in four styles from regular to bold italic and includes more than eight hundred symbols including such integral and functional items as the alternative alphabet, digits, punctuation marks, and even Cyrillic symbols in uppercase and lowercase to speak Eastern European languages.
EB Garamond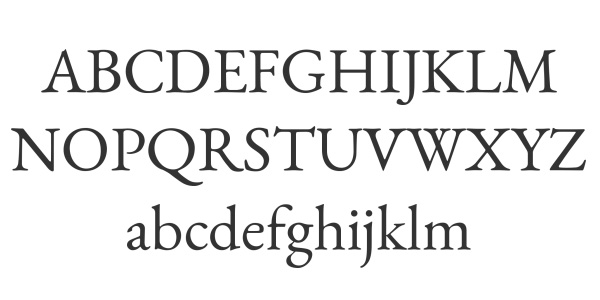 EB Garamond is a revamped version of the popular typeface of the 16-mid century. A scan of a specimen served as a source for this reproduction. George Duffner has crafted this type with love. It comprises seven styles that can be broken into two categories: regular and italic. Some options include more than two thousand glyphs, while others offer more than three thousand symbols, thereby making the typeface a universal tool for displaying text of any kind and any length.
Galatia SIL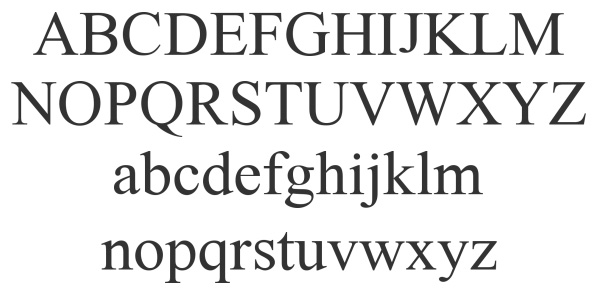 Galatia SIL is a serif typeface that is appropriate for providing content with a structured and well-formatted look as well as improving readability of the project. It comes only in regular and bold variants, however, it is sufficient to fulfill its primary task. It has 709 symbols that let co-work with various languages of Eastern and Western European groups.
DejaVu Sans Mono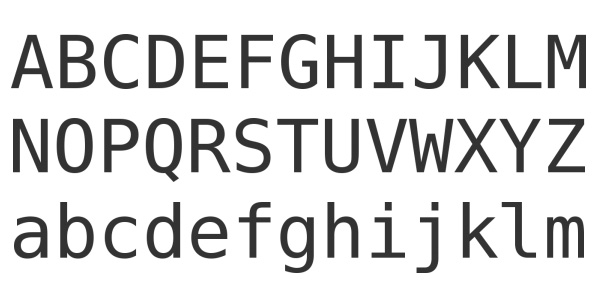 DejaVu Sans Mono is a generic monospaced sharp Sans Serif typeface that has a tech feeling. It gets its neat, original appearance as well as subtle beauty from Bitstream Vera Font. It comes in four styles and a bunch of glyphs that let express thoughts in all sorts of languages covering Cyrillic and Latin writing systems.
Hattori Hanzo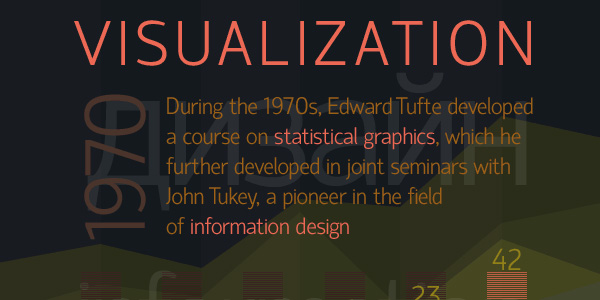 Although Hatori Hanzo is one of Sans Serif representatives, yet it does not look boring at all. It is marked by delicate and refined lines that create smooth and delicate letterforms. There are ultra thin light version and an italic version with a beautiful calligraphy appeal. Roman Shamin has crafted 223 glyphs that are suitable for typing in different Latin-based languages.
Cicle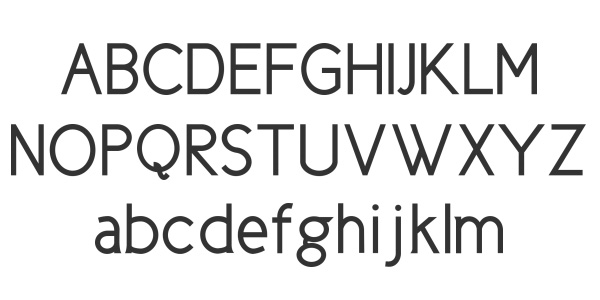 Circle has a bit sprawling and elongated look, yet it still stays refined and polished. With seven styles, you will be able to adapt it to numerous needs. For example, you can choose a regular option to display long copy or opt in favor of a shadow option and give titles a retro appeal and artistic flavor.
Quicksand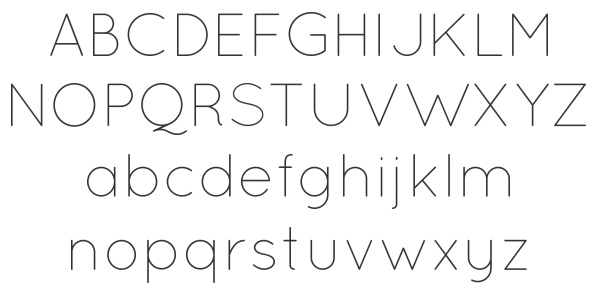 Quicksand is a fragile contemporary Sans Serif typeface by Andrew Paglinawan that is able to make titles look outstanding. It ships with six standard styles and extra fancy one that is made with the help of dashes. Unfortunately, there is only fundamental set of glyphs that let speak in Western European languages.
Bebas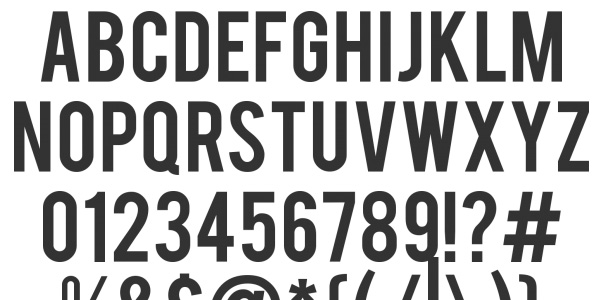 Bebas is bold and weighty, exactly what is needed to separate titles from the content flow in a non-intrusive manner. This all caps, condensed font, comes only in one style and includes 101 glyphs. It enables to manipulate with letters of English alphabet, digits and a standard selection of punctuation marks to improve comprehension of the text.
Chunk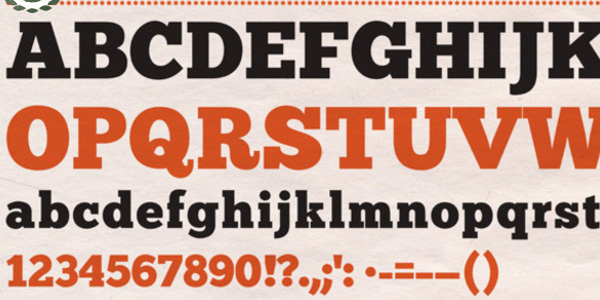 Chunk, much like the previous example, is targeted at displaying headlines so that its potential is quite limited. This is a massive and slab serif typeface with a fancy note. It goes well with retro projects and interfaces that are based on natural textures.
Raleway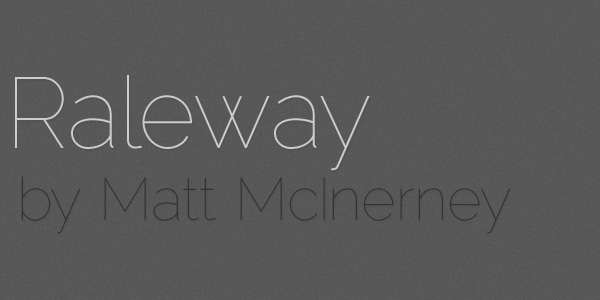 Raleway is a classy and graceful geometric sans serif typeface that is universal. Although it has only one style yet the glyph coverage is quite impressive. There are old style numerals, standard and discretionary ligatures, a bunch of diacritics, stylistic alternate and, of course, a set of integral symbols.
Junction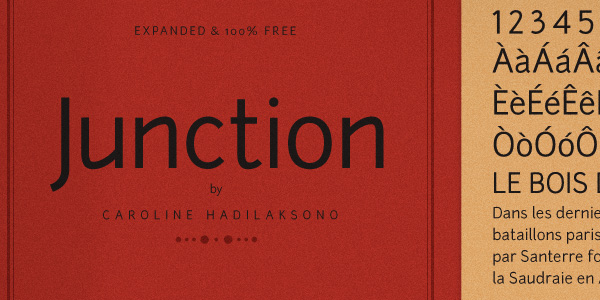 Junction has a subtle sense of human touch. It is a sans serif font that features beautiful curves and smooth lines. It has three styles ( light, regular and bold) and international support so that you can write in almost any foreign language without problems.
Prociono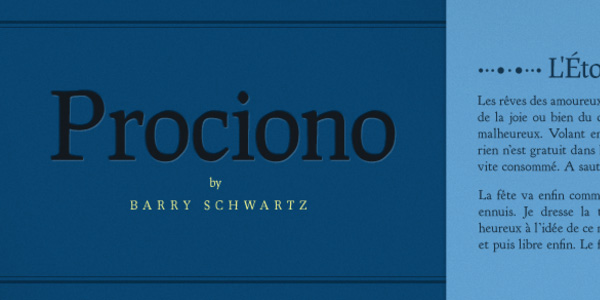 Prociono by Barry Schwartz is based on an optimal balance of serifs. Depending on the weight and style, it can be used both for copy and headlines. It comprises all the required glyphs to write in different languages from Roman family as well as add clarity to the copy through syntax. There are also extra blackletter elements.
League Gothic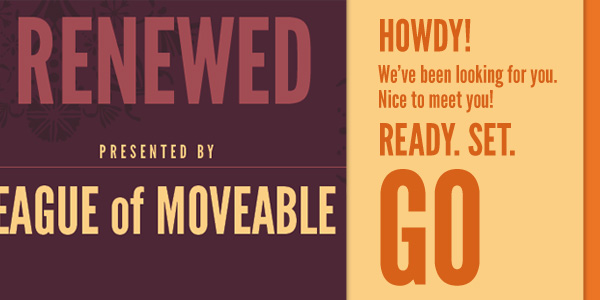 League Gothic is a perfect instrument for enriching posters. It is bold, original with a subtle note of old-timey feeling. This is revised and improved version of a classic font of early 20th century. It has a multi-language support and ships with a ton of glyphs and extra styles such as italic and condensed.