Build an entire website within minutes with a modern and stylish design, consistent look across various device screens that will treat data on high-level sounds bold and provocative. Nevertheless, for Aves UI Kit, a sophisticated and professionally executed GUI kit, the sky is the limit. It promises to do that all and even much more. If you want to test your limits and bring to life your concept in a short period, you should give it a try.
Although we give away only the small part of it, it is enough to open up its almost endless possibilities as well as create something that is stuck in your mind.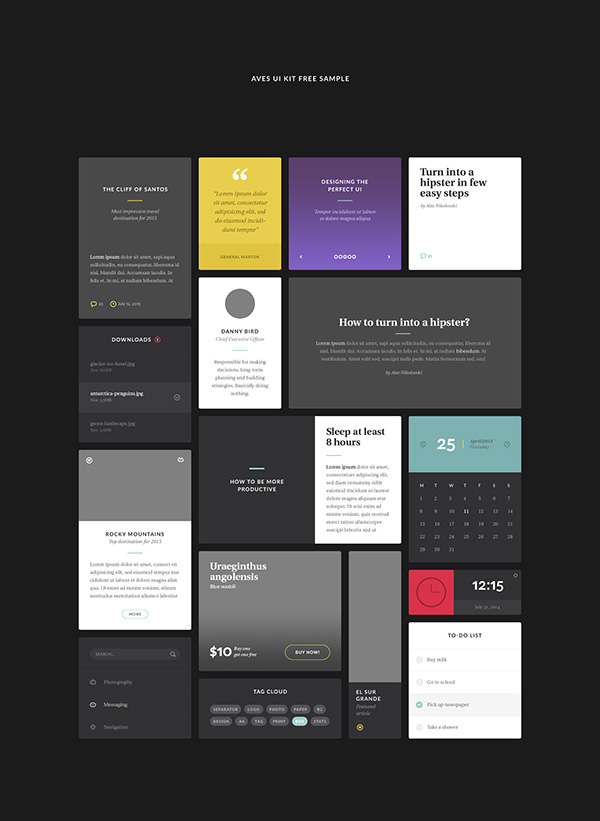 What is Aves UI Kit?
With the hundreds of basic elements starting from simple buttons and ending with ready-to-use widgets and modules, this set has lots to offer. For the sake of convenience, it is broken into several fundamental categories such as navigation, forms, widgets, typography, media, articles and a bunch of components well-suited for populating almost any user interface.
Here flat style and material design rule the roost. Any website created with the help of this kit will unconditionally have a stylish and up-to-date look spruced up with a nice piquant note provided by the coloring. As for the latter, the artist kindly shares a magnificent 12-tone color scheme presented via Photoshop file and particular color swatch file in order to save you some extra time and let you proceed directly to composing a layout. Moreover, there are also two incredible fonts (Lato and Heuristica) that skillfully handle legibility issues on tiny screens, and a pack of nifty subtle circular line style icons that make any template more intelligible to general public. All these perks are aimed to help you prototype harmonious well-balanced and finished designs in a flash.
Free Aves UI Kit
Enjoy a free set of Aves, which is full of components that can benefit any project. Here you will find 16 carefully executed modules each of which is an excellent combination of copy and white spaces. These two provide regular users with an excellent readability and some focal points.
Whether a module is based on a subtle gradient or a simple monotone backdrop, the content always stays in a focus. Although it takes a leading position, yet it does not dominate other stuff nor overwhelm readers. Calendar, post block, quote block, tag cloud, time widget, product box and other components that are integral to create basic website layout are also featured in a freebie.
If you are a fan of the modular approach, especially stylish and organized card design, then you will certainly appreciate this sample.