As being the best blogging platform,Wordpress is the best solution for desktop and mobile web solution.Its ease of use and highly customizable properties with its flexibility makes WordPress number one in content management systems.
We all know that mobile usage is becoming more and more popular so it is a must to have a mobile version of your website.In today's article we bring together premium mobile wordpress themes for your blog.
Here is the collection of hndpicked mobile wordpress themes.
Aura Premium Mobile Theme
AURA Mobile Theme is created with full customizable theme system. While coding this template we try to give you better mobile experience. Aura have perfect mobile blog system with post format support. Also custom portfolio, gallery, video and Sound Cloud supports.
Demo | Source
Mobiles Premium Mobile Theme
MOBILES Mobile Theme is created with full customizable theme system. While coding this template we try to give you better mobile experience. MOBILES have perfect mobile blog system with post format support.
Demo | Source
Vibrant: A Super Sharp WordPress Mobile Theme
Vibrant is super clean, light and was built with minimalism in mind. That said, the theme's stand-out elements like the unique menu display, comment form and per-post/page custom header colors ensure it doesn't look generic and is immediately memorable to the user.
Demo | Source
Monolith – WP Theme for Bloggers and Professionals
Monolith is perhaps Bonfire Themes' most expressive mobile theme to date. With in-your-face imagery, the theme is an immediate standout from the crowd and is especially suitable for anyone looking to present their content, products and/or services through memorable and strong visuals.
Demo | Source
Bean Premium Mobile Theme
Bean Mobile Theme is created with full customizable theme system. While coding this template we try to give you better mobile experience. Bean have perfect mobile blog system with post format support. Also custom portfolio, gallery, video and Sound Cloud supports.
Demo | Source
GRUNT – A Big and Bold Mobile WordPress Theme
Grunt is the 6th mobile-focused WordPress theme from Bonfire Themes and — as with our previous offerings — can be set up as a secondary theme on your current WordPress installation and shown only to mobile visitors, or used on a brand new installation; whichever suits your situation.
Demo | Source
Point Premium Modern Mobile Theme
Point mobile theme is created for phone and tablet devices. We try to give you better mobile web experience while creating this theme. Point theme have perfect mobile blog. Also custom portfolio, gallery, video and Sound Cloud listing pages.
Demo | Source
Chalis Mobile Retina | WordPress Version
Epsilon is the most advanced and easiet to use mobile framework we've ever built! It's made in such fashion that you'll have all possible elements styled up for this specific template and all you'll have to do is call them to your page.
Demo | Source
Mobili Premium WooCommerce Mobile Theme
Mobili Mobile Theme is created with full customizable theme system. While coding this template we try to give you better mobile experience. Mobili have perfect mobile blog system with post format support. Also custom portfolio, gallery, video and Sound Cloud supports.
Demo | Source
Now – Extensive WP Theme For Bloggers & Developers
Fully functional Contact form with inline validation.400 Different Color Combinations & Unlimited with custom color picker.Optimized for new iOS 7, Android and Windows Phone.
Demo | Source
Writter – A Modern Grid Based Mobile Theme
Writter is grid based minimalistic theme with buch of colorful features bloggers will appreciate. Clean and smooth modern design with 8 great post formats is the right choise. Theme was built with strong focus on typography. On the mobile screen it's just the best looking theme our there.
Demo | Source
Delta – Flat Designed WP Mobile Theme
Delta is minimalistic flat designed WordPress theme. Uses minimum jQuery plugins for smooth running and high compatibility with older devices.Delta is fully responsive, retina ready template. There's documentation file to tell you basics and link to ticket support, which is free for customers.
Demo | Source
DuoDrawer Mobile Retina – WordPress Version
Epsilon is the most advanced and easiet to use mobile framework we've ever built! It's made in such fashion that you'll have all possible elements styled up for this specific template and all you'll have to do is call them to your page.
Demo | Source
Klassio RSV – Responsive WordPress Mobile Template
Klassio RSV template is crisp, clean and adaptable, and is beautifully responsive. Built with HTML5 and CSS3, powered by affection and care, leveraging technology and user interface best-practices, the Klassio RSV template is loaded with various kinds of pages and options to give your website the edge it needs.
Demo | Source
HUNTER – A clean & classy WordPress theme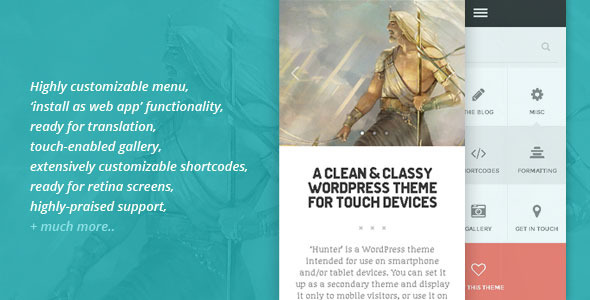 Hunter is a WordPress theme intended for use on smartphone and/or tablet devices. You can set it up as a secondary theme and display it only to mobile visitors, or use it on a brand new installation; whichever suits your situation.
Demo | Source
Moderner Mobile Retina | WordPress Version
Epsilon is the most advanced and easiet to use mobile framework we've ever built! It's made in such fashion that you'll have all possible elements styled up for this specific template and all you'll have to do is call them to your page
Demo | Source
TOUCH: A Lighter-than-air WordPress Mobile Theme
Touch is the 4th in a series of mobile WordPress themes from Bonfire Themes and is intended for use on smartphone and/or tablet devices. Set it up as a secondary theme and display it only to mobile visitors, or set up a brand new WordPress installation; the choice is yours.
Demo | Source
Resans – Mobile and Tablet | WordPress Retina
Resans is highly advanced WordPress theme. It's based on many plugins which provides excellent sight. Resans comes with 50$ worth plugins. Provides such abilities such as infinite scrolling, page preloading, loading animations and highly advanced administration panel.
Demo | Source
iMenu – Restaurant Tablet and Mobile Retina Menu
iMenu is a WordPress Powered Menu system specially designed for Restaurants, Cafes and Hotels. We developed iMenu with Woocommerce and qTranslate. With jQuery Mobile's latest version iMenu fits all of the popular mobile devices.
Demo | Source
BRAVE – A dark, clean, fully responsive WP theme
Beautifully dark, minimal and 100% responsive, the goal with BRAVE remains the same as it was with our previous WordPress mobile and tablet themes: keep it simple.
Demo | Source
HERO: A No-Nonsense Mobile WordPressTheme
This theme is designed to be super simple to use, yet provide loads of functionality. Do visit the live preview and read through this page to get a more comprehensive overview of what the theme has to offer.
Demo | Source
Spartan: A Fully-featured theme for Mobile+Tablets
The goal with SPARTAN was to create a fully-loaded theme that would serve as the mobile and tablet home for any and all types of WordPress sites while also being a great stand-alone theme. With its color scheme suitable for all businesses, organizations, as well as personal sites, the theme allows your content to take center stage.
Demo | Source
Troller Mobile Retina | WordPress Version
Wouldn't it be awesome if you could detect what your users are browsing from? Android? iPhone, iPad? iPod? And direct them to a specific page or app developed for their exact device? Now that's possible! Troller has a JavaScript system that detects what browser your users are comming from! The best part is that you only need to edit the HTML, the rest is done by the JavaScript.
Demo | Source
Moby Elite – WordPress Mobile Theme
Moby – Elite is a Mobile WordPress Business Template written in HTML5 with clean code and structure, which can be customized very easily according to your business needs.
Demo | Source
Mobit Premium Modern Mobile Theme
Mobit Mobile Theme is optimized for phones and created with full customizable system.
Demo | Source
Lotus – Mobile and Tablet | WordPress & Retina
Mobile template which follows newest trends (responsive layout, beautiful design, clean interface, quick support…) successor of beautiful five-star mobile HTML5 template AxiaMobile is finaly ready
Demo | Source
Metro Mobile Premium WordPress Mobile Template
Metro Mobile Template is just limited with your imagination. Create your own metro mobile tiles and own style.
Demo | Source
Mobilize – jQuery Mobile WordPress Theme
Mobilize is a touch optimized mobile WordPress theme built on jQuery Mobile and is loaded with features. The homepage has a touch optimized responsive slider with 24 transitions (swipe with your finger!), optional captions, social icons and more.
Demo | Source
Rodin Mobile Template WordPress Version
Rodin is Mobile WordPress Template. Perfectly fitted tablets & Major Smart Phones.Added new Webbu Short Code Editor and Perfect Admin Panel Options. Theme customizer is created for customize everything on this template.
Demo | Source
WOW! mySite WordPress Mobile Theme
Touch Mobile & Tablet is a WordPress theme built with HTML5 and CSS3 for mobile and tablet devices. It is a fluid design that will adjust to screen size and orientation of the device and is suitable for business and personal sites.
Demo | Source

MORE MOBILE WORDPRESS THEMES