An awesome website created by a talented and creative web designer is a thing to behold. Websites like these, set the bar so high that even approaching that level of craftsmanship seems out of reach. It sometimes seems that this task requires a level of creativity we have yet to achieve.
Like many other things in life, it's doable. It may take years of training, and involve a fair share of sweat and tears but, — it is doable.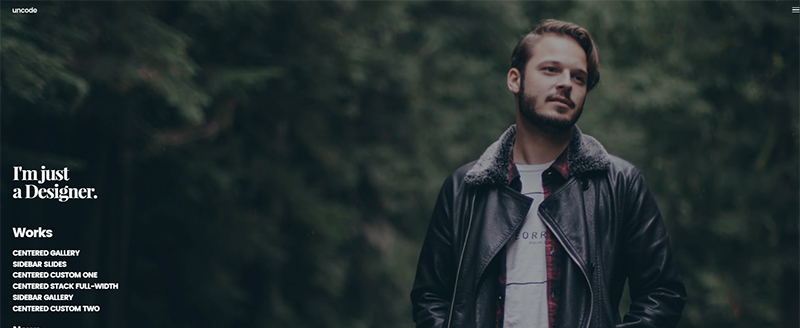 Yet, there are ways that you can reach that level of craftsmanship more quickly. And one of them is with the help of a state of the art creative design tool like this highly flexible WordPress theme.
Let's see how creative web designers work their magic
What are some of the key characteristics top-tier creative designers have in common? Here are five of the more common ones:
1. They work with concepts – and not just with design techniques
Coming up with great conceptual designs takes research, experience, and digging into what other creatives achieved. Success comes when you are able to take a concept, and bend it into something that offers a realistic solution to a client's brief.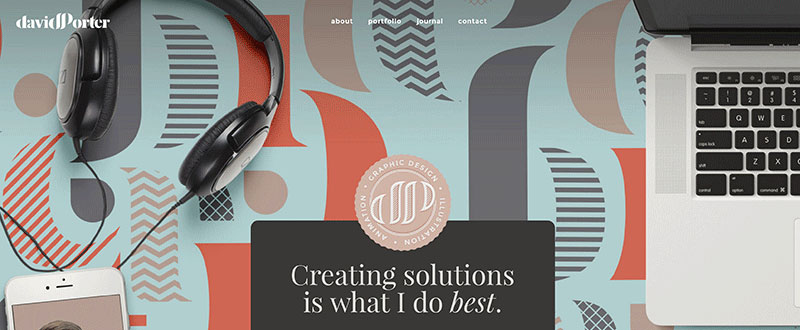 This visual concept was created by a skilled web designer using Uncode WP theme as a starting point.
In the example above, that looks easy-going with a playful twist, the relationship between the headline and the visual provides a grand introduction.
2. Creatives keep their head in the clouds, but their feet firmly on the ground
Creativity involves thinking outside the box. The visions and ideas you come up with have produce practical outcomes. Creatives are able to tailor their ideas to the extent that the websites they build exhibit top performance.
Top creative designers never neglect the UX. Uncode, the creatives' WordPress theme created by the Undsgn team is a valuable tool. Here's an example. Uncode's unique and original adaptive image feature automatically delivers a re-scaled version of your pages to different screen sizes.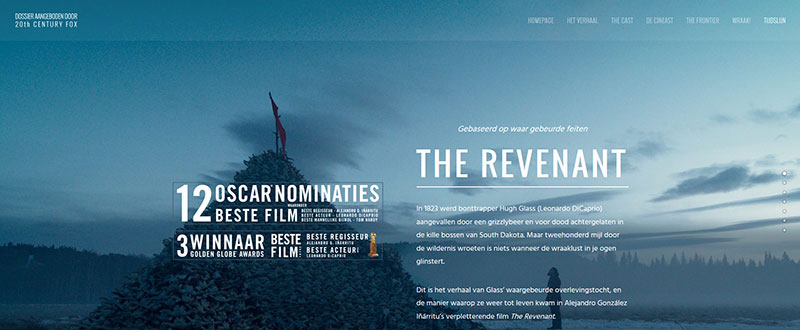 Part of the Uncode showcase: the fully responsive REVENANT website
Another example: Instead of the longer response time associated with serial requests, the creative Undsgn folks incorporated an innovative solution.
Am asynchronous response approach that enables the browser to download multiple images simultaneously. Creative designers are always looking for solutions, and the Uncode team brings a host of creative solutions to the table.
3. Creative designers mix techniques in with styles and trends, without sacrificing visual coherency
Learning what's the latest and greatest is an essential part of being a good web designer. To be a creative designer, you have to learn and practice the art of blending and mixing different trends and styles.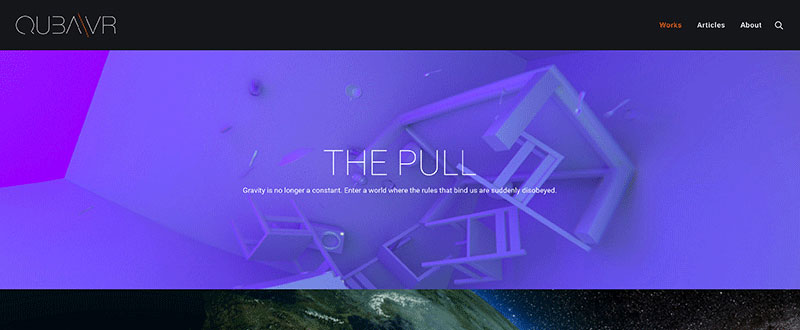 This is an example of an effective mix – from the Uncode showcase.
The mix is subtle, but impressive. This showcase example provides insight into how a creative web designer achieved coherency. And spiced it up a bit in the process.
4. Creative web designers select tool that satisfy their need for perfection
A tool that is does not allow you to create pixel-perfect designs can be a source of frustration. Creative people, like you, strive to implement their ideas to perfection. If you can imagine it, your WP theme should enable you to build it.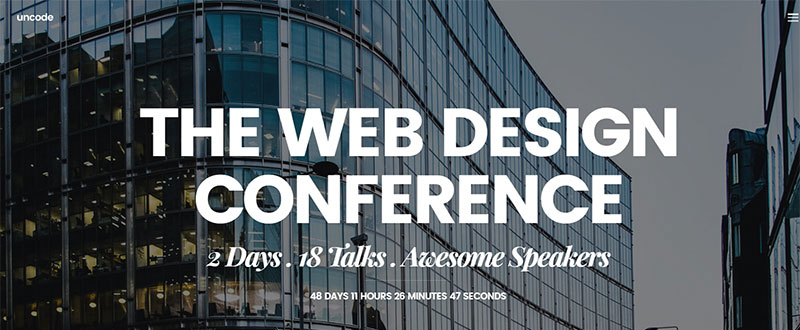 Take a concept like this one. With the help of Uncode's extraordinary flexibility, you can customize to your heart's content. And you can create a beautiful, completely original layout.
5. Think out of the box, but into the brief at the same time
Sometimes, there is a tension between the client's perspective and the creative designer's vision. You want to transform a great visual idea into reality. A good creative is able to think outside the box. At the same time he or she can show a perfect respect for the requirements outlined in the brief.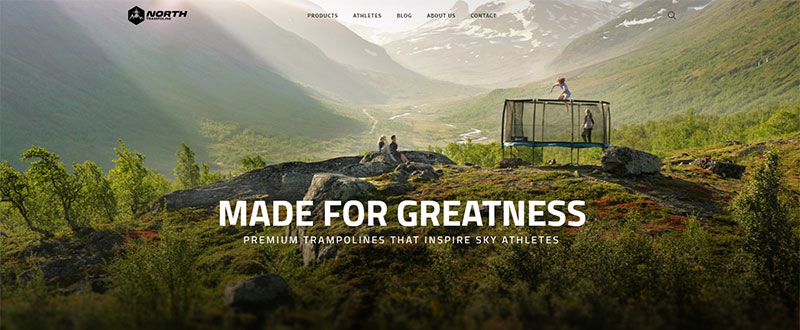 An example of a brief well solved.
Uncode's concept was the starting point for this website. The visual experience arising from these concepts creates a visual world around the product. And ir provides the user with information relevant to the product.
Discover more about Uncode – the theme dedicated to creative web designers
The beauty of having a flexible theme to work with is you can create a universe of original amazing websites. All are coming from a similar starting point, but are different.
You can compare a flexible theme's concept to a mind map's central image. Using it as a source of inspiration, you can go out in many different directions to create award winning websites.
Uncode has some awesome starting concepts.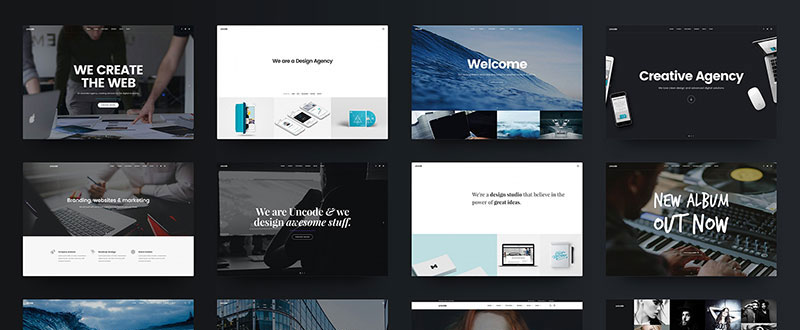 "There isn't anything you can't do with it."
"The theme itself is extremely flexible – there isn't anything you can't do with it. Seems you are only limited by your imagination." mecan, ThemeForest user
It takes a highly flexible, customizable theme to meet the creative, idea generating mind. This is how Uncode does it:
An Advanced Grid System. With design options that allow you to push your layouts to the cutting edge
Unsurpassed flexibility. 30+ homepage concepts to mix, match, or combine
Adaptive Images. It detects a visitor's screen size, and delivers a re-scaled version of the page.
"I purchased the Uncode theme a couple of weeks ago, and I'm amazed at how detail-oriented and responsive the guys who created this theme are. They clearly value customizability, flexibility and high quality design. Thumbs up!" Olivier Berton, ThemeForest user.
An improved Visual Composer. This popular page builder has been enhanced. It has extra, advanced, functionalities and a clean, organized skin.
The Unique Content Block allows you to create external sections of content. You can integrate and replicate them into your pages.
Summing Uncode up – If you can think of it, you can build it! What more could a creative designer ask for? Check out Uncode's visual concepts and showcase!