Organizations that are non-profit typically have a lot of respect because of their worthy causes and goals. Non-profits survive through the generous donations of others, hence, the reason why they are called non-profits. If your web design is unprofessional, potential donors might go to your site and be unimpressed and don't donate money as a result. Avoid letting this happen.
You have to decide the type of style you want for your website. Many websites are built off WordPress, if this is true for you, then look for free WP themes to see the various styles offered. Use your selected style on your website and all your other promotional materials as well.
Today we bring together non profit wordpress themes for your non profit organizations.Just take a look at the below non profit wordpress themes and choose one.
Charity Hub – Charity / Nonprofit / Fundraising WP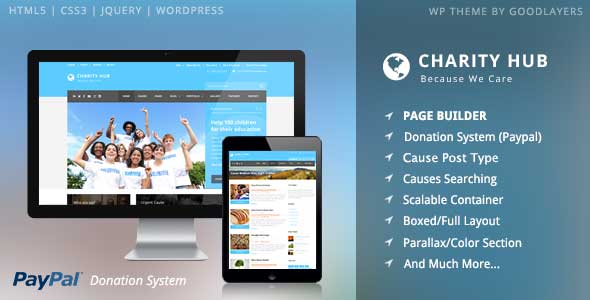 Charity Hub is a clean responsive WordPress theme. It is especially designed for charity, NGO, non-profit organization, donation, church or fundraising website. We create a custom post type 'cause' for easily managing.
Demo | Source
Lifeline NGO Charity Fund Raising WordPress Theme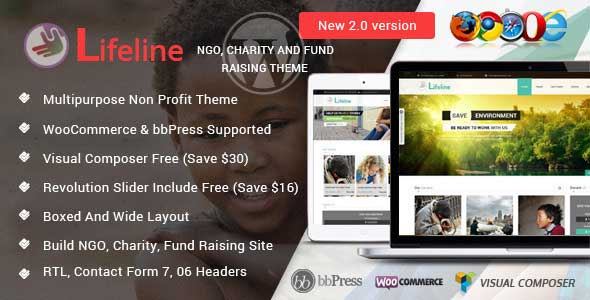 Lifeline is a clean, fully responsive, highly flexible and beautifully designed WordPress theme which is provided with six (6) unique homepage layouts to best suit the advanced requirements of your website. This can be used as a Charity WordPress Theme, Fund Raising WP Theme or NGO WordPress theme to build a website for your organization
Demo | Source
Advocator – Professional Nonprofit Organizations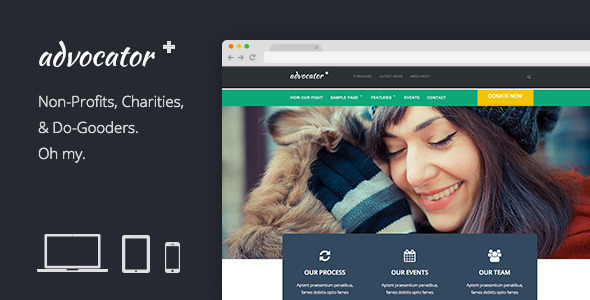 Take your non-profit, charity, or organization to the next level. Reach more people. Better communicate what you're about. Be bold. Advocate.Your audience can engage with you on mobile devices with ease and if you're a developer, you can customize super fast and efficiently.
Demo | Source
Aid Reform – NGO Donation and Charity Theme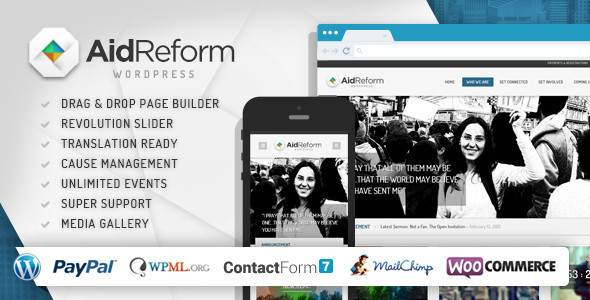 AidReform is a clean and elegant theme, developed mainly to setup charity, NGOs, nonprofit organizations, church, donation and corporate websites. Best suited for the charity organizations aiming to attract the attention for raising charity organizations. It has been built on the latest bootstrap frame work.
Demo | Source
Mercy-NGO Charity & Environmental/Political theme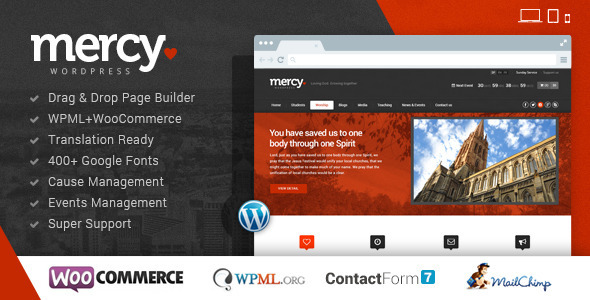 A clean and elegant theme, developed mainly to setup charity,NGOs, nonprofit orgnizations,donation and corporate websites. Using the color scheme of your choice by using color picker make it elegant and high visual impact experience.
Demo | Source
4 Children With Love-Charity WP Theme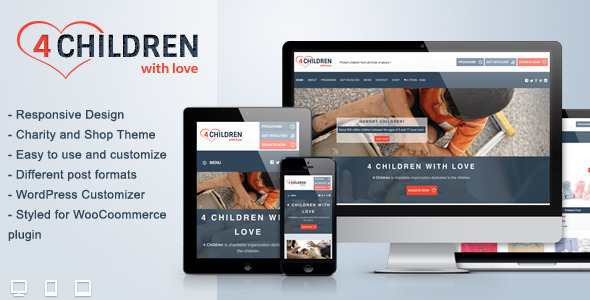 4 Children with Love" is a modern and easy to use WordPress theme with a noble cause. It is a charity theme dedicated to children but in general it is also suited for any kind of charity and non-profit organizations.
Demo | Source
GiveAHand – Charity Responsive WP Theme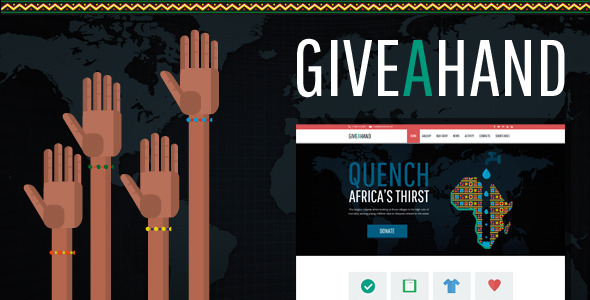 GiveAHand is a creative WordPress Theme for charity organizations. It's focused on raising funds for your charity and alerting visitors to important issues happening in the world. It's perfect for those who're tired of ordinariness and want to stand out among competitors.
Demo | Source
HELP – NGO WordPress Theme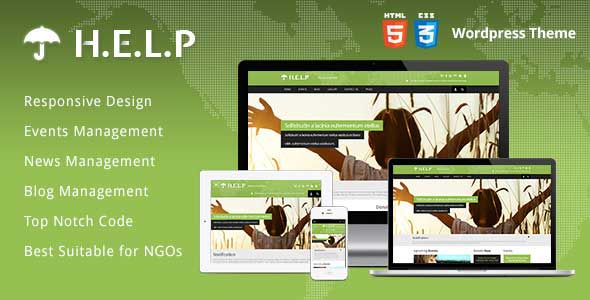 H.E.L.P is specially designed for NGO's and Business Organizations. The theme is easy to modify and ready to be up and running out of the box. The PSD files included have been customized to allow fast skinning.
Demo | Source
Be Human – Charity Multipurpose WP Retina Theme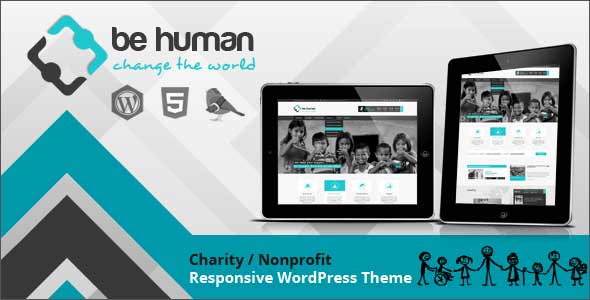 Be Human WordPress Retina theme is a web masterpiece which is designed for Charities. Theme is suitable for charities and nonprofit organizations & similar websites that need a feature rich yet beautiful presence online.
Demo | Source
Charitas – Foundation WordPress Theme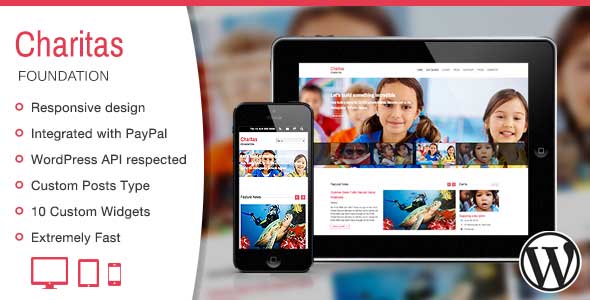 Charitas is a simple and clean but still professional WordPress template that is best suited for Charity, NGO (Non-governmental organization), foundations, churches, political organizations etc. The theme is created by using the latest techniques. The responsive design makes it easily usable with any device (Desktop, tablet, mobile phone…), without removing any content!
Demo | Source
Rive – Responsive Charity WordPress Theme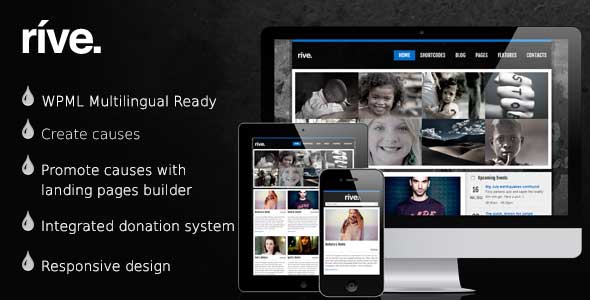 Rive is a powerful, feature-rich theme that lets you customize a wide variety of features from the comfort of your Dashboard.Rive theme is packed with amazing donation system and you only need to enter your PayPal address or Authorize.net API details to start using it!
Demo | Source
DonateNow – WordPress Theme for Charity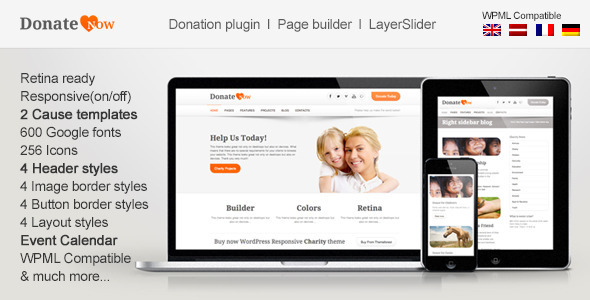 DonateNow theme is clean, flexible, retina ready and has a fully responsive design. DonateNow theme is loaded with features, and has powerful customization options. Built with HTML5 & CSS3. It comes with free support on our support forum.
Demo | Source
Mission – Responsive WP Theme For Charity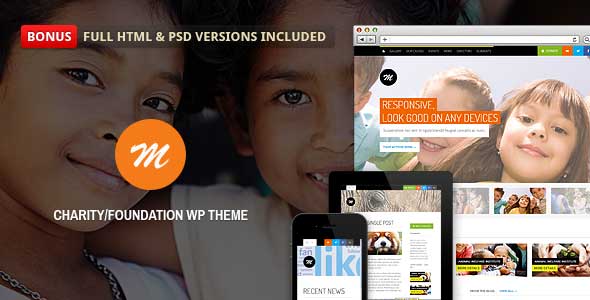 Mission is a premium responsive WP template for charity and foundation website. After purchasing this theme, you will receive the WordPress version as well as the full HTML version and 6 PSD files. They are all layered and well organized in folder for easier use.
Demo | Source
Give – Charity Responsive WordPress Theme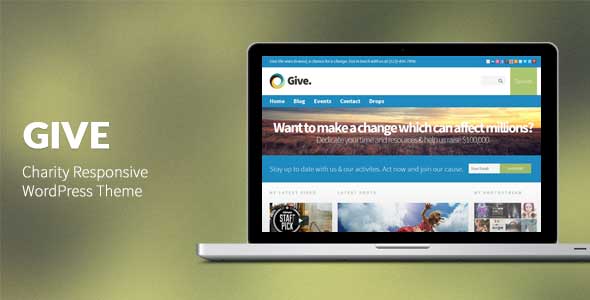 This theme is so easy to use, you won't even need the documentation. You can easily set up your website starting from the Theme Customizer and then continuing with a small unbranded options panel we've included with only 10 options, among them being: logo upload, favicon upload, analytics code. No 1000+ Shortcodes, 500+ Google Web Fonts.
Demo | Source
Outreach – Charity WordPress Theme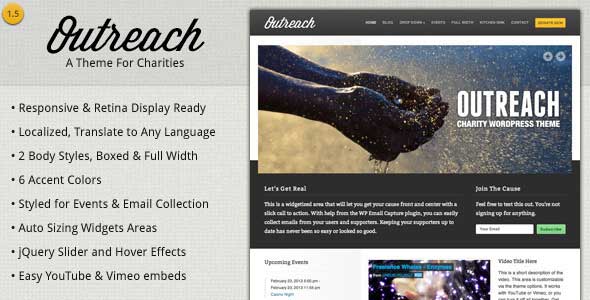 Outreach is a theme that's made with non-profits and charity organizations in mind. It's built with the WP Email Capture plugin in mind to collect names and emails of your supporters and The Events Calendar plugin to display all of your upcoming events. There's also an easy to set up donation button in the header. Outreach is also responsive and Retina Display ready.
Demo | Source
Relief – Charity Responsive WordPress Theme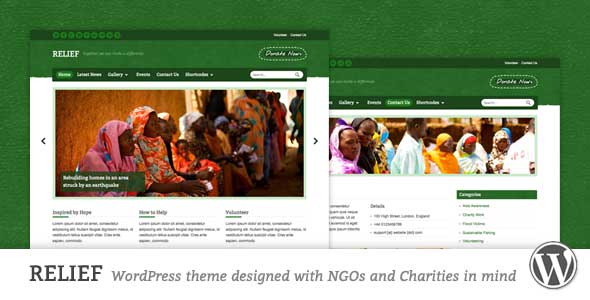 Relief is a highly customizable Responsive WordPress Theme designed with Charities and other non-profit organisations in mind.Relief comes with a fully featured theme options panel, so editing the theme is quick and easy. An importable example data file is also provided so you can replicate the demo site in a couple of clicks.
Demo | Source
Kindness – Premium WordPress Theme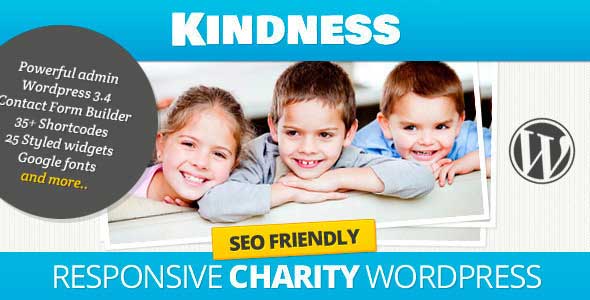 Kindness is the best responsive wordpress theme for nonprofit organizations and charity foundations.Looks great on any device with any screen resolution. Supports Post Formats, has awesome widgets and a wide variety of useful shortcodes.
Demo | Source
Aid: Responsive Charity + Blog WP Theme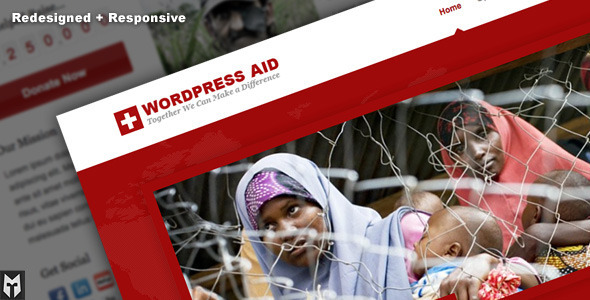 WordPress Aid is ideal for charity organizations. It's focused on raising funds for your charity and alerting visitors to important issues happening in the world.
Demo | Source
SaveTheWorld: Responsive Charity WP Theme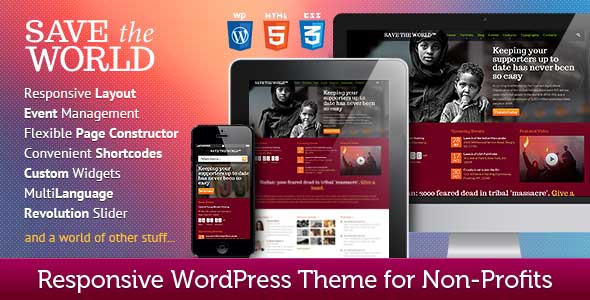 SaveTheWorld is an excellent multi-purpose responsive WordPress theme. It was created as a universal website template for people who need an easy and modern tool to create their own websites according to the latest trends.
Demo | Source
Green – Responsive WordPress Theme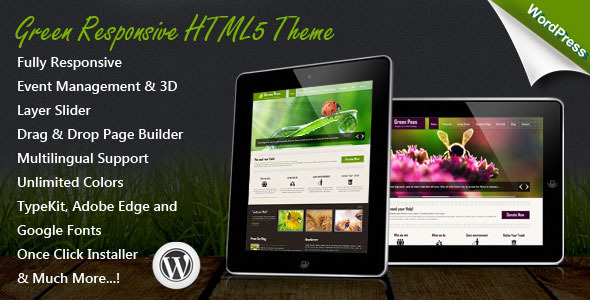 Green Theme is a Responsive WordPress theme perfect to promote your environmental projects or your green products business. The main features, which are extremely important and super useful are, Events Calendar & Management, Multilingual support, 3D Layer Slider and Facebook fan page compatibility.
Demo | Source
InCare – Responsive Eco/NonProfit WordPress Theme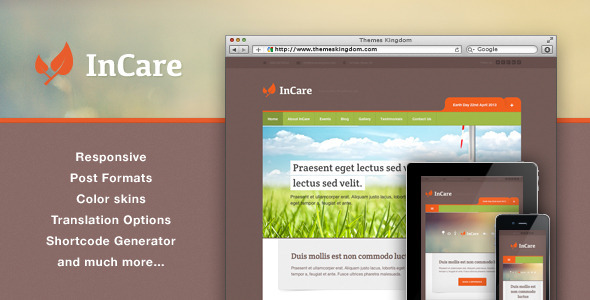 InCare is a non-profit Environmental/Eco-Friendly theme. It's designed to best fit the non-profit organization, environmental, recycling, community or nature business websites. An impressive set of custom options that let you clearly display your events, news, testimonials, gallery making it easy for users to learn more about your cause.
Demo | Source
For Mother Nature 2 – Premium Eco WordPress Theme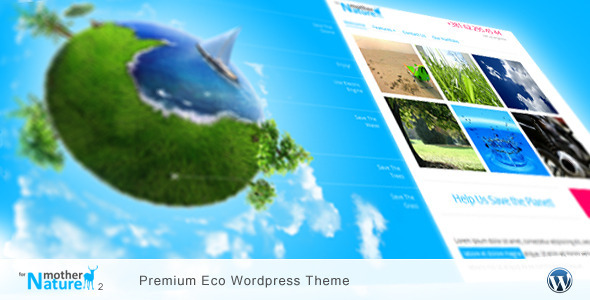 For Mother Nature 2 is creative and modern theme witch is suited for an environmental, eco-friendly organizations or comunities. This web template includes unique smart3d parallax system, clean dropdown navigation menu, featured images box with captify jQuery script, Aller font, participate form, contact form.
Demo | Source
Green Earth – Environmental WordPress Theme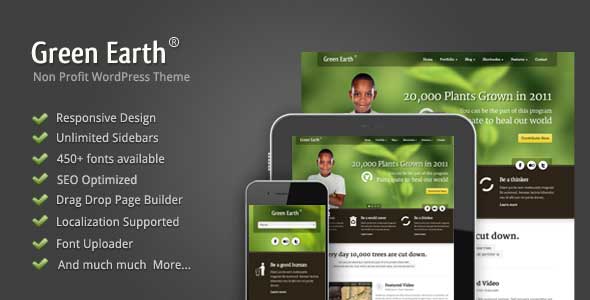 Green Earth is a non-profit WordPress theme. It's really well designed to best fit the business and non-profit organization that need environmental style. It comes with a new feature 'Custom Slider' which allow you to manage slider freely.
Demo | Source
Earth – Eco/Environmental NonProfit WordPress Theme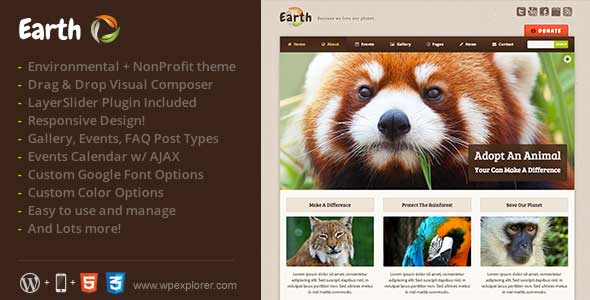 Earth is a premium WordPress theme created with Environmental/Eco-Friendly websites in mind. It's the perfect solution for all types of business and non-profit organizations that want to add an earthy touch to their online presence.
Demo | Source
Legislator – Political WordPress Campaign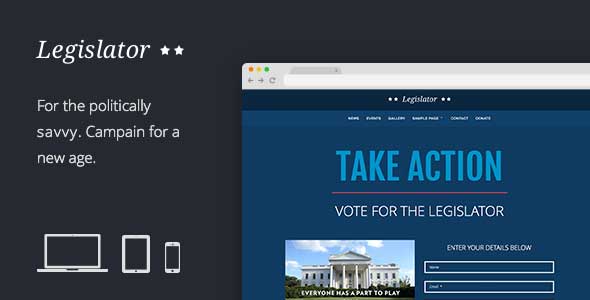 It's a new age on the web for politicians and government agencies. The Legislator WordPress theme will help usher your campaign to the masses in an elegant, bold and descriptive way. Legislator promotes action and interaction with your candidate or organization.
Demo | Source
Westand – Multi Purpose WordPress Theme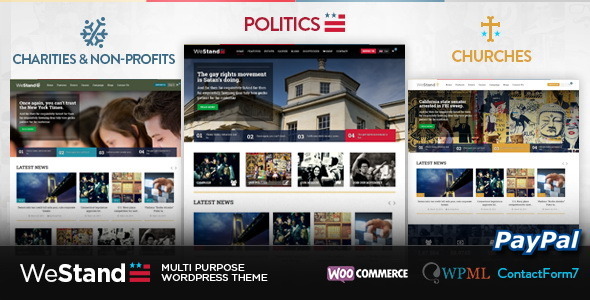 It's a clean and elegant theme, developed mainly to setup charity,NGOs, political, nonprofit orgnizations ,church, donationand corporate websites. Using the color scheme of your choice by using color picker make it elegant and high visual impact experience. This theme is best suitable for a small to large NGO Organizations to setup reference website.
Demo | Source
Senator – Political WordPress Theme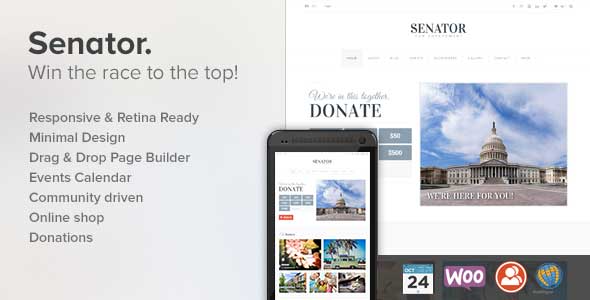 Senator is a political WordPress theme which features a responsive, retina-ready & minimal design which focuses on usability, a great user experience and performance. Senator boasts a flexible design, top notch support and is one of the easiest to use and most versatile political themes on the market.
Demo | Source
Parlament – Political WordPress Theme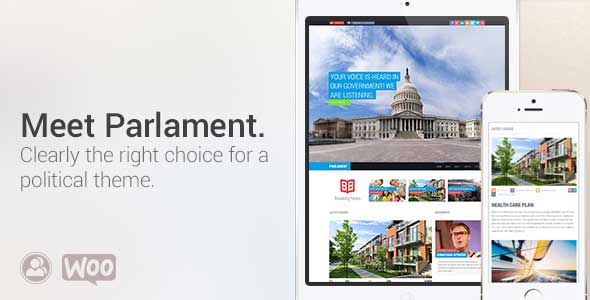 Parlament is a political WordPress theme which features a highly interactive and retina-ready design, fully responsive implementation and a focus on user experience, usability and performance. The theme also features a flexible design, top notch support and I think it's safe to say that is one of the easiest and most intuitive to use political themes on the market right now.
Demo | Source
Political Press – Responsive WordPress Theme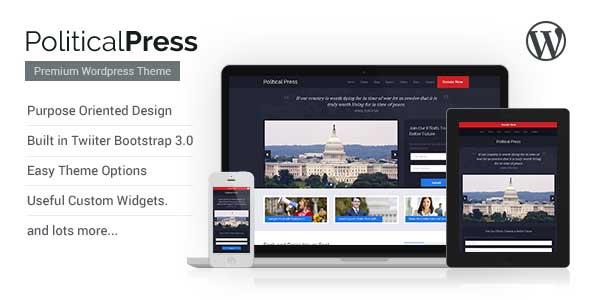 Political Press is a purpose oriented WordPress theme for politics related websites and blogs. Political Press theme's usage is not limited to creating a political candidate campaign website and it can be used for other websites or blogs related to politics. Even it can be used for other general purpose websites.
Demo | Source
Candidate – Political WordPress Theme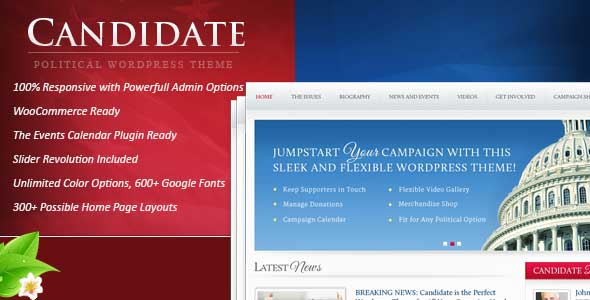 Candidate is a WordPress theme designed specifically for political and public figures. Drawing inspiration from the modern political arena and experience in building politically themed websites this design is flexible enough to fit any political option and social issue.
Demo | Source
Politic – Campaign, Political WP & BuddyPress Theme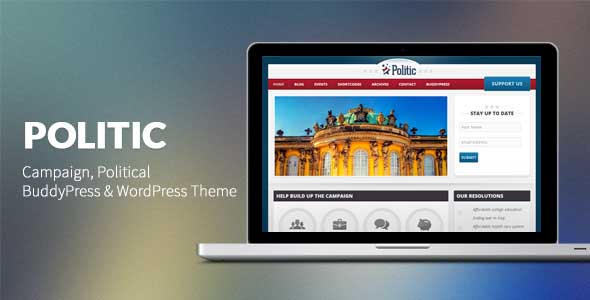 Politic is a Campaign & Political WordPress Theme, very first file on this beautiful market, extremely unique with a bunch of cool features, just enough to keep you busy. This one can definitely become the perfect theme for you.
Demo | Source
Campaign – Political WordPress Theme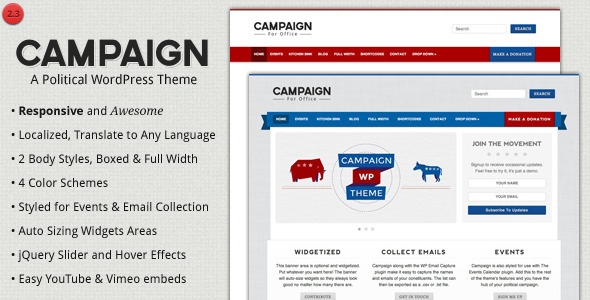 Campaign is a theme that's made to help you win in your political race and be the hub of your campaign. It's built with the WP Email Capture plugin (both the free and premium versions) in mind to collect names and emails of your constituents and The Events Calendar plugin to display all of your upcoming events.
Demo | Source
Politico – Responsive Political Campaign WP Theme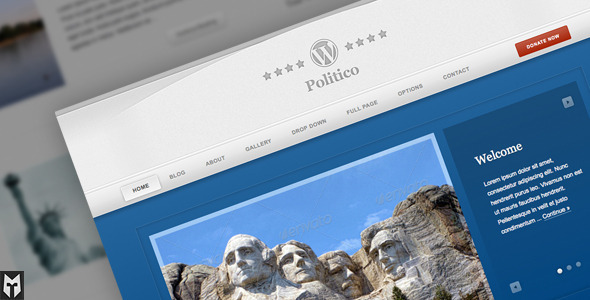 The premier political theme on Theme Forest! WordPress Politico is ideal for political campaign sites. The slideshow is great for drawing attention to important issues or promoting a candidate into office.
Demo | Source

MORE NON-PROFIT THEMES HERE