Designing and developing admin dashboard templates from scratch is a little bit time consuming so sometimes it is better to find a well designed and coded admin template.An admin template is one of the most important part of website management.Without doing things manually you can control everything via admin dashboards with a few clicks.
Today all CMS's(content management system)have a professional dashboards but if you want your own custom admin dashboard then you can use the ones we have selected.
The below admin templates are really designed and coded professionally templates and you can easily integrate to your websites.In fact they are really cheap.
Here is the huge collection of handpicked admin dashboard templates to use for your web or app.design projects.The collection contains 105 absolutely amazing admin templates.

Adminise – Corporate Admin Panel Template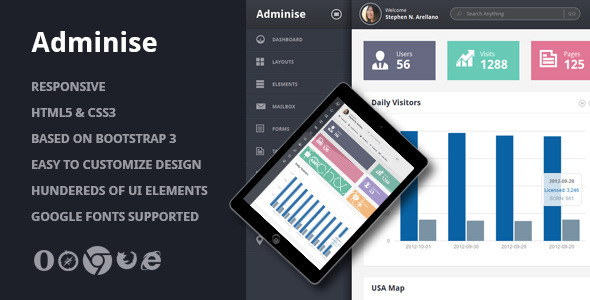 Adminise is clean/corporate admin panel design comes with tons of nicly designed features.
Demo | Source
Amanda Responsive Admin Template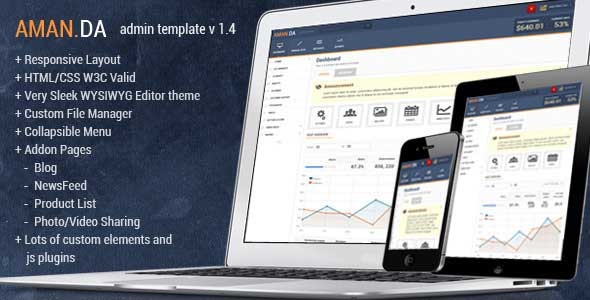 Amanda Responsive Admin Template is a new admin template with many features, plugins and custom elements that you can use fo your backend projects. This template has built-in theme switcher that you can change anytime you want. This template is very useful for any type of application whether for desktop or mobile devices. It has addon pages that you can use for your in house activity like blog, newsfeed, productlist and photo/video sharing.
Demo | Source
Pastel Dashboard — Admin Template + iPhone web app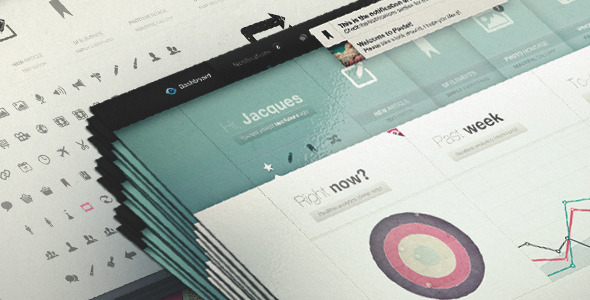 Pastel is a unique, feature packed Dashboard with an intuitive and stunning interface.
Demo | Source
Clip-One – Bootstrap 3 Responsive Admin Template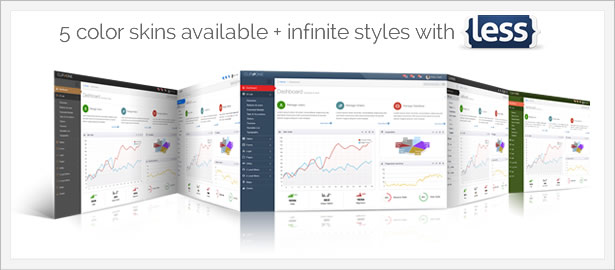 Clip-One is the brand new, cutting-edge, super flexible, totally responsive Administration Theme based on Bootstrap 3 Framework. It comes with 2 complete themes: Clip-One Admin and Clip-One Admin RTL Version. You can use it in a simple and intuitive way for all your backend applications and thanks to the several customization options you will also be able to customize the template style, color and layout, according to your taste and preferences. It does not matter where you will open Clip-One: Be it on smart phones, tablets or computer desktops, it will perfectly adapt to all your electronic devices.
Demo | Source
AUI – Responsive BS3 Admin Toolkit Template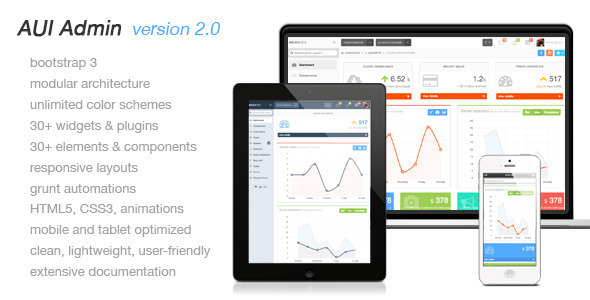 AgileUI is a modern HTML/CSS/JS framework that can be used to create clean, responsive, fast and intuitive web apps.
Demo | Source
FlatLab – Bootstrap 3 Responsive Admin Template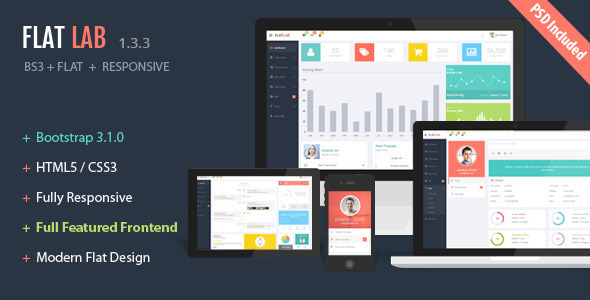 FlatLab is a fully responsive admin dashboard template built with Bootstrap 3.0.2 Framework, modern web technology HTML5 and CSS3. It has a huge collection of reusable UI components and integrated with latest jQuery plugins. This theme is very lightweight and easy customizable which is basically designed for the developers who want to customize it with just a finger snap . FlatLab can be used for all type of web applications like custom admin panel, project management system, admin dashboard, application backend, CMS, CRM, business website, corporate, portfolio, blog etc. A large number of widget are included here to make your work easier. FlatLab works on all major web browsers, Desktop, iPhone, iPad, Tablet and all other smart phone device.
Demo | Source
Thin Admin Template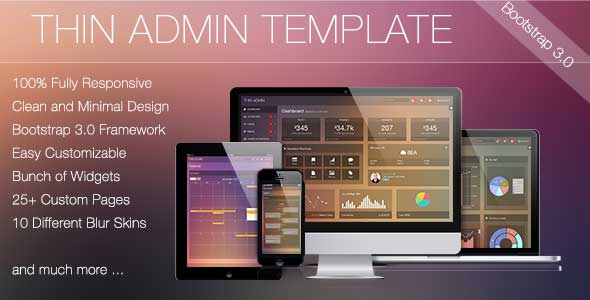 Thin Admin is the brand new, cutting-edge, super flexible, totally responsive Administration Theme based on Bootstrap 3 Framework. You can use Thin Admin Template in a simple and intuitive way for all your backend applications and thanks to the several customization options you will also be able to customize the template style, color and layout, according to your taste and preferences. It does not matter where you will open Thin-Admin: Be it on smart phones, tablets or computer desktops, it will perfectly adapt to all your electronic devices.
Demo | Source
Fides Responsive Bootstrap 3 Admin Template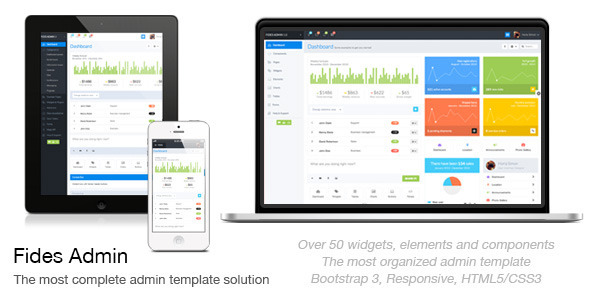 Fides Admin is a HTML/CSS/JS framework that has a modern flat design with over 30 components, widgets and elements that can be used to create clean, responsive, fast-loading and intuitive web apps.ides includes (for now) 7 color schemes that can be easily modified. The layout can be full width or boxed. You can create new styles by editing only a few lines of CSS.
Demo | Source
Avant – Clean and Responsive Bootstrap 3 Admin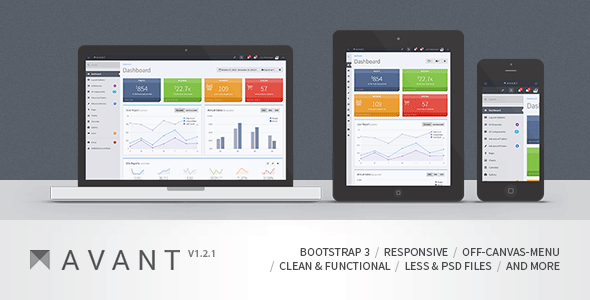 Avant is a beautifully coded fully featured admin panel theme ready to be implemented in the back end of your application, as an intranet theme, or your next web application!The theme is lightweight and responsive powered by the latest Bootstrap 3 framework. It comes with a UX-friendly clean and intuitive design that gets out of your way in favour of substance.
Demo | Source
Taurus – Responsive Bootstrap3 Admin Template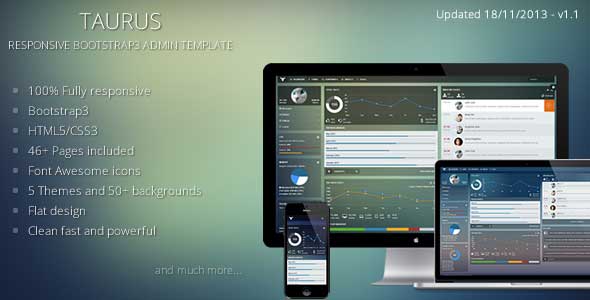 Taurus – is a new admin template with lots of custom elements, fully responsive admin panel template with flat design, based on Twitter Bootstrap 3.0 Framework. It could be useful for any type of web application, custom administration panels, any backend system etc. Also it's responsive, which means it is compatible with mobile devices such as iPhone and iPad. Just check out the live preview, and don't forget to visit all pages
Demo | Source
Webarch – Responsive Admin Dashboard Template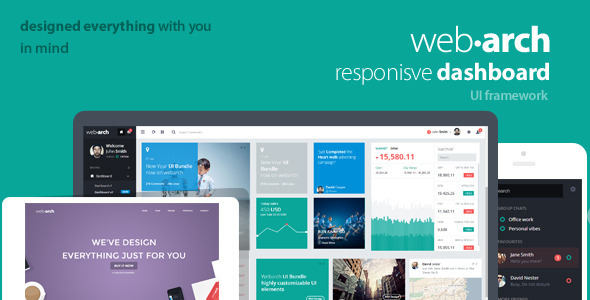 A modern flat design with over 30 components, widgets and elements that can be used to create clean, responsive, fast-loading and intuitive web apps.
Demo | Source
The Vira – Searchable Tooltip Menu Admin Dashboard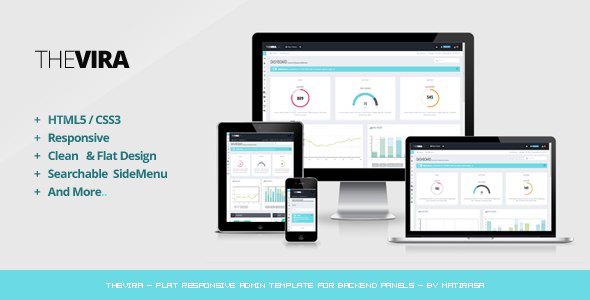 The Vira – Searchable Tooltip Menu Admin Dashboard – is an admin template that takes its inspiration from yahoo mail. One of its features is when sidemenu fashion icon into the "menu text" that appears only as a tooltip. And the menu also can be searched by search menu facility, which is useful for many menu for easy searching
Demo | Source
ZAPanel Clean Bootstrap Admin Panel HTML Template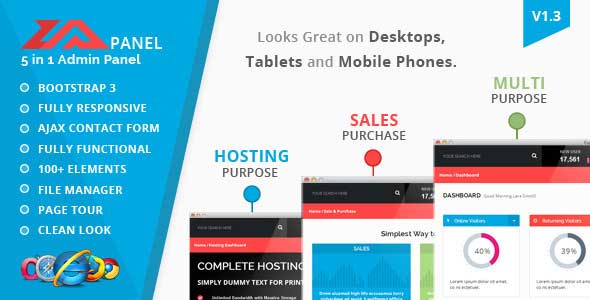 Featuring 32 fully functional elements pages, it is the largest and most powerful Bootstrap admin template you would have seen ever. Built on the latest version of HTML, it is super responsive. Usually, in the ordinary admin panels, there are just 15 elements out of which only 7 or 8 are found to be functional, while the remaining are static. So, if you are dealing with the business of website hosting and want to manage your project effectively, the ZAPanel HTML template offers you a lot more than what you want!
Demo | Source
Flat Square Admin Template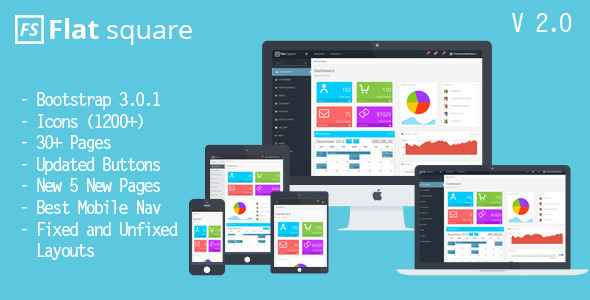 Flat Square is a responsive and multipurpose admin theme powered with Twitter Bootstrap 3.0.2 Framework. Flat Square can be used for any type of web applications. custom admin panels, admin dashboards, CMS, CRM. It's super easy to change color schemes.
Demo | Source
MoodStrap Responsive Bootstrap Admin Template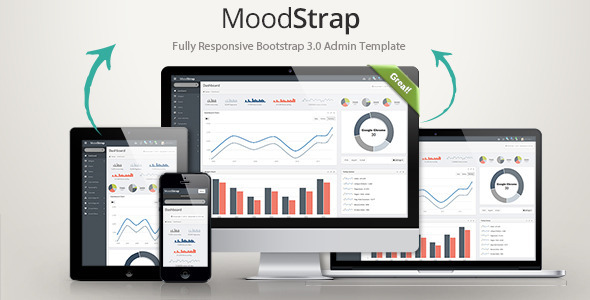 MoodStrap is a highly optimized for usability through various applications as admin panel.
Demo | Source
Clean Zone – Responsive Admin Template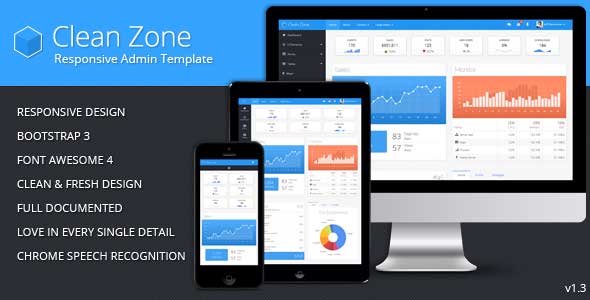 Clean Zone is a responsive admin template based on Bootstrap 3, it has a clean design and beautiful features ready to use.
Demo | Source
Neon – Bootstrap Admin Theme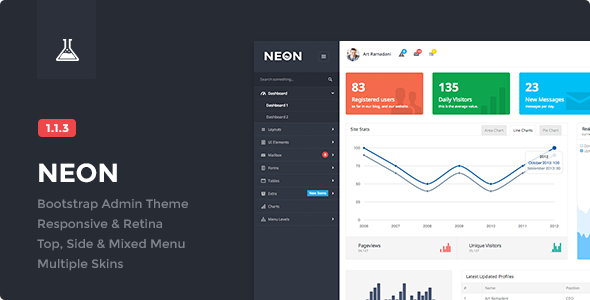 Neon – is flat admin template for multi-purpose usage built with the latest version of Bootstrap – 3.
It contains more than 75 HTML files which offer you great variety of layout options and resources, and it will be extended in the future updates with newer plugins and pages.
Demo | Source
Admax User Interface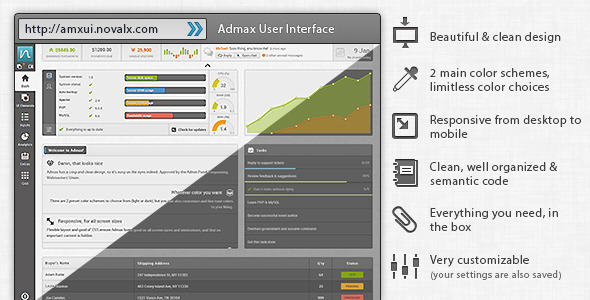 Admax User Interface features a very good looking, clean design, intuitive interface elements for an excellent UX, and a comprehensive collection of styles, widgets, functions, plugins, animations and icons.
Demo | Source
Bars Web App Admin Panel HTML Bootstrap 3 Template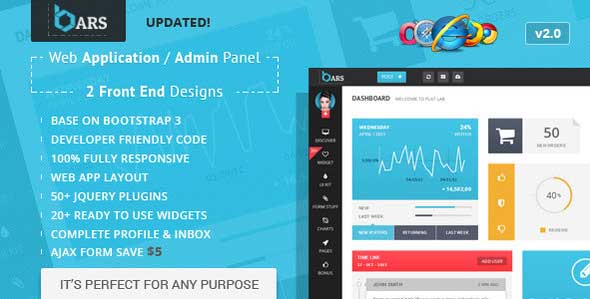 It is for the very first time that you will find a feature-rich Admin Panel, powerful & demanded Web App and 2 Front End designs—all in one! Those were the olden days when you had to go to the Admin Panel to view the latest stats or updates, as the same facility is provided on one of the Front Ends included in the theme. The fully responsive and flat design adds to the utility and outlook of the template. Here, you are also being provided with over 100 elements and widgets, each of which is clean, super responsive, unique and fully featured.
Demo | Source
Stardom – Bootstrap Admin Dashboard Theme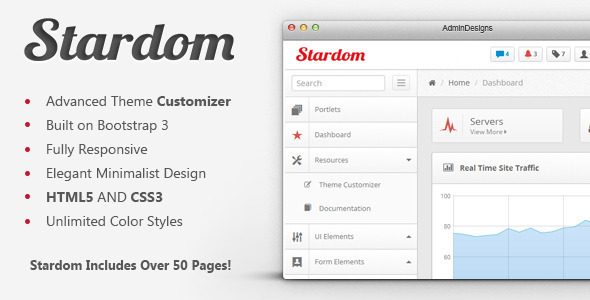 Stardom is an expansive and well structured Admin UI Template that was built on Twitters Bootstrap 3. The Stardom theme uses the latest web technologies and conforms to only the most modern of web design and performance standards. All 50+ pages of this Admin theme are well documented and easy to understand so that you can get your project up and going fast!
Demo | Source
Caplet Admin Responsive HTML Theme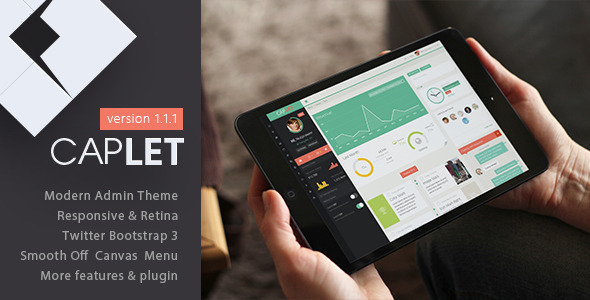 Caplet Admin is modern flat admin template , based on Bootstrap Framework 3+HTML5+CSS3 more plugin includes for all purpose use.
Demo | Source
Flat Dream – Responsive Admin Template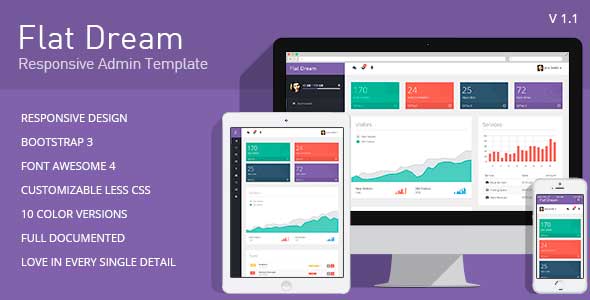 Flat Dream is a responsive admin template based on Bootstrap 3, it has a flat design and beautiful features ready to use.
Demo | Source
Neu – Responsive Boostrap Admin Theme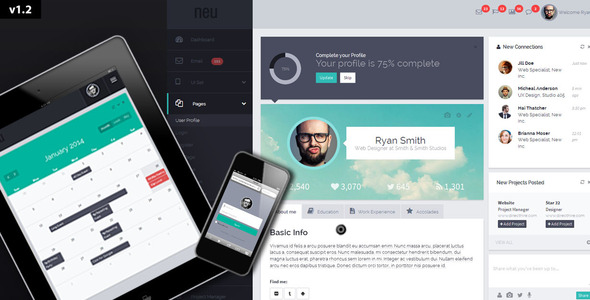 Neu is a responsive and multipurpose admin template built with the Twitter Bootstrap 3.0 Framework. Customizing the color palette as well as the details is extremely easy using the included LESS files.
Demo | Source
Bucket Admin Bootstrap 3 Responsive Flat Dashboard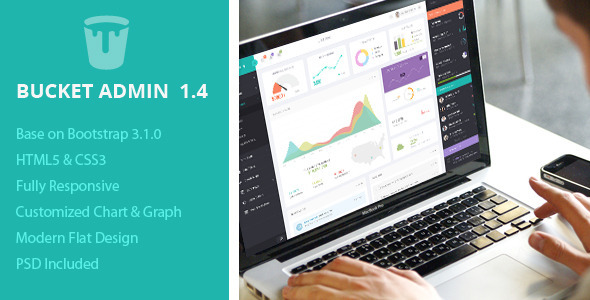 Bucket Admin is a premium admin dashboard template with flat design concept. Flat color, Customized Chart, Easy to customize and developer friendly code. It is fully responsive admin dashboard template built with Bootstrap 3+ Framework, HTML5 and CSS3, Media query, touch friendly and very much adaptive with any size viewport including iPhone, iPad, android phone and tablet. It has a huge collection of reusable UI components and integrated with latest jQuery plugins. It can be used for all type of web applications like custom admin panel, project management system, admin dashboard, application backend, CMS, CRM. A large number of widget are included here to make you.
Demo | Source
Business Admin Template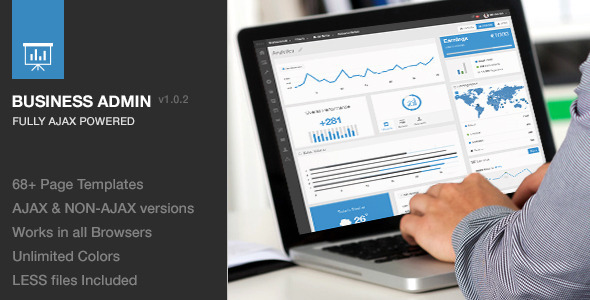 Business Admin Template is a responsive admin template compatible with Twitter Bootstrap 3.0. Our Admin Template is ready for styling your admin, CRM, SASS, website or any HTML business application giving a unique look and feel to your application.
Demo | Source
Mint – Flat & Responsive Admin Dashboard Template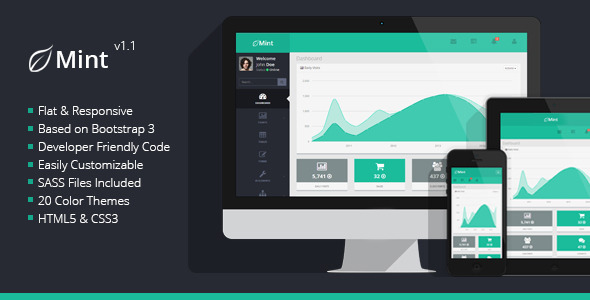 Mint by Grozav is a flat design approach towards Admin Dashboards. Intuitive, cutting-edge, clean and easy to use and customize, as every Application UI should be.It has a sleek, clean and intuitive elegant design which makes your next project look so awesome you'll simply love logging in.
Demo | Source
Gemini – Responsive Admin Template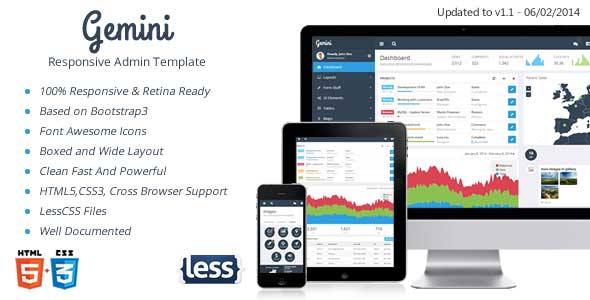 Gemini – is a fully responsive admin template, based on Bootstrap3 Framework. This template is very powerful, clean and fast, easy to customize and use. In downloaded package you will find LessCss files, that enables you to quickly customize the template. Also it's responsive, which means it is compatible with mobile devices such as iPhone and iPad. Just check out the live preview, and don't forget to visit all pages.
Demo | Source
Social Network – Admin & Website Template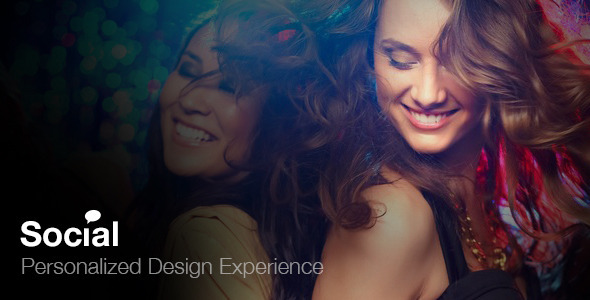 Social is a fully responsive admin dashboard panel and front-end website template that is primarily designed with social networks in mind. Built with love by mosaicpro, the Social Network template contains a HUGE collection of ready to go pages with hundreds of HTML elements.
Demo | Source
ProUI – Responsive Admin Dashboard Template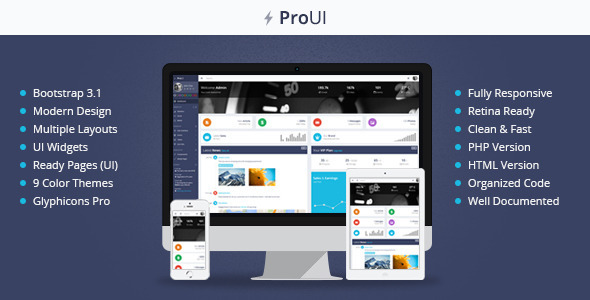 ProUI overwrites the default style of the Bootstrap framework to match its own and at the same time extends it to a large degree without being too complicated and losing its simplicity. Even if you are not familiar with the framework, template's components can be easily replicated without losing your focus on the development. It is a professional, modern and flexible admin template/skin solution and can be used to build all kind of projects such as web applications or backend website solutions. I encourage you to have a good look at the live demo and discover all the included features!
Demo | Source
Quick Admin Template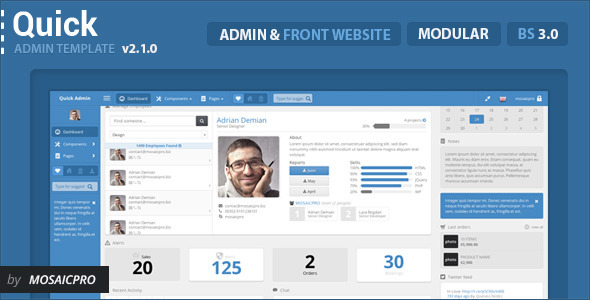 Quick Admin is a fully responsive HTML template, perfect for anyone looking to start a backend system with a modern interface. Built on top of the popular, sleek & intuitive Bootstrap Framework, Quick Admin will adapt seamlessly to any device screen, offering a solid & uniform browsing experience for desktop, tablet and mobile devices.
Demo | Source
FlatApp – Premium Admin Dashboard Template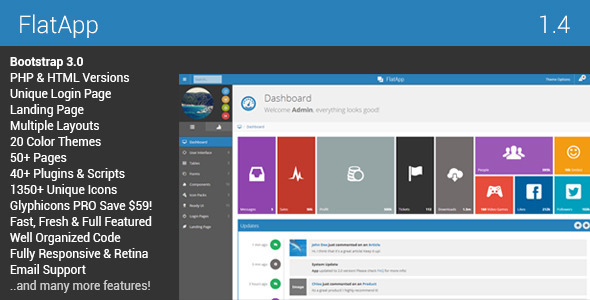 FlatApp is a premium and fully responsive admin dashboard template by pixelcave. It is built on top of the popular Bootstrap Framework and features a clean, fresh and colorful flat user interface with strong code structure underneath. It comes packed with awesome features and great functionality!
Demo | Source
Cleanizr – Responsive Admin Template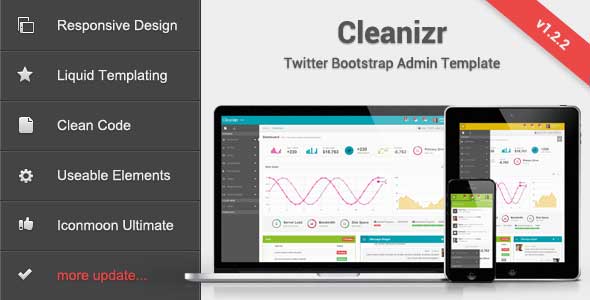 Cleanizr is a responsive and lightweight(80kb minified) admin template. Bundle with 28+ third party plugin and useable elemen such as button, thumbnail, media object and much more, perfect for anyone looking to start a backend system with a clean interface. Build base on the latest Twitter Bootstrap with a simple & clean design in mind.
Demo | Source
Hagal Admin Responsive Template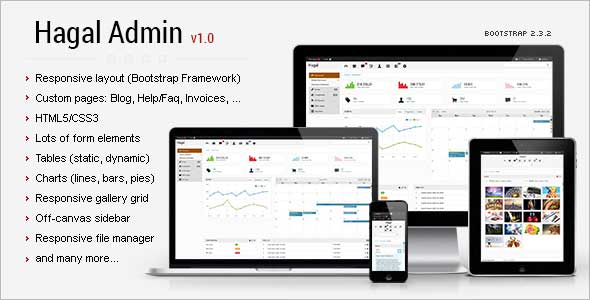 Hagal Admin is a HTML5/CSS3 backend template based on Twitter Bootstrap Framework, it's easily customisable, cross-browser compatible and works great on desktops, tablets and mobile devices. It can be used for any web aplication (Cms, Crm, Statistics, Shop backend etc). Theme switcher is included in this template for easy customization.
Demo | Source
First – Mobile First Web App Theme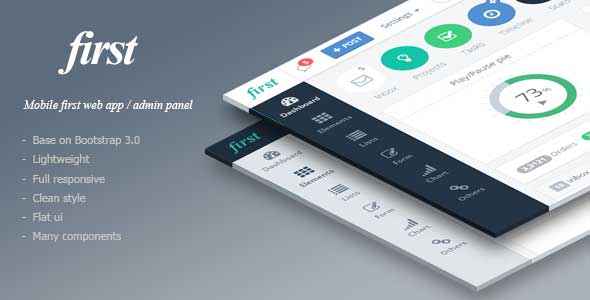 First is a mobile first web app / admin dashboard theme with flat ui based on Bootstrap 3, it's lightweight but with many components suit to your need. it's fully responsive, the widgets and components are mobile first.
Demo | Source
Leo – Premium Admin Template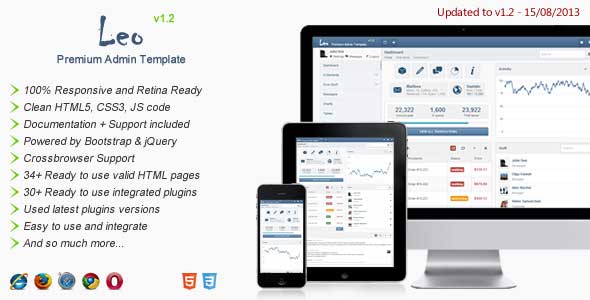 Leo is a clean and powerful ready to use responsive admin template, based on Bootstrap v2.3.1 and powered by jQuery 2.0.0The main task of a developer is the quality and speed of their applications. Leo – fast, with a clean source code and understandable even for a novice programmer. Despite this, Leo powerful product that will help you with time-saving for the development of your project. Also in the package you will find detailed documentation on using.
Demo | Source
Metronic – Responsive Admin Dashboard Template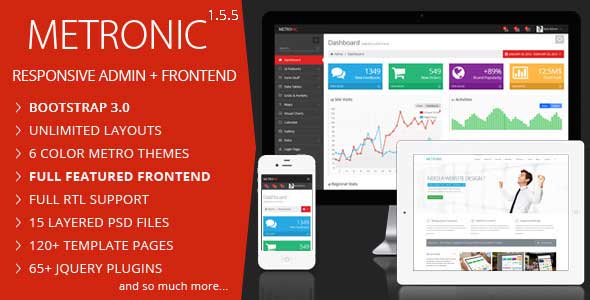 Metronic is a responsive and multipurpose admin and frontend theme powered with Twitter Bootstrap 3.0 Framework. Metronic can be used for any type of web applications: custom admin panels, admin dashboards, CMS, CRM, SAAS and websites: business, corporate, portfolio, blog. Metronic has a sleek, clean and intuitive metro style design which makes your next project look awesome and yet user friendly. Metronic has a huge collection of plugins and UI components and works seamlessly on all major web browsers, tablets and phones.
Demo | Source
The Kamarel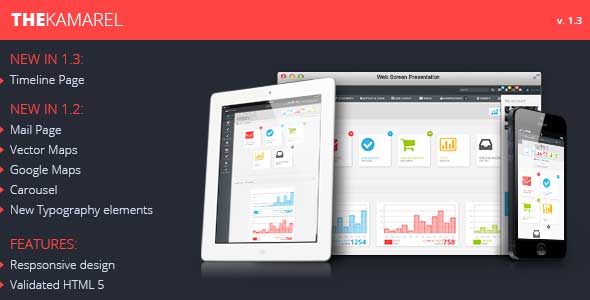 Responsive design, supporting most of mobile devices,Font Awesome,Integrated charts (using jQuery flot, sparklines and JustGage),Dynamic tables (using Tablesorter),Growl style notifications (using jGrowl),Datepicker and Colorpicker for bootstrap and much more are the features of this admin template.
Demo | Source
MelonHTML5 – Admin7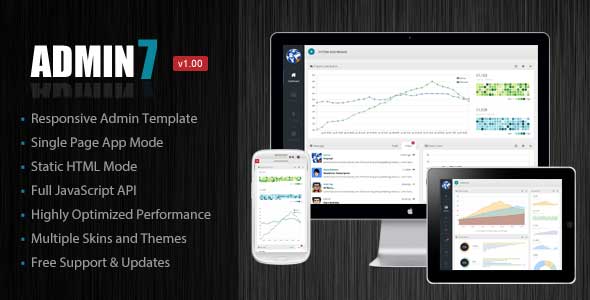 Admin7 is a fully responsive admin template powered by HTML5, CSS3 and JavaScript.Admin7 comes with modern Single Page App mode and traditional Static HTML mode.Admin7 is not a collection of dozons of random jQuery plugins with different design patterns. All the components are designed from scratch with consistent design pattern and coding standards. (Constructor Pattern in JavaScript and OOCSS principle in CSS). Performance of each module is highly optimized for different browsers and devices.
Demo | Source
FLAT KIT – Premium Bootstrap 3 App Template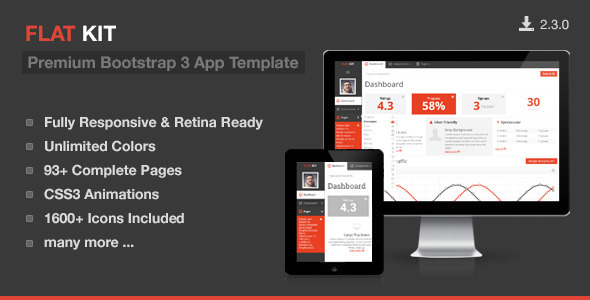 FLAT KIT is a comprehensive responsive admin template built for starting your: Custom APPS / Website / CMS / CRM / SAAS / Mobile web application with over 97 unique HTML pages and hundreds of components.
Demo | Source
Flatpoint – Responsive Admin Dashboard Template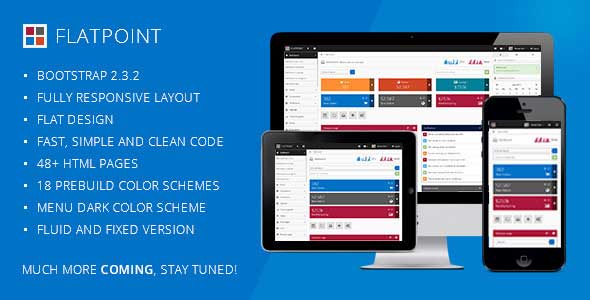 FlatPoint is another responsive flat admin dashboard template built with the latest Twitter Bootstrap Framework for backend web applications. FlatPoint has a very clean UI and design. It works on all major web browsers, tablets and phones.
Demo | Source
FLATY – Premium Responsive Admin Template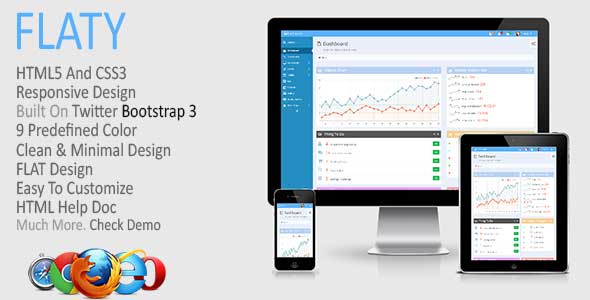 FLATY is the new premium and fully responsive admin dashboard template. It is built on top of the popular Bootstrap 3 Framework and features a clean, fresh and colorful flat user interface with strong code structure underneath. It comes packed with awesome features and great functionality. FLATY is a comprehensive responsive admin template built for starting your: Custom APPS / Website / CMS / CRM / Mobile APPS on the fly with hundreds of components.
Demo | Source
Metro Lab – Responsive Metro Dashboard Template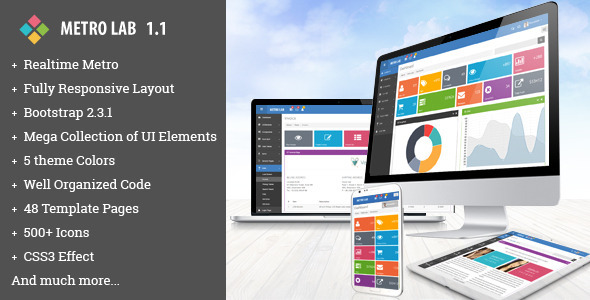 Metro Lab is a responsive admin dashboard template built with Twitter Bootstrap Framework and it has a huge collection of reusable UI components and integrated with jQuery plugins. Metro Lab can be used for all type of web applications like custom admin panel, admin dashboard, application backend, CMS, CRM, business website, corporate, portfolio, blog etc. Metro Lab template works on all major web browsers, Desktop, iPhone, iPad, Tablet and all smart phone friendly.
Demo | Source
AvocadoPanel – Responsive Admin Template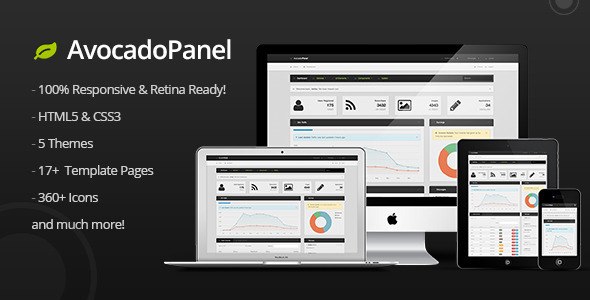 AvocadoPanel is a responsive admin template powered with Twitter Bootstrap Framework for admin and backend applications. The template can be used for any web application including custom admin panels, admin dashboards, CMS, CRM, SAAS and websites. AvocadoPanel also features a very clean and intuitive style of design which makes your next project look awesome and yet super-user friendly!
Demo | Source
Se7en – Bootstrap 3 Responsive Admin Template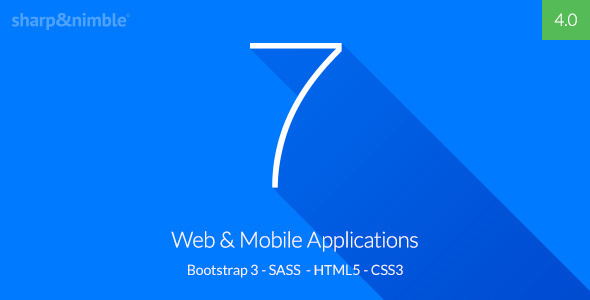 A designer/developer friendly framework for web & mobile application. Built for entrepreneurs, developers, designers and enthusiasts. Powered by Bootstrap 3, Se7en can be used for any web application, dashboard, or business application. Be it admin panels, CMSs, SAAS, corporate websites, you name it. Our template is lightweight and features an expandable set of components suitable for many needs on a variety of devices. User friendly, intuitive, and fun to use, try Se7en today!
Demo | Source
Kato – Responsive Admin Template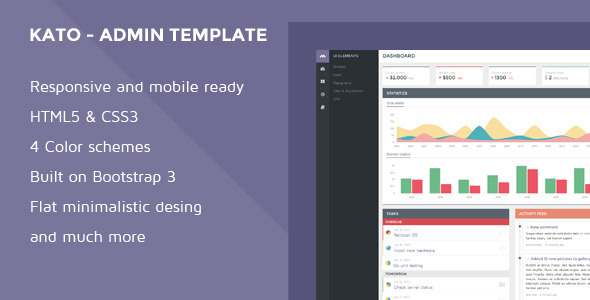 Kato is bootstrap 3 based HTML5 responsive template.It features simple clean design with easily changeable colors. Kato was made with SASS lang which provides powerful customization with changing as few files as possible.
Demo | Source
todo – Web Application and Admin Panel Template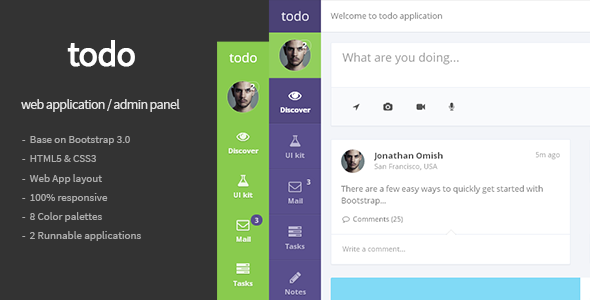 todo is a fully responsive web app / admin dashboard template with Flat ui with clean style and Mobile widgets.
Demo | Source
Acura – Real Admin Template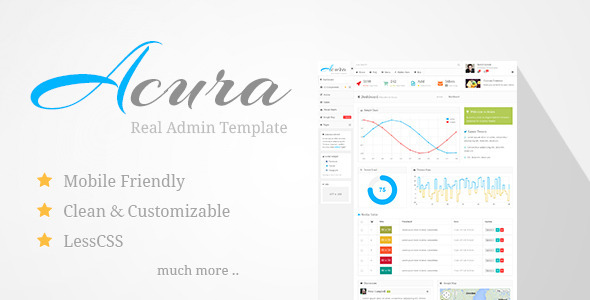 Acura is a modern and elegant Real Admin Template! It's very clean and easy to customize. It come with many plugins and useful widgets. It contain many basics options, where you can make your modification, or add your taste!
Demo | Source
Melon – Flat & Responsive Admin Template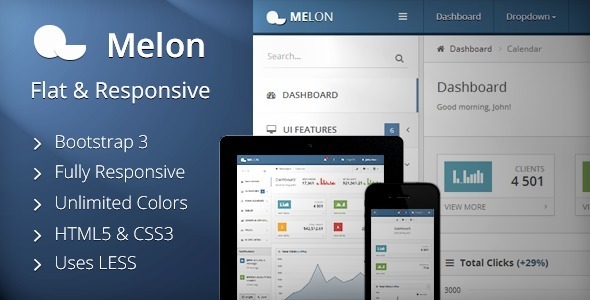 Melon – a new premium flat & responsive Admin Template based on Bootstrap 3 with very flexible content structure. It is build with modern techniques like HTML5 and CSS3 to be used for backend solutions of any size. Melon is lightweight, fast and features an expandable set of components suitable for many needs on a variety of devices. It has a clean, modern and intuitive design which makes your next project look awesome and yet user-friendly.
Demo | Source
Mars – Responsive Admin Bootstrap 3 Template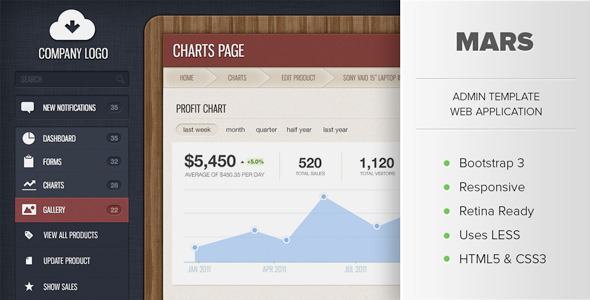 Latest Bootstrap 3 framework and is 100% responsive, works on mobile phones, tablets and desktops. Great for your web application as well.
Demo | Source
Alpona – A Clean Responsive Flat B3 Admin Template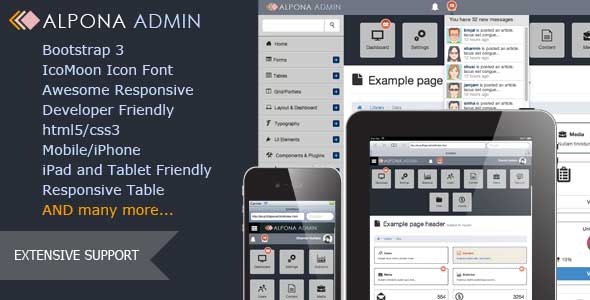 Alpona is very powerful & responsive admin template utilizing the latest technology. It's ease of use is in part to the Bootstrap3 framework and the implementation. Uses CSS3 , HTML5 , Media query, touch friendly and very much adaptive with any size viewport including iPhone, iPad, android phone and tablet.
Demo | Source
Ebro – Super Clean Responsive Admin Template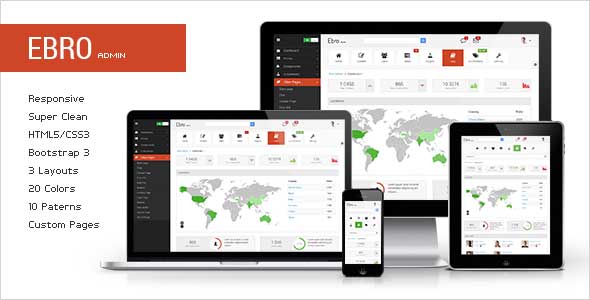 Ebro Admin is a profesional, super clean HTML5/CSS3 backend template based on Twitter Bootstrap 3 Framework, it's easily customisable, cross-browser compatible and works great on mobile devices. Ebro Admin has a lot of features, custom pages and has very handy style switcher so you can easily change colors, layout and backgground pattern. This template it's also retina ready so it looks very sharp on hi-res displays.
Demo | Source
FreshUI – Premium Web App and Admin Template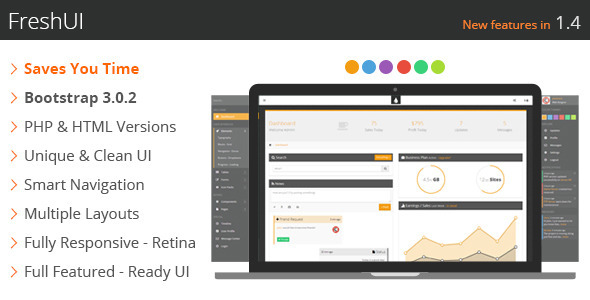 FreshUI overwrites the default style of the Bootstrap framework to match its own and at the same time extends it to a large degree without being too complicated and losing its simplicity. Even if you are not familiar with the framework, theme's components can be easily replicated without losing your focus on the development. It is a professional and flexible admin template/skin solution and can be used to build all kind of projects such as web applications or backend website solutions. I encourage you to have a good look at the live demo and discover all the features included!
Demo | Source
Archon Flat Responsive Admin Bootstrap 3 Template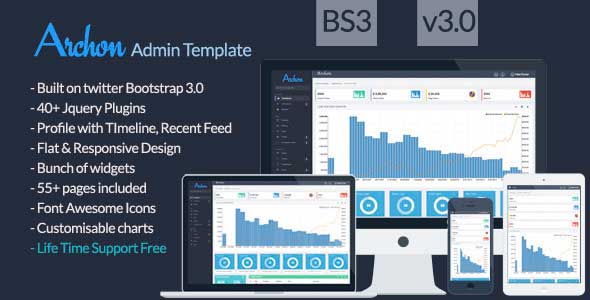 Archon 3.0 is released with a bunch of new features and a awesome front end and new pages, improved code. Please read more on the section what's hot on v3.0
Archon is a Flat , Responsive, Admin Dashboard template. It is complete set of modern standards and top notch design. Built on twitter bootstrap 3.0 with bunch of premium extended features and set of useful jquery plugins , all packed in one design. Months of research and years of experience all strived to make a wonderful theme with each and every useful feature for all types of applications. Do not doubt it , keep reading and know more.
Demo | Source
Sweet Dreams Premium Admin Template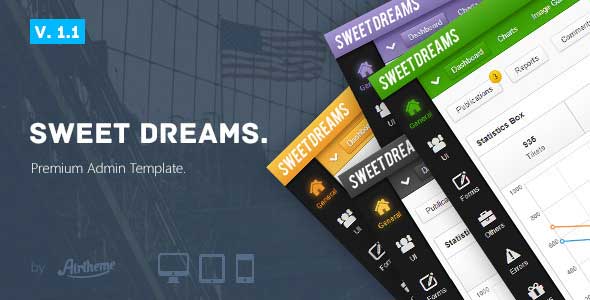 Sweet Dreams Premium Admin Template this is the best of what we have provided you before. We used a completely new approach to the creation of this template!
Demo | Source
Boo Admin – Responsive Template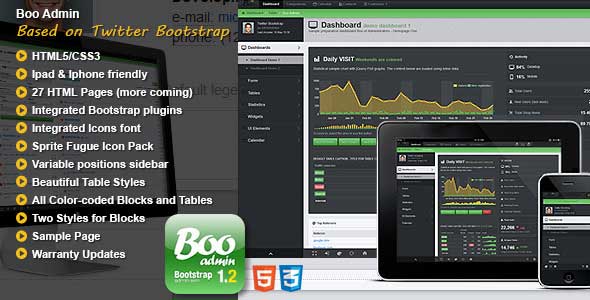 Boo 1.2 template is a flexible Twitter Bootstrap HTML5 template for backend, user interface or administration, both for desktop and mobile users. Built on latest Twitter Bootstrap 2.2.2. Boo maintaining native Bootstrap functionality, enriched of pleasing design and tons of new template features, makes it very powerful kit for rapid development.
Demo | Source
Beoro Admin Responsive Template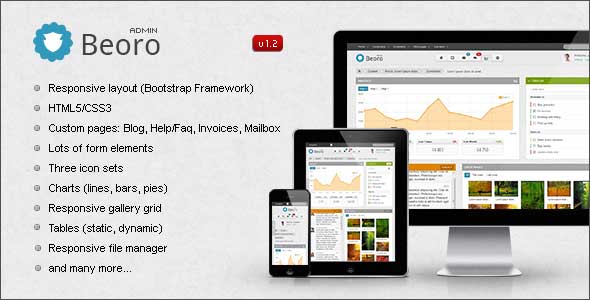 Beoro Admin is a HTML5/CSS3 backend template based on Twitter Bootstrap Framework, it's easily customisable, cross-browser compatible and works great on desktops, tablets and mobile devices. It can be used for any web aplication (Cms, Crm, Statistics, Shop backend etc).
Demo | Source
Esthetics Admin Clean Admin Template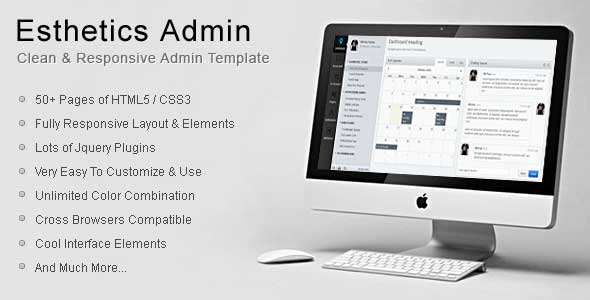 Esthetics Admin is a apple inspired admin template for huge and small backend solutions. It includes custom plugins, forms, validations, charts, tables, notifications and much more. The template is built on HTML5 with CSS3 features powered by jQuery and modernizer.
Demo | Source
Virgo – Premium Admin Template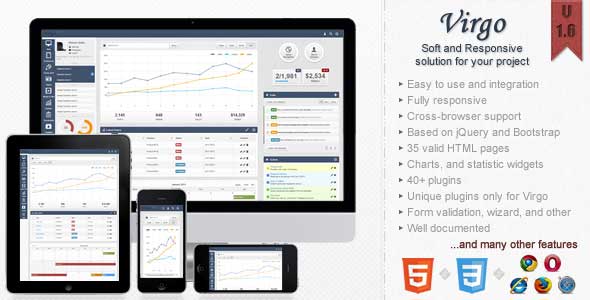 Virgo is responsive and soft admin template, with clean HTML code, based on jQuery and Bootstrap. In this template you will find all what you need for your back-end app, or another project. Virgo template included with lot of jQuery plugins, that compatible with all newest browsers.
Demo | Source
Conquer – Responsive Admin Dashboard Template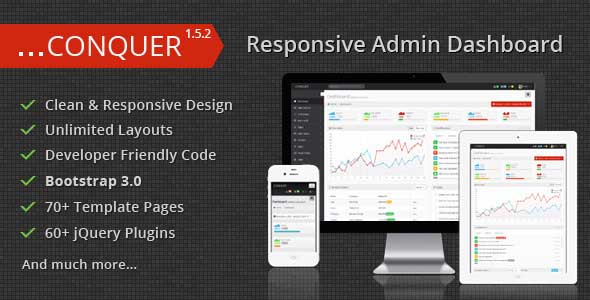 Conquer is a responsive admin dashboard template created mainly for admin and backend applications(CMS, CRM, Custom Admin Application, Admin Dashboard). Conquer template powered with Twitter Bootstrap 3.0 Framework and it comes with a huge collection of reusable UI components and integrated jQuery plugins. Conquer template works on all major web browsers, tablets and phones.
Demo | Source
Atina – Responsive Admin Template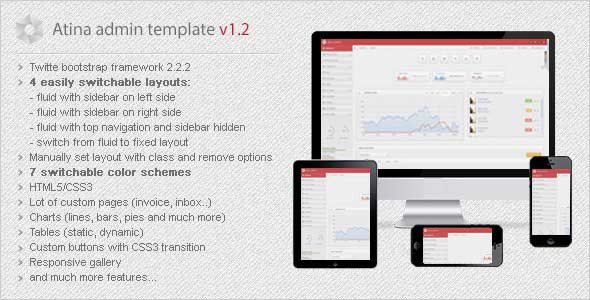 Atina admin is a HTML5/CSS3 template based on Twitter Bootstrap Framework. It has a lot of features including fluid layout with left or right sidebar, fluid layout with top navigation and sidebar hidden, fixed layout with top navigation, and much more. It's easily customisable and cross-browser compatible.
Note – if you have any suggestions how to improve this template, or you encounter any bugs, please contact me from my profile.
Demo | Source
BootAdmin – All-In-One Admin Responsive Template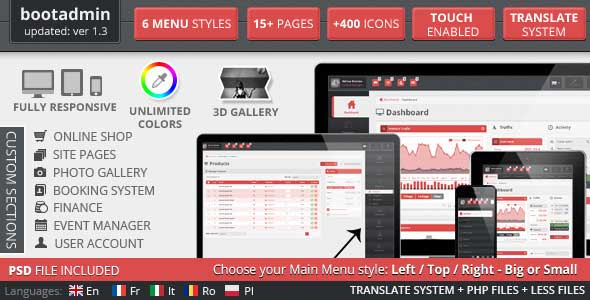 BootAdmin is a fully responsive admin html template, perfect for anyone looking to start a backend system with a modern interface. No more separate websites for mobile, as this theme will adapt seamlessly to any device screen and on top of that it's HD / retina ready.
Demo | Source
The Realm – Clean & Modern Admin Template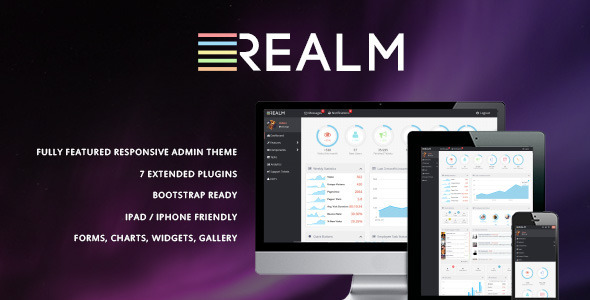 This admin template was built with the popular Bootstrap framework from Twitter and has been styled in a modern flat design. The admin template adapts seamlessly with any device such as tablets and mobile phones.You can use this template if you are building an administrator panel for any website. The Realm offers analytics plugins, user management, task management, gallery, notifications and much more.
Demo | Source
Katniss Premium Admin Template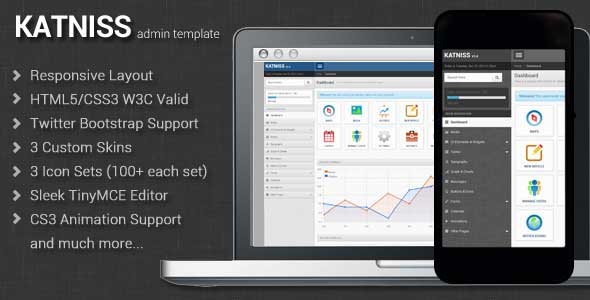 Katniss Responsive Admin Template is a unique animated admin template using css3 with many features, plugins and custom elements that you can use fo your backend projects. This template has 3 different skins that you can change anytime you want. This template also very useful for any type of application.
Demo | Source
Lindworm Responsive Admin Template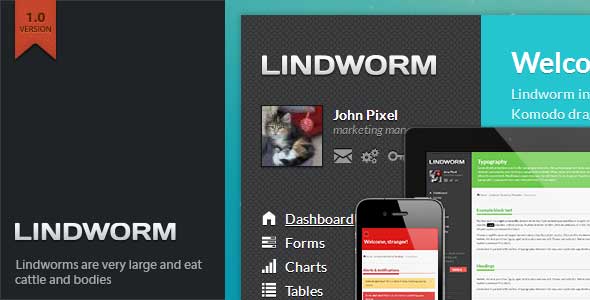 Lindworm is a modern minimalistic HTML5 template for any backend, user interface or administration, both for desktop and mobile users. Built on latest Twitter Bootstrap and powered with LESS, Lindworm will save you hours in developing your project. Template is available in 4 default colors and packed with basic and popular user interface elements and widgets.
Demo | Source
Photon UI Responsive Admin Panel Theme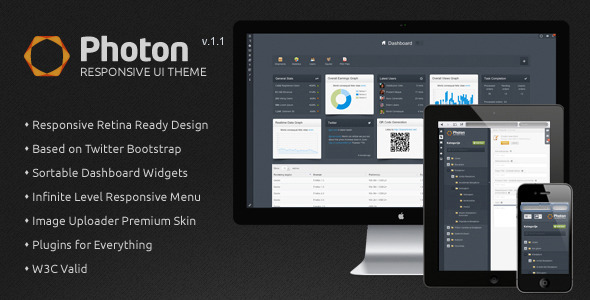 Photon UI is new premium responsive admin panel theme based on Twitter Bootstrap, available in both dark and light color scheme. Your clients will love using their backend console built with Photon UI Responsive Admin Panel Theme Template. Theme looks great on both desktop and mobile devices as we took special care to adjust the interface for luxurious user experience on smaller screens. Users with latest iPhone and iPad devices will be pleased with hi-res retina-ready graphics.
Demo | Source
AdminPlus – Premium Bootstrap 3 Admin Template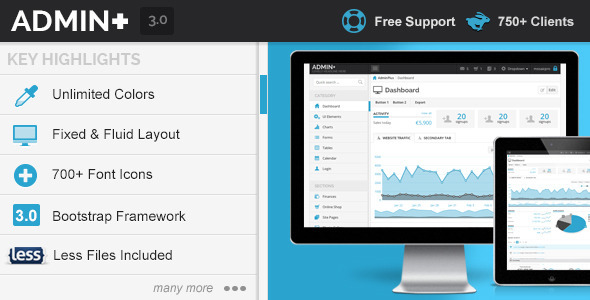 Responsive Admin Template is a unique animated admin template using css3 with many features, plugins and custom elements that you can use fo your backend projects.
Demo | Source
ease – Responsive Admin Template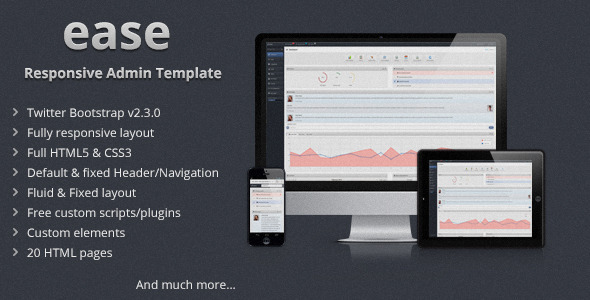 ease is a responsive dashboard admin template built with twitter bootstrap. It is used for backend applications. It supports all modern devices. Ease comes with many custom made plugins and is user friendly designed and developed. It has a detailed documentation and developers can start new backend projects fast. The color correspond very good together and the color palette is very user friendly.
Demo | Source
AIR – Responsive Bootstrap Admin Template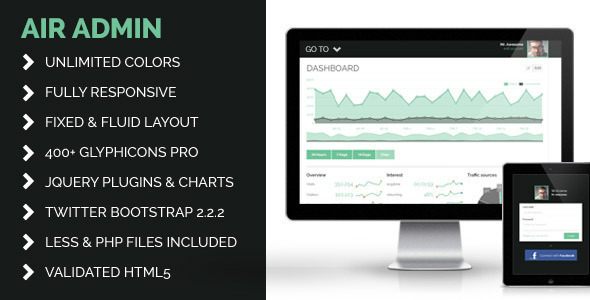 Responsive Bootstrap Admin Template created by Twitter Bootstrap,less.js, (Apache License 2.0),Cubiq iScroll 4 – cubiq.org/iscroll-4 – MIT Licensed,DataTables , Dual licensed GPLv2 & BSD,Farbtastic , (GPL Licensed), etc.FullCalendar
Demo | Source
METRO – Premium Admin Template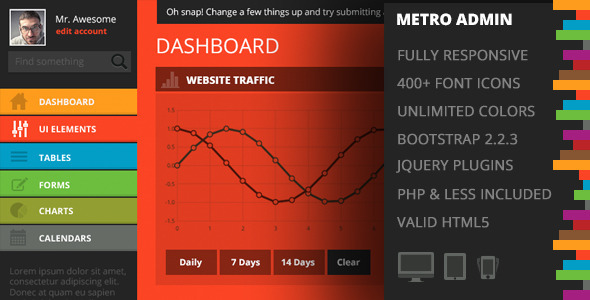 Packages & libraries used in the METRO Template, along with attributions to their authors and licenses.
Demo | Source
Smashing – Premium Admin Template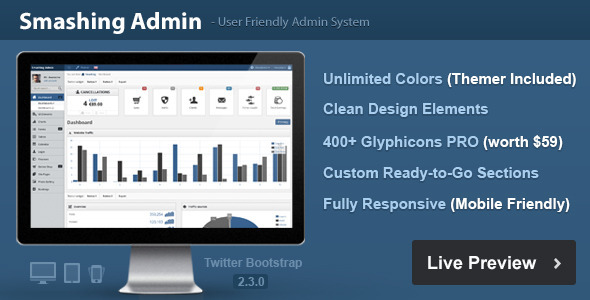 Responsive Bootstrap Admin Template created by Twitter Bootstrap,less.js, (Apache License 2.0),Cubiq iScroll 4 – cubiq.org/iscroll-4 – MIT Licensed,DataTables , Dual licensed GPLv2 & BSD,Farbtastic , (GPL Licensed), etc.FullCalendar
Demo | Source
Matrix Admin TEmplate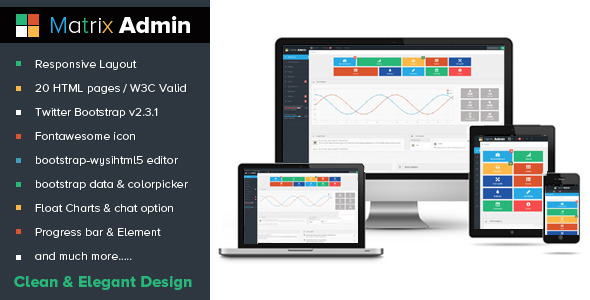 Responsive Admin Template with Clean, Minimal & Metro design. You will find too many options with this theme.
Demo | Source
Falgun – Metro Style Bootstrap Admin Dashboard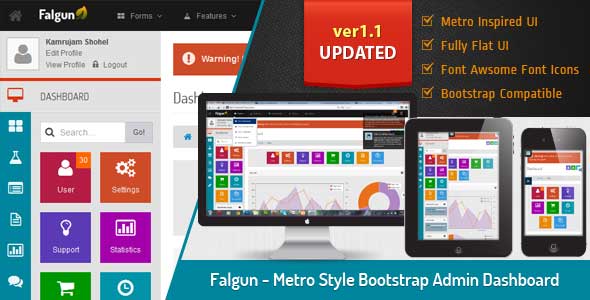 100% Rsponsive Template,Desktop, iPhone, iPad, Tablet and any smartphone friendly,27 Html files,Font Awsome Font Icons,Nice and clean Dashboard,Metro Style Inspired UI,Fully Flat UI.
Demo | Source
Aries – Metro Style Admin Template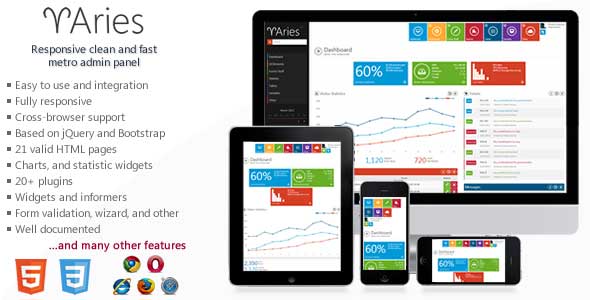 Aries is a responsive metro admin template, developed using windows8 standarts, based on Bootstrap and jQuery. The clean, fast, light dashboard template will help you build your own metro application, and save a lot of time. It comes with huge collection icons plugins and examples. Also in package you will find PNG template of main page, font icons package and documentation. Aries is Retina Ready and supports all major browsers and IE from 7 version.
Demo | Source
FLAT – Responsive Admin Template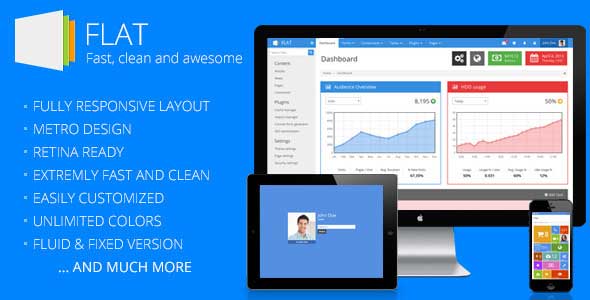 FLAT is a responsive admin template powered by Twitter Bootstrap 2.3.0 for administration and backend applications. FLAT has a very fast and clean UI and design. It provides a very user-friendly design which results in a great user-experience. FLAT is the admin template you want to use for your next project – your clients will love you for this admin template! Once you bought this template you will be able to download upcoming features / updates for free!
Demo | Source
Pannonia – Fully Responsive Admin Template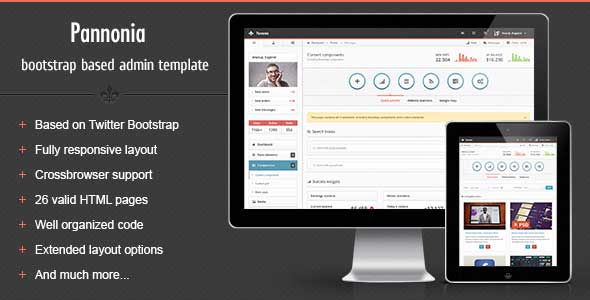 Pannonia – a new premium admin skin based on Twitter Bootstrap framework with flexible content structure. It has 2 columns liquid structure with 3 level navigation and lots of sidebar elements. Pannonia is compatible with Bootstrap 2.3.1 version. Integrated bootstrap plugins add an extra easy to use components to custom stuff like buttons, dropdown menus, different button sizes and many other. Pannonia is a fully responsive template, which means it is compatible with mobile devices such as iPhone and iPad, with ability to hide sidebar. 12 columns grid for main content and widgets makes the whole template very flexible for different type of data and content.
Demo | Source
Infinite – Reponsive Admin Template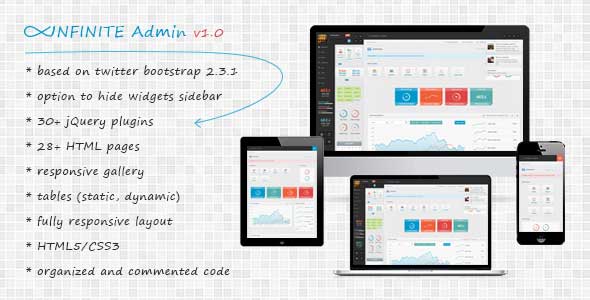 Infinite is a responsive admin template built on latest Twitter Bootstrap Framework 2.3.1. Infinite admin template is very elegant and simple, so it can be used for any type of application. Template is fully responsive and compatible with all devices such as smartphones, tablets and desktop screens.
Template design is very sharp and every detail has been brought to perfection. You have possibility to hide/show sidebar with jQuery cookie (remember if sidebar is hidden or not after changing/refreshing page and keep options stored).
Demo | Source
Night Sky – Ultimate Responsive Bootstrap Admin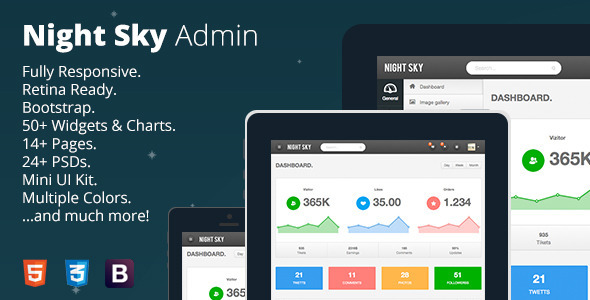 Night Sky is the ultimate admin theme for Twitter Bootstrap. It's what we're calling the best the admin theme for Bootstrap to date. It has a unique, pixel-perfect design, and many fully customized widgets. We gave special attention to design and focussed on building a versatile admin theme that could work for an almost unlimited range of applications.
Demo | Source
uAdmin – Responsive Admin Dashboard Template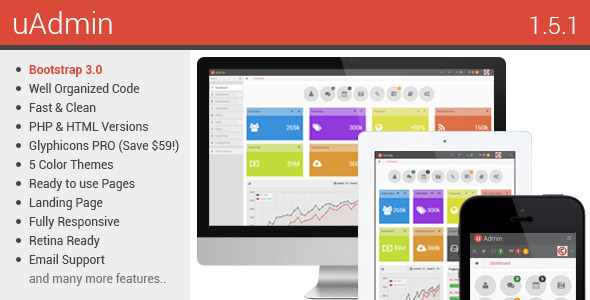 uAdmin is a premium admin template built on top of the popular Bootstrap Framework and comes with a flat design direction. It overwrites the default style of the framework to match its own and at the same time extends it to a large degree without being too complicated and losing its simplicity. Even if you are not familiar with the framework, theme's components can be easily replicated without losing your focus on the development. It is a professional and flexible admin template/skin solution and can be used to build all kind of projects such as web applications or backend website solutions. I encourage you to have a good look at the live demo and discover all the features included.
Demo | Source
AdminKIT – Premium Bootstrap 3 Template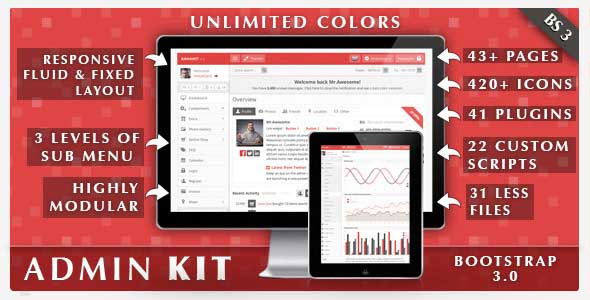 AdminKit is one of the most complete admim templates which includes over 41 wel designed,coded and commented pages with amazing and unique elements.
Demo | Source
Sangoma Bootstrap Admin Template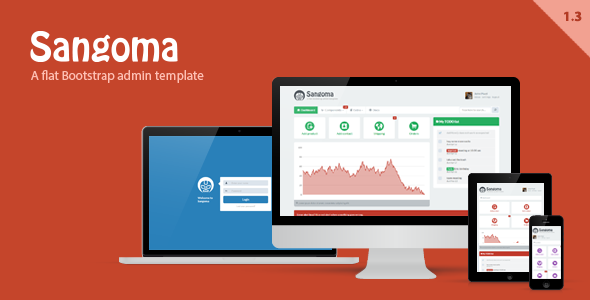 Sangoma is a modern flat Bootstrap template for any backend, user interface or administration, both for desktop and mobile users. Built on latest Twitter Bootstrap and powered with LESS, Sangoma will save you hours in developing your project. Template is available in 8 default colors and packed with basic and popular user interface elements and widgets.
Demo | Source
Shamcey Metro Style Admin Template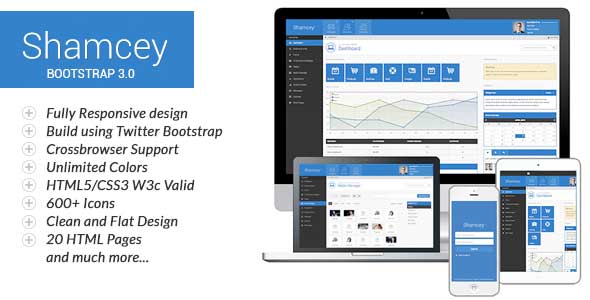 Shamcey is yet another new metro style admin template built using Bootstrap and other jQuery plugins that is perfect for your next projects. It provides an easy to use user interface design and a fully responsive layout that is compatible with handheld devices such as phones and tablets.
Demo | Source
Ergo – Admin UI Template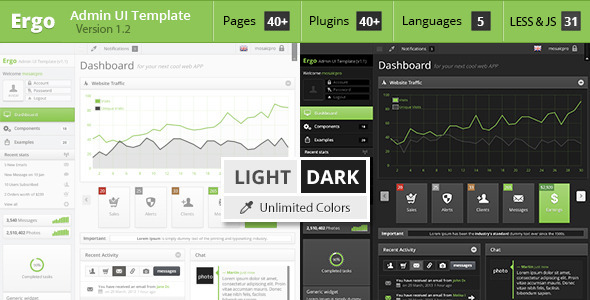 Fully Responsive & High-Res Retina ReadyUnlimited Colors – Change Primary Color to Any Color you wish (Themer Included)
Demo | Source
Moon Light Admin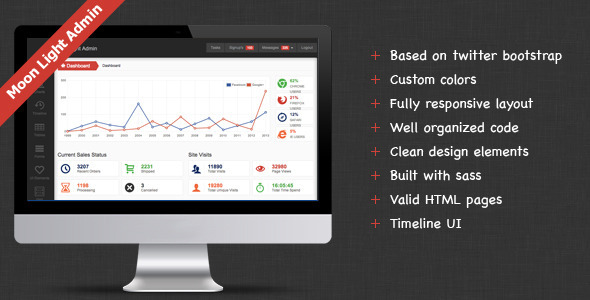 Moon Light Admin is a modern Bootstrap template for any backend, user interface or administration, both for desktop, ipad and mobile users. Built on latest Twitter Bootstrap and powered with Sass, Moon Light Admin will save you hours in developing your project.
Demo | Source
Social – Premium Responsive Admin Template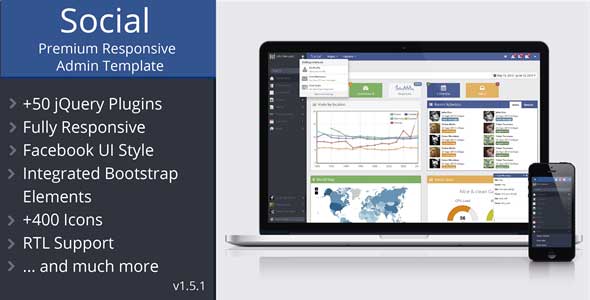 Social is a responsive admin template based on the Facebook look and feel style compatible with Twitter Bootstrap v2.3 and latest jQuery versions. Social was developed for your backend (admin) applications. This template comes with easy to use components and a huge collection of plugins to custom some stuffs like dropdown menus, forms, buttons, tables, modal boxes, advanced charts and more, supported by all major browsers, tablets (IPads & others) and mobiles devices such as IPhone and Androids Phones.
Demo | Source
Admin Lab – Responsive Admin Dashboard Template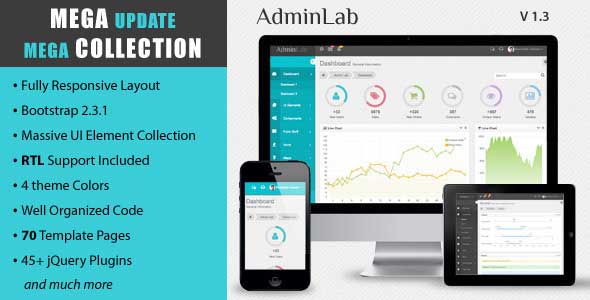 Admin Lab is a responsive admin dashboard template built with Twitter Bootstrap Framework and it has a huge collection of reusable UI components and integrated with jQuery plugins also. Admin Lab can be used for applications(CMS, CRM, Custom Admin Application, Admin Dashboard). Admin Lab template works on all major web browsers, Desktop, iPhone, iPad, Tablet and is any smart phone friendly
Demo | Source
Timex – Bootstrap Admin Theme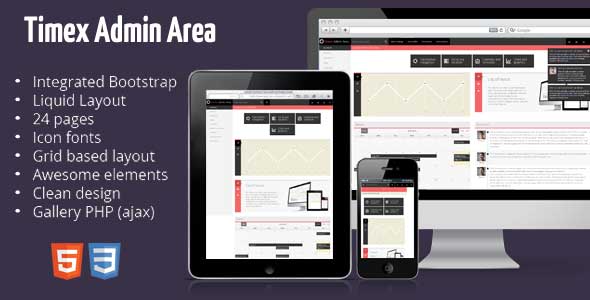 This theme is so clean, super flexible and has a fully responsive design! Be sure it will fit any viewing device. Integrated bootstrap plugins add an extra easy to use components to custom stuff like buttons, dropdown menus, different button sizes and many other features.
Demo | Source
Simplpan Admin Panel Template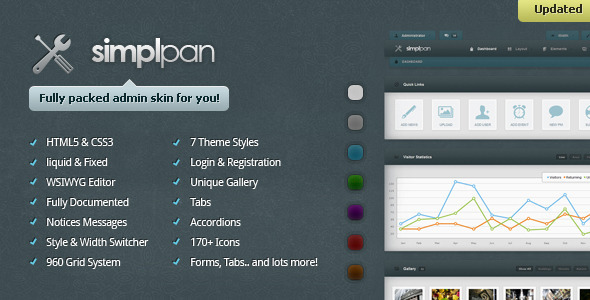 Simplpan is a very stylish admin panel template thats ready to be implemented as backend interface for your application. It fits perfectly for CMS systems, but can be used for anything!
Demo | Source
White Label – a full featured Admin Skin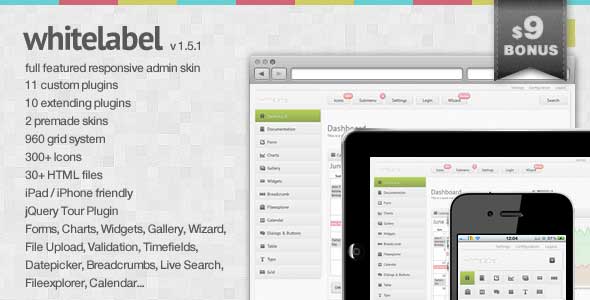 A full featured skinable and responsive CMS /Admin Panel with custom plugins, widgets, forms, validations, charts, galleries and much more.
Demo | Source
Chromatron HTML5 Admin Backend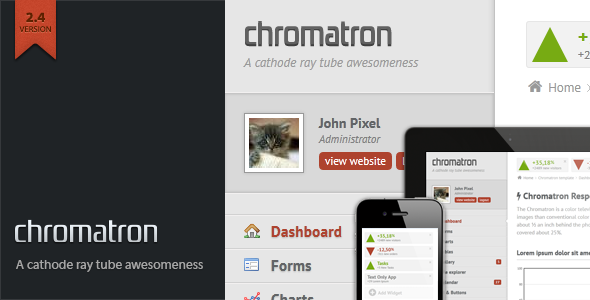 Chromatron is a simple and professional HTML5 template for your backend administration or user interface, both for desktop and mobile. Built on latest Twitter
Demo | Source
Platinum Admin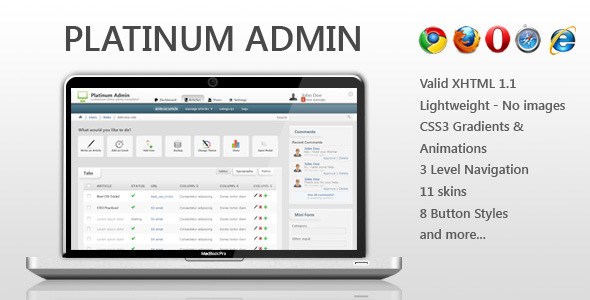 Clean and Modern, Platinum Like Shiny XHTML & CSS3 Admin Template
Demo | Source
Tachyon HTML5 Admin Template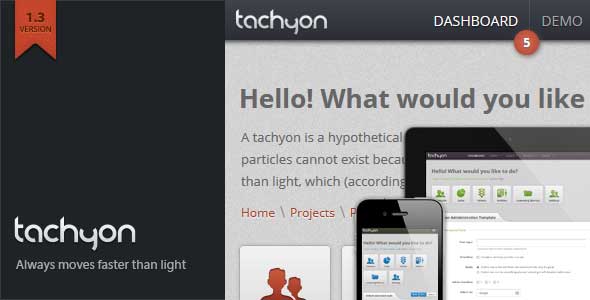 Tachyon is a simple and professional HTML5 template for your backend administration or user interface, both for desktop and mobile. Built on latest Twitter Bootstrap and powered with LESS, Tachyon will save you hours in developing your project. Template is available in 4 default colors and packed with basic and popular user interface elements and widgets.
Demo | Source
Peach – Clean & Smooth Admin Template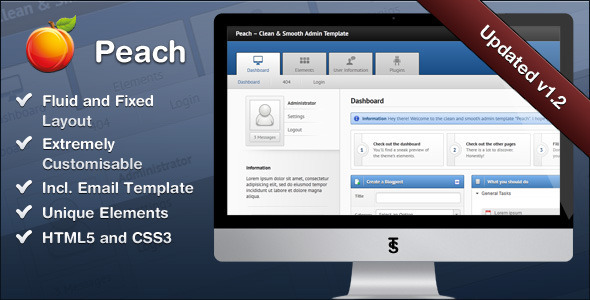 Peach is a clean and smooth admin template for huge and small backend solutions. It includes custom plugins, forms, validations, charts, tables, notifications and much more. There is also the possibility for an optional sidebar. Due to the high amount of elements, this template will definitely cover all your needs. The slick template is built on HTML5 with CSS3 features powered by jQuery and modernizr.
Demo | Source
Adminium – Modern Admin Panel Interface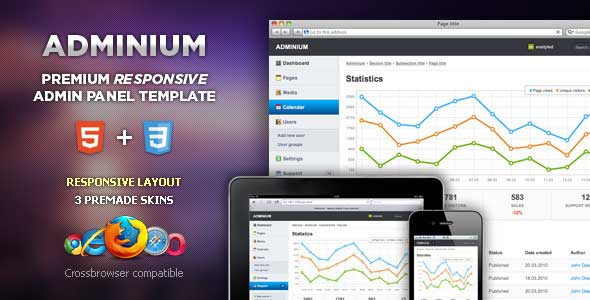 Adminium is a stylish, modern admin panel template, perfect for the back-end interface of your application. The layout is responsive and liquid, so it fits in desktop and mobile browsers.The template is coded with HTML5, styled with CSS3 and enhanced with jQuery. Everything degrades gracefully, so it works well in older browsers too.
Demo | Source
Magic Admin – Admin Premium Template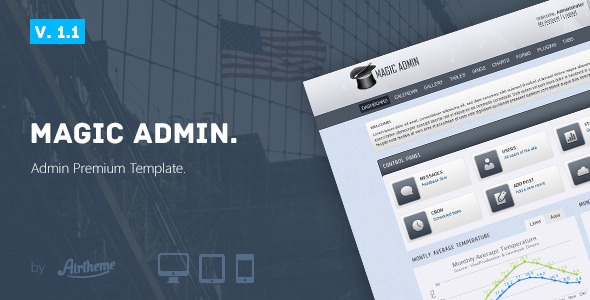 Magic Admin – an admin template. Admin Center covers all the necessary functions for your decisions. In the Magic Admin includes popular jQuery plugins (forms, charts, tables, notifications and much more). Skin is blue with gray elements. Template is built on HTML5 and CSS3.
Demo | Source
Hello Admin Template – Desktops, Tablets, Mobiles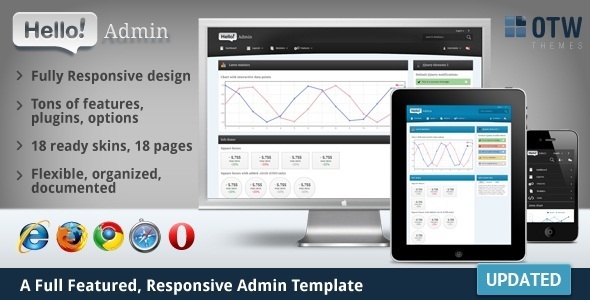 Hello Admin is your web site's or application's full featured responsive admin interface.ully Responsive design – mobiles, tablets, desktops, etc,Tons of features, plugins, options and more coming with free updates
Demo | Source
Color life – Premium Admin Template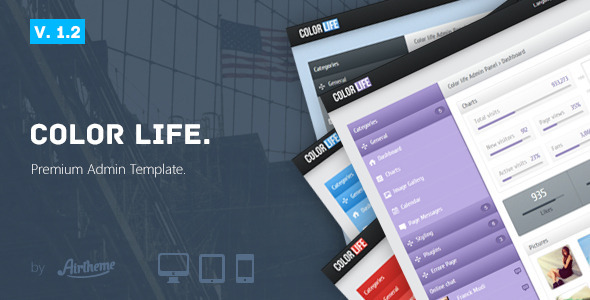 Color life Admin Panel – facilitate the work yourself-and my colleagues, it's easy to use and flexible in the setup, what with him cope even your child. We thought about you, and you think about your future.
Demo | Source
MWS Admin – Full Featured Admin Template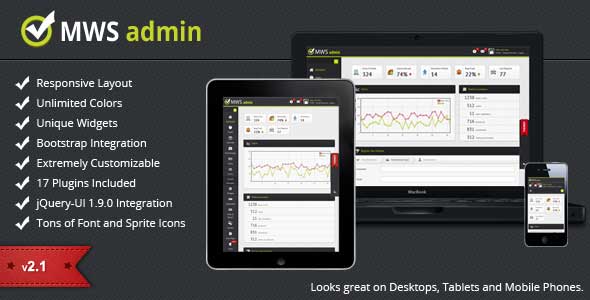 MWS Admin is a responsive admin template build exclusively for sale at ThemeForest, and it aims to be full featured while keeping everything simple and straight forward.
Demo | Source
Infinity Admin – HTML5 & CSS3 Premium Full Featured App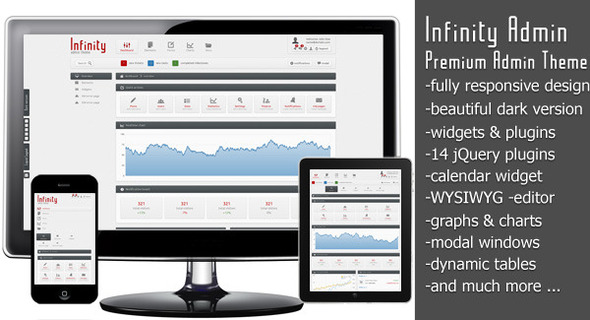 Infinity is a modern premium full featured admin template for professionals and corporates.
Demo | Source
Crown – Premium Responsive Admin Theme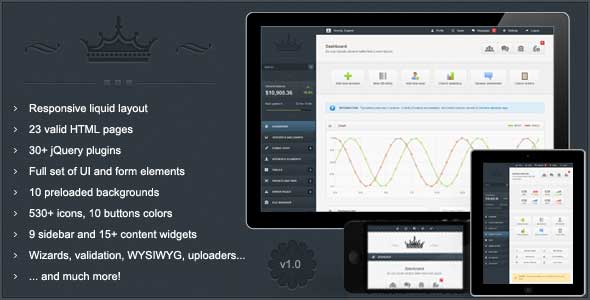 Crown admin theme – a new premium admin panel template with lots of integrated features, plugins and custom elements. It could be useful for any type of web application, custom administration panels, any backend system etc. With integrated charts and statistics stuff, Crown will be very useful for developers who build their own graphs and charts, the design is ready to go! Template has a full set of form and interface elements, wizards, tables, custom widgets and other stuff.
Demo | Source
Pertho Admin Premium Template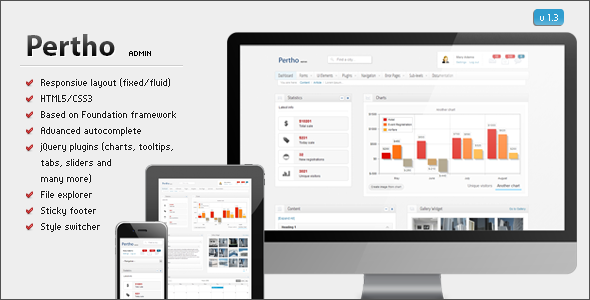 Pertho Admin is a full featured, mobile friendly, responsive Admin Template (based on Foundation Framework) with lots of jQuery plugins: charts, tabs, scrollable content, sticky messages, filterable list, datatables, nested accordion and many more. Style switcher is included in this template for easy customization.
Demo | Source
Developr – Fully Responsive Admin Skin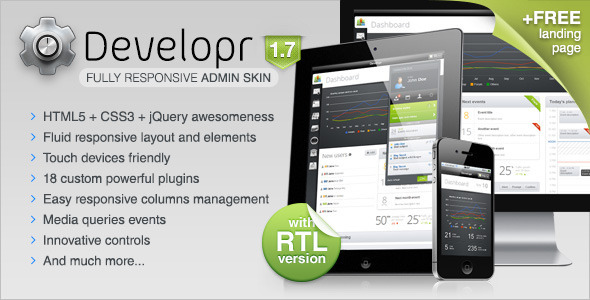 Building a web app for desktop and mobile devices? Developr is for you. Write your code once, and let it handle the magic of responsive webdesign. Developr Admin skin is a flexible responsive HTML5/CSS3 template, built on the mobile-first principle and based on the solid fundations of HTML5 Boilerplate and 320andUp, which provides a rich set of styles and features for all your needs.
Demo | Source
Gebo Admin Responsive Template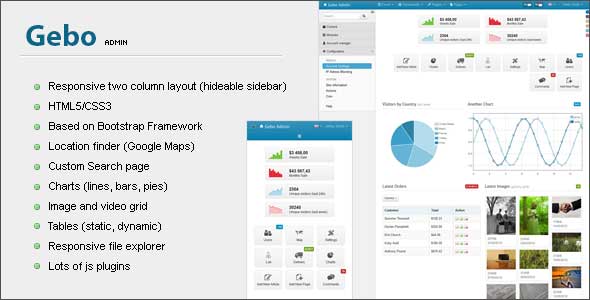 Gebo Admin is full featured, two column responsive template based on Bootstrap Framework from Twitter. It has lots of js plugins: charts, filterable/searchable list, calendar, multiselect, location finder, file manager, gallery grid, datatables, sticky messages, WYSIWG editor and many more.
Demo | Source
Aquincum – Premium Responsive Admin Template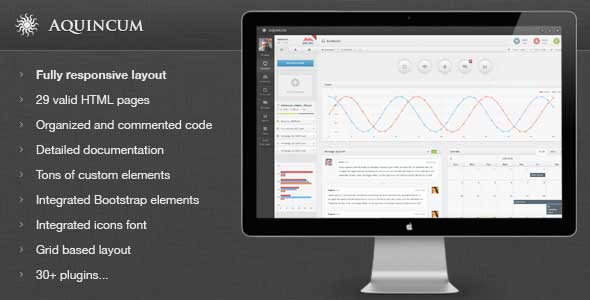 Aquincum – a new premium admin skin with lots of custom elements, 35+ plugins and very flexible content structure. It has 3 columns liquid structure with 3 level navigation and 2 level sidebar. Available 10 main backgrounds, compatible with Bootstrap 2.0.3 and latest jquery versions. Integrated bootstrap plugins add an extra easy to use components to custom stuff like buttons, dropdown menus, different button sizes and many other features.
Demo | Source
Mango – Slick & Responsive Admin Template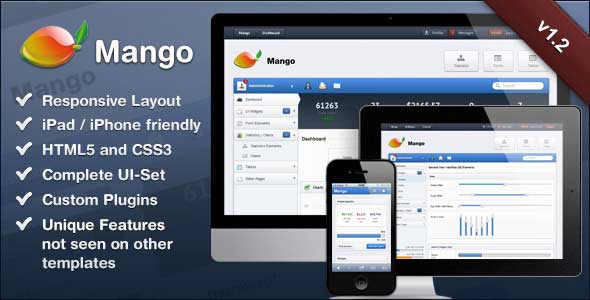 Mango, a slick and responsive Admin Template, comes with all features you can imagine – and even those you can't imagine. It is build with modern techniques like HTML5 and CSS3 to be used for backend solutions of any size. It has custom elements, 30+ plugins, 15+ custom plugins and a very flexible content structure. Mango supports 12 columns grid for main content and widgets make the whole Admin Template very flexible for different types of data and content. The propably most sophisticated Admin Template you have ever seen is waiting for you!
Demo | Source
Supr – Responsive Bootstrap 3 Admin Template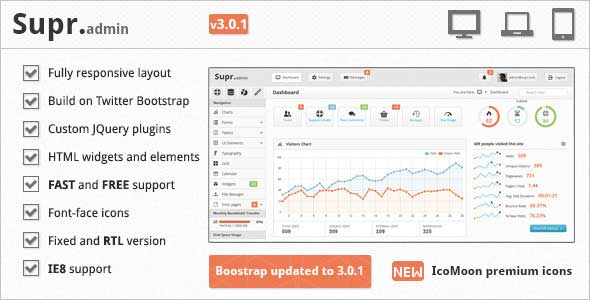 Supr is a full admin skin based on popular Twitter Bootstrap framework. This template is designed to help you build the site administration without losing valuable time.Template contains all the important functions which must have one backend system.
Demo | Source