WordPress is the best solution for photographers or portfolio owners.You can find amazingly creative gallery WordPress themes to showcase and share your design and photography works.As the web design industry grows either technologically or visually you can see trendy WordPress themes in various websites.
Today we are bring together the best gallery WordPress themes that we handpicked from Themeforest.
The below gallery WordPress themes are all trendy,designed and coded using latest web development technology.
Here is the collection of 50+ gallery WordPress themes for your job.

Milli – The Ultimate Photo Gallery WordPress Theme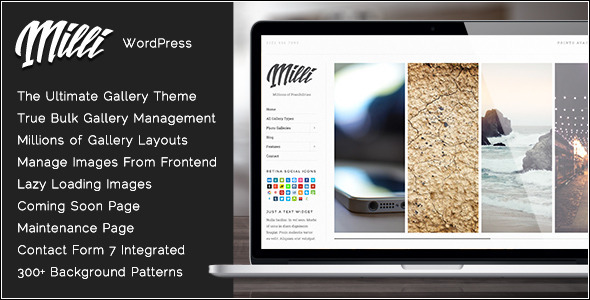 Milli is the ultimate WordPress photo gallery theme. For the first time you get true bulk gallery management and layout control with Milli's really simple gallery creation system.Every gallery you see in Milli is made using a WordPress Page, not a custom post type. Why is that important? Well it means you have total control over your photo galleries that's why! You can configure literally millions of gallery layouts on a per page basis by using our simple image sizing, crop factor, image layout and margin controls to build beautiful unique galleries, on a page by page basis.
Demo | Source
Artemis – Photography Gallery Portfolio Theme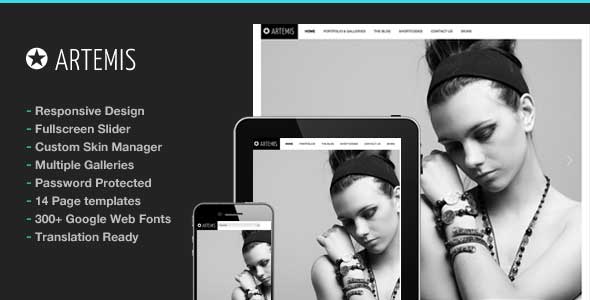 Artesmis a responsive and minimal gallery wordpres theme and it's perfect chocice for your portfolio.
Demo | Source
BIG Gallery WP – Fullscreen Photography/Portfolio/Gallery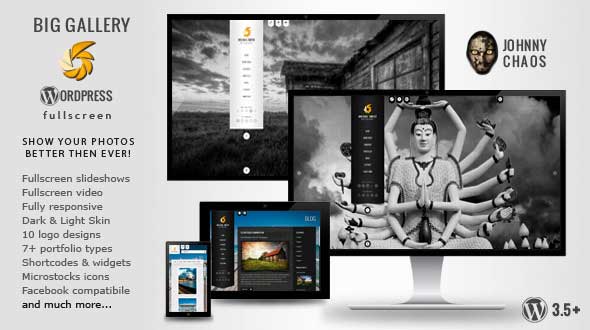 You can find few fullscreen themes, but if you're a photographer, you know how important is composition. Fullscreen photos are always cut or stretched, so they don't look as you wanted.
BIG Gallery allows you to choose from 4 ways of fullscreen slideshow. You can fill all screen with the image, fill full width or height. You can also automatically adjust images to prevent them from being cut. You can change slideshow type separately for every page.
Demo | Source
The Gallery – Automatically Generated Gallery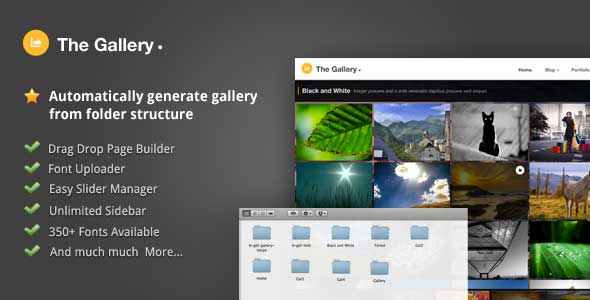 The Gallery WordPress theme include the great latest feature which allow you to create gallery very very easily, just copy your folder structure to theme folder then it will generate gallery automatically. This theme is truly best for photographer who want to deal with numerous of photos. This theme is also designed with stunning modern style. More over, with theme option panel. You can change almost every elements color easily via admin panel. Page items are managed very easily via our awesome tool, 'Page Builder'. Admin panel in this theme is a real feature rich. You can also create unlimited sidebar, choosing over 450 fonts or if you want to use your own, we provide a cufon uploader.
Demo | Source
Core – Minimalist Gallery Portfolio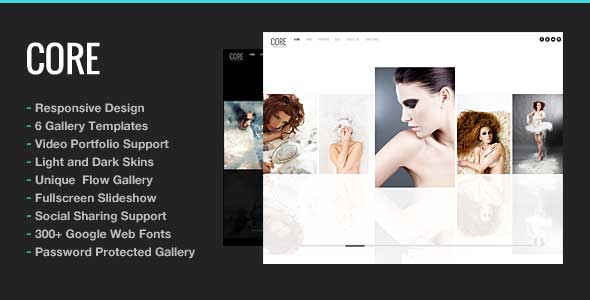 Core is the Minimalist Photography, Portfolio, Personal website Template built with latest WordPress features. Custom Post Type and Image Uploader etc.
Demo | Source
Self Titled – Responsive & Unique WordPress Theme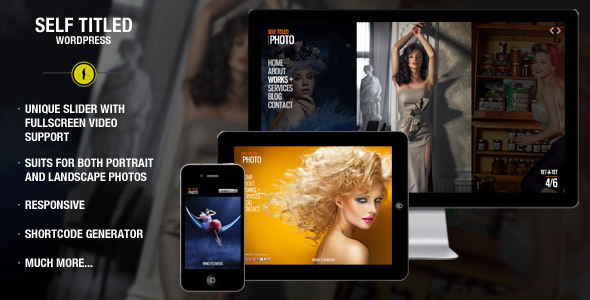 Self Titled is responsive WordPress photography theme with unique custom-written slider. Works great for both portrait and landscape photography.
Demo | Source
Photolux – Gallery Portfolio WordPress Theme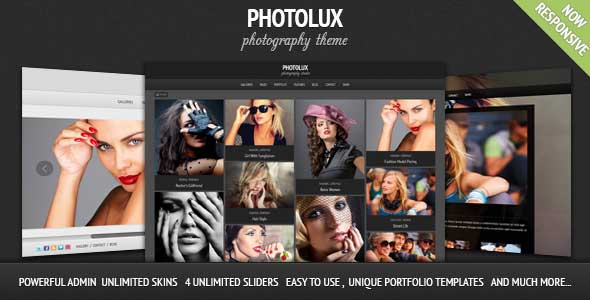 Photolux is a powerful and elegant Portfolio and Photography WordPress Theme which is best suited for photographers and creatives who use portfolios to showcase their work. Photolux theme is powered by the advanced Pexeto Panel, which provides tons of options to manage and modify any aspect of the theme – it is well suited for both beginners with no coding knowledge and developers. The theme comes with three base skin choices: Dark, Light and Transparent, as well as numerous of backend options for eazy customization and bulding your skin.
Demo | Source
Invictus – A Premium Photographer Portfolio Theme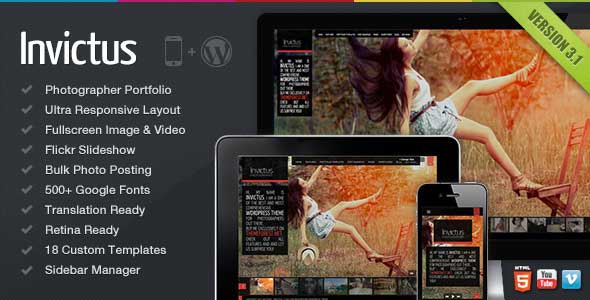 Invictus is so easy to use, super versatile and has a fully responsive design! With it's flexible theme, page and post options Invictus is very intuitive to use and completely ready to operate out of the box.The possibilities are endless! We have build Invictus with latest HTML5 & CSS3 and a lot of love and care went into this theme making it a such a fun to use. Invictus brings you an awesome way to showcase your portfolio in a special way! Invictus can be used for any type of portfolio, but was mainly build for photographers, creatives or video artists.
Demo | Source
Share – Gallery, Photos, Freebies WordPress Theme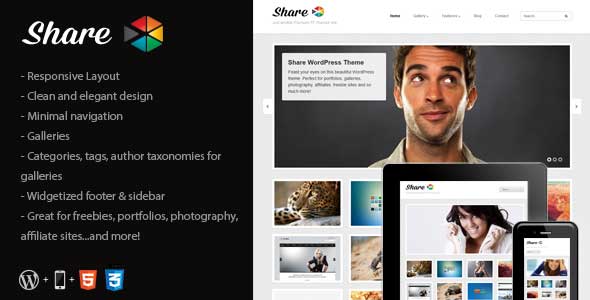 Introducing "Share" a premium WordPress theme created for portfolio, photography, affiliate, freebie and blogging sites. The theme features a minimal yet very elegant design that is perfect for sharing your work, freebies or thoughts online. Included is a gallery post type that makes it really easy to add and manage media.
Demo | Source
Expression – Gallery Responsive WordPress Theme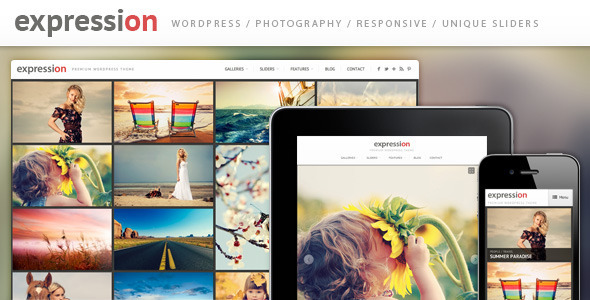 Expression is a powerful responsive WordPress Theme, best suited for photographers and creatives who use portfolios to effectively present their work. Expression theme is powered by the advanced Pexeto Panel, which provides tons of options to manage and modify any aspect of the theme. With all the styling options provided you can easily customize the appearance of the theme and build you own custom skin.
Demo | Source
Ubergrid – Responsive Grid WordPress Theme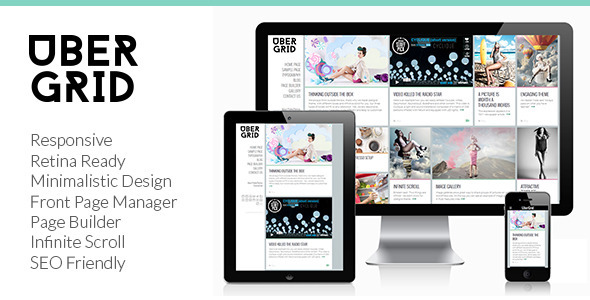 Ubergrid is a grid-based, responsive, retina ready, post-format supporting, minimalistic WordPress theme suitable for any kind of creative, personal or business use. It comes with a Theme Manager, Page builder, Front Page Manager, Infinite Scroll and many other options. Importing the demo content with one click gets you going with Ubergrid in no time!
Demo | Source
Camera 7 – Minimal Gallery WordPress Theme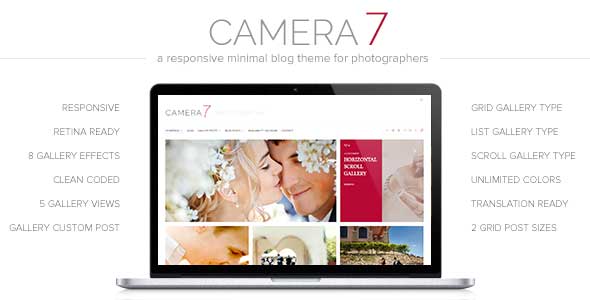 Camera 7 is the minimalist WordPress Premium Photography Theme, crafted with care and attention to detail. It includes a minimalist design, coupled with beautiful visual effects.It is really simple to use and manage, includes excellent features that let you build your own blog or photography showcase or website in minutes! It has 5 completely different gallery showcase templates, unlimited color options, it is responsive and optimized to work fast and easy.
Demo | Source
Studiofolio – A Versatile Gallery and Blog Theme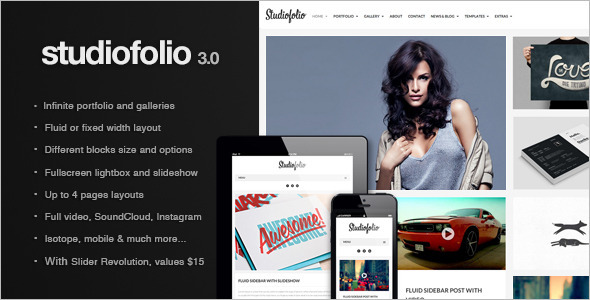 Studiofolio is another great gallery wordpress theme to showcase your photos or design works with slider revolution.
Demo | Source
Tripod – Professional WordPress Gallery Theme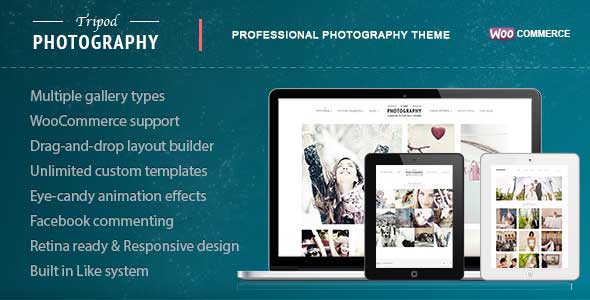 Tripod is a responsive drag-and-drop layout builder WordPress theme intended to power professional photographers blogs or sites coming with complex image gallery options.
Demo | Source
Lens – An Enjoyable Gallery WordPress Theme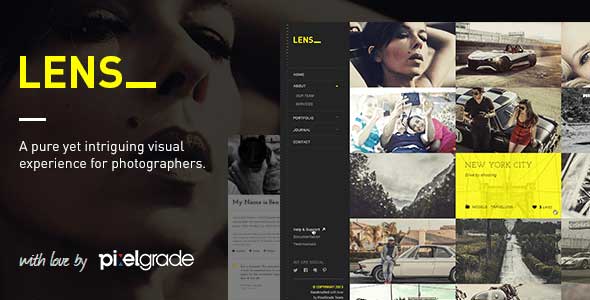 Lens is a surprising premium WordPress theme aimed at photographers in need for a solution that focuses on what matters most to them: their work. Every feature was carefully chosen and designed to ease the way to that perfect photography portfolio website.Packed with a stunning yet minimal,flat design, LENS features fullscreen slideshows and galleries, grid based photo galleries and a journal to help photographers keep up with their visions and thoughts.
Demo | Source
Huge – Unique & Modern 3D Gallery for Creatives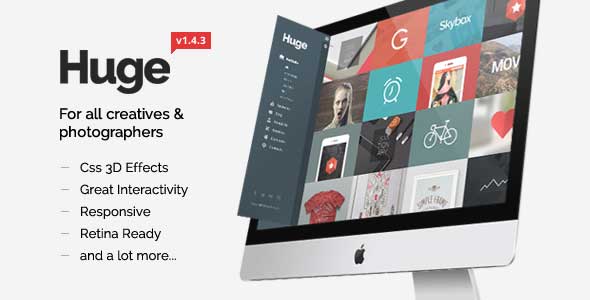 Huge is one of the most creative themes on the market until today. It is a leap into the future of modern websites, using the latest HTML5 and CSS3 technologies to create an incredible experience for the end user.
Demo | Source
Skylab – Portfolio / Photography WordPress Theme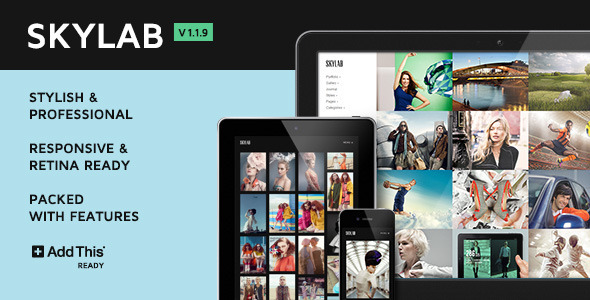 Skylab is a Premium Portfolio / Photography WordPress Theme with an innovative, touch navigation super smooth hardware accelerated slider designed for photographers, illustrators, graphic designers, art and creative directors, movie directors, architects, luxury businesses or bloggers. It's equally adept at showcasing design or photography projects. Its page templates accommodates multiple galleries, each with as many images as you want.
Demo | Source
Daisho – Flexible WordPress Gallery Theme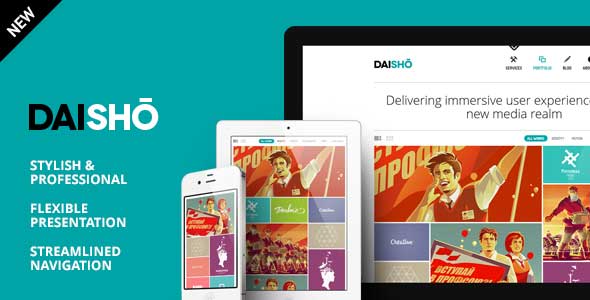 Daisho is a portfolio solution for creative professionals and companies looking for a minimal and professional look. Flexible and responsive presentation, smooth navigational flow and clutter-free approach. Put your works in focus. The definitive portfolio solution for creative professionals available now.
Demo | Source
Heat – Premium Portfolio WordPress Theme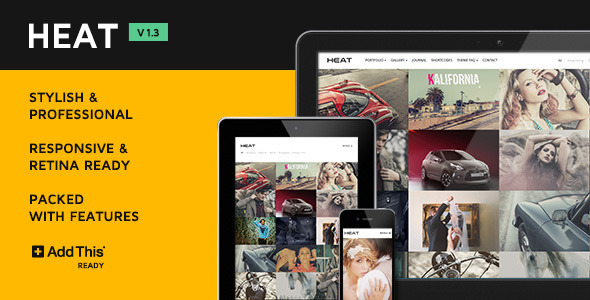 Heat is a Premium Portfolio WordPress Theme with a very unique layout especially suited for photographers, illustrators, graphic designers, art and creative directors, architects, luxury businesses or bloggers. It's equally adept at showcasing design or photography projects. Its page templates accommodates multiple galleries, each with as many images as you want.
Demo | Source
Porcelain – Responsive Multi-Purpose Theme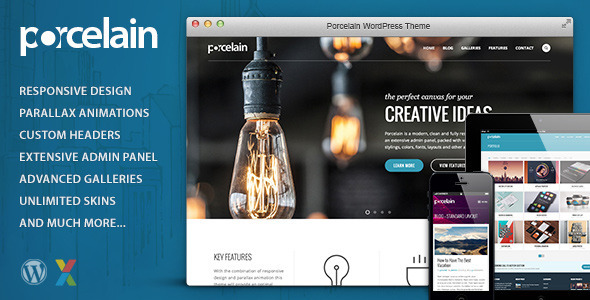 Porcelain is a clean and modern, fully responsive multi-purpose WordPress theme. It comes with some awesome features, such as custom headers and custom background sections and it is the perfect canvas for your creative ideas. With the combination of responsive design and parallax animations, this theme will provide an optimal viewing experience and will make your website look great on across wide range of devices and screen sizes. Porcelain comes with an extensive admin panel, packed with various options so you can easily modify stylings, colors, fonts, layouts and other aspects of the theme. Porcelain WordPress theme is a multi-purpose theme and can be used for any type of website, such as creative portfolio, photography, digital products, corporate and business sites.
Demo | Source
Cartel – Responsive Portfolio WordPress Theme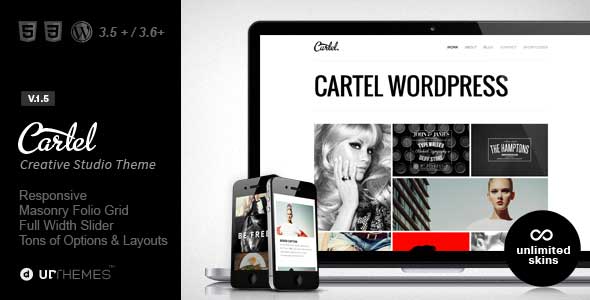 Cartel WordPress Theme is a fully responsive HTML5 theme that is ideal for design and photography studios or freelancers.It offers a masonry gallery, awesome hover effects, full width sliders with touch support, fullscreen backgrounds, fashionable captions and tons of professional styling options.
Demo | Source
De7igner – Flat iOS7 Inspired Gallery OnePage Parallax Theme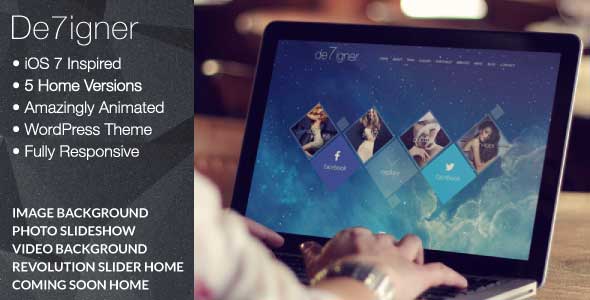 De7igner is the ultimate and professional way for you to present your portfolio or the very best starting point for your own corporate website. If you are searching something different and out of the line, please check out the De7igner – Flat iOS7 Inspired OnePage Parallax WordPress Theme!
De7igner is fully responsive – resize your browser window to see it in action. All the layouts are built with responsive design in mind. It works well on desktops, tablets, and mobile devices. The template is perfectly adapted to various screen sizes, and its attractive fresh design makes it look great.
Demo | Source
Mercury – Responsive Portfolio Photography/ GalleryTheme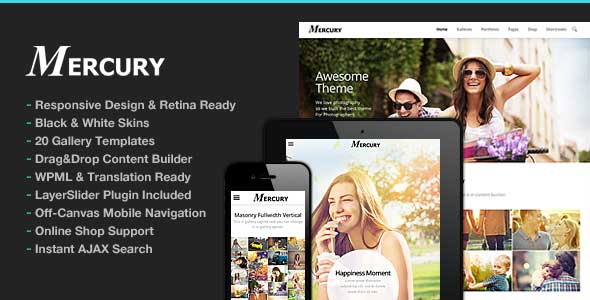 Clean, Minimalist Design can be used for any portfolio, photography or business website.
Demo | Source
Essenza – Responsive Grid Portfolio Theme
A perfectly responsive and beautiful WordPress grid portfolio with premium options. Essenza's versatility in combination with its minimal design make it the perfect solution for every portfolio. It comes with a massive admin including a template customizer, drag&drop pagebuilder, custom visual slider builder and unlimited fonts, colors, backgrounds and sidebars. Importing the demo content from either the light or dark version with one click gets you going with Essenza in no time.
Demo | Source
Raw – Responsive Photography WordPress Theme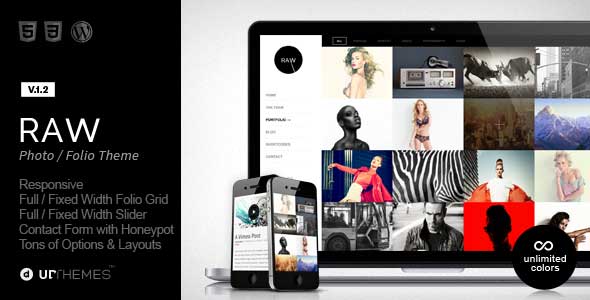 Raw WordPress Theme is a fully responsive HTML5 theme that is ideal for photographers, agencies and creative freelancers.It offers several homepage layout options, full and fixed width portfolio grids, awesome hover effects, full width sliders with HTML5 background video & touch support, fashionable captions, contact form with honeypot spam prevention and tons of professional styling options.
Demo | Source
Titan – Responsive Portfolio Photography Theme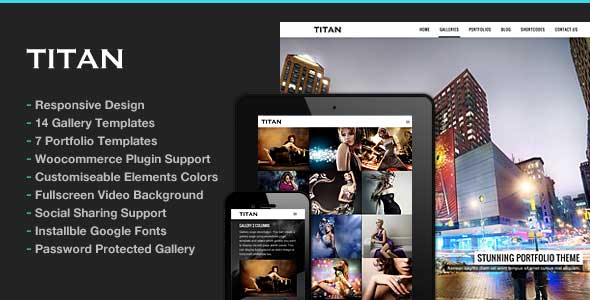 Titan is a responsive portfolio wordpress theme with 14 gallery templates and 7 portfolio templates.
Demo | Source
Boxter – Creative Responsive WordPress Theme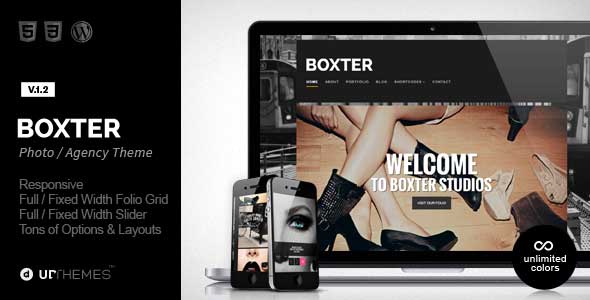 Boxter was formerly named Brooklyn but due to a naming conflict we were unfortunately forced to change the product's name. This name change does not affect new customers in any way whatsoever. Old customers, who bought the theme when it was called Brooklyn, should however download the latest version, called Boxter, and use that instead.
Demo | Source
Ronika – One Page/Multi Page Gallery WordPress Theme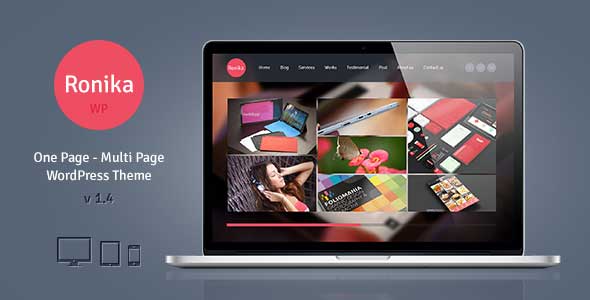 Ronika, It's fresh and bouncy, A One Page/Multi Page theme that lets you not only create a unique home page but create many pages with different color variations and animations, It is a perfect theme for creative agencies, freelancers and the ones who need to showcase their work.
Demo | Source
Tao – Retina & Responsive WordPress Portfolio Theme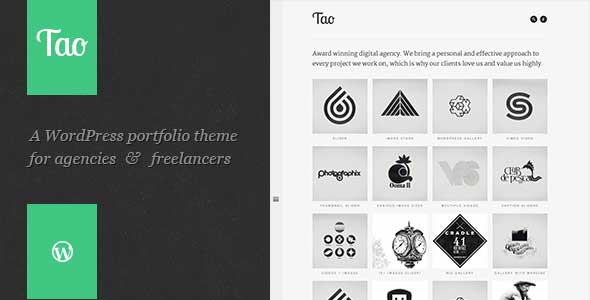 Tao is an incredibly easy to use WordPress portfolio theme. Quick to setup and easy to customize, thanks to a detailed manual, and the carefully structured code, Tao is the perfect theme for showcasing your work in an elegantly beautiful way.Tao has got you covered on all fronts, so if you ever get stuck on anything, rest assured that you're going to get the help of a professional, if and when you need it, because Tao comes with excellent customer support.
Demo | Source
Nordic – Retina Responsive WordPress Theme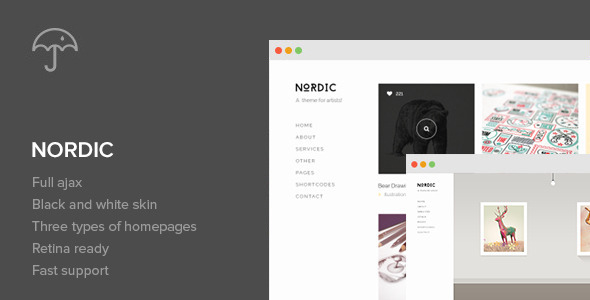 Nordic is a clean, minimal responsive WordPress theme, optimized for best portfolio showcase for designers, photographers and other artists. Nordic is a full ajax theme, which loads only those dynamic parts, and makes browsing experience very smooth for your visitors.
Demo | Source
Redemption – WordPress and Photography Theme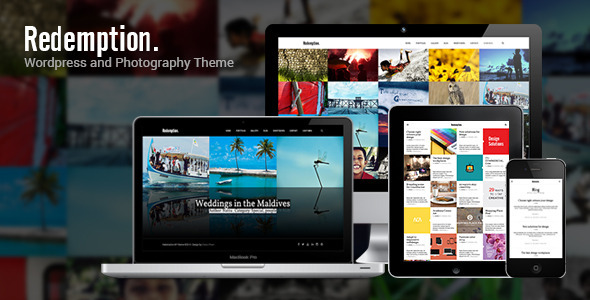 Redemption is the Photography, Portfolio, Personal website Template built with latest WordPress features. Based on a responsive layout with dark and light skin, this can become the perfect theme for you.
Demo | Source
Litho – WordPress Theme for Visual Enthusiasts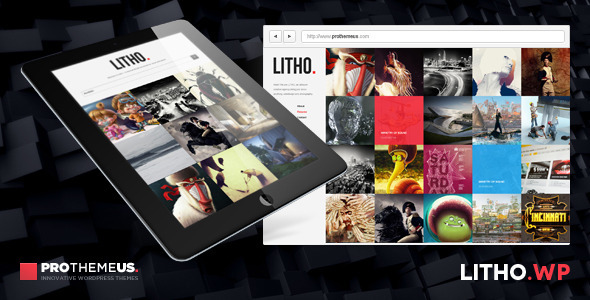 Litho is a grid-based fullscreen portfolio WordPress theme with stunning looks and functionalities. Create custom galleries by selecting specific categories such as your portfolio, posts, pages, Instagram and Flickr to create either all-in-one galleries or a category specific gallery.
Demo | Source
Santone – Clean Portfolio & Gallery WP Theme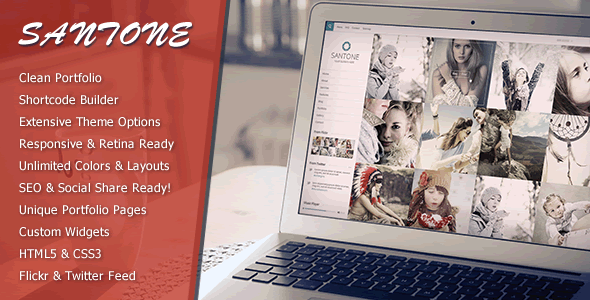 Santone is a unique and clean portfolio theme. It is coded with HTML5 and CSS3. It is reponsive as well as SEO optimized.It has some unique pages and effects within.Also, Santone is really easy to use. You can set up the theme as it is on the demo in about 10 minutes. Simply follow the documentation which comes within the downloaded package.
Demo | Source
Cutting Edge – Responsive Parallax WordPress Theme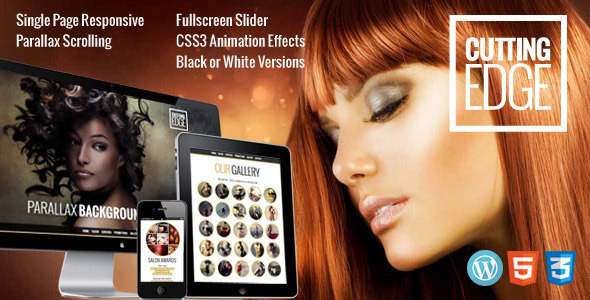 Looking for something unique and cutting edge for your salon, have a website that portrays and compliments your business, then please check out Cutting Edge – Responsive One Page Parallax Template. Designed to suit hairdressers, beauty salons, massage parlours & day spas this site is very flexible and is easy to use with loads of great features. It has been designed to make it easy to customize.
Demo | Source
Everest – Responsive Portfolio WordPress Theme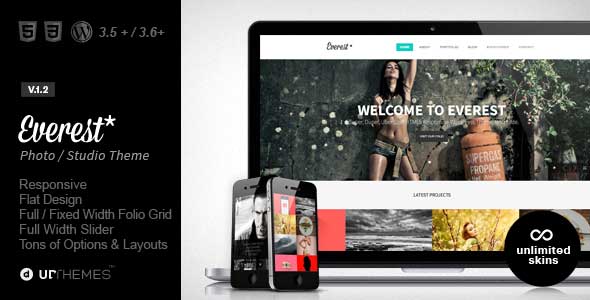 Everest WordPress Theme is a fully responsive HTML5 theme that is ideal for photographers, agencies or creative freelancers.It offers a full and fixed width portfolio grid, awesome hover effects, full width sliders with touch support, fullscreen backgrounds, fashionable captions and tons of professional styling options.
Demo | Source
Artiste – Professional Gallery WordPress Theme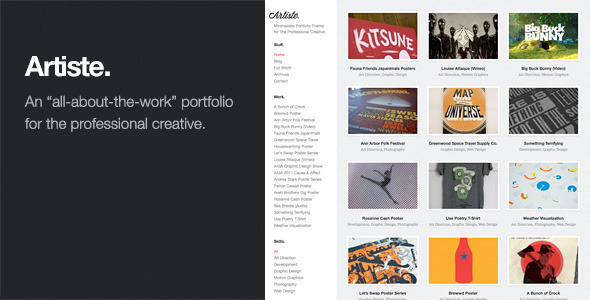 Artiste is an "all-about-the-work" WordPress portfolio theme for the professional creative. It's clean yet functional, and concentrates on showcasing your work to potential clients and employers with little distraction.
Demo | Source
PhotoPro – Photography WordPress Theme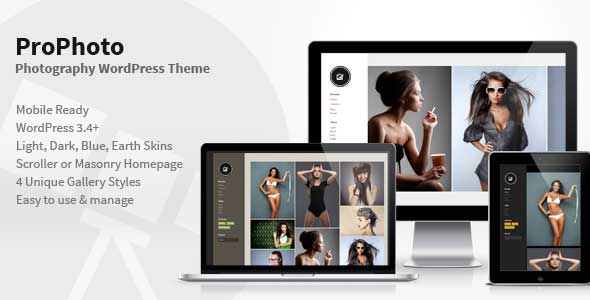 PhotoPro is exactly what it sounds like…a professionally developed WordPress theme for photographers. The theme's main focus is providing you with a great canvas for showcasing your work. The minimal design, combined with some great jQuery effects and unique layouts are sure to make your site stand out from the crowd and captivate your visitors attention.
Demo | Source
Folo – Premium Responsive Portfolio Theme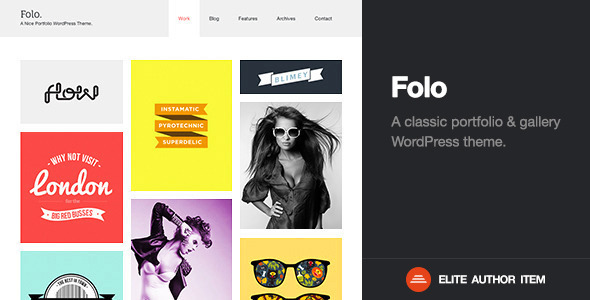 Complete with a snazzy infinite loading portfolio, masonry layout, neat lightbox portfolio post, clean / minimalistic design & a powerful Theme Options Panel – Folo is nearly the perfect setup for your online portfolio.
Demo | Source
Mila – Ajax Portfolio/ Gallery Theme – WordPress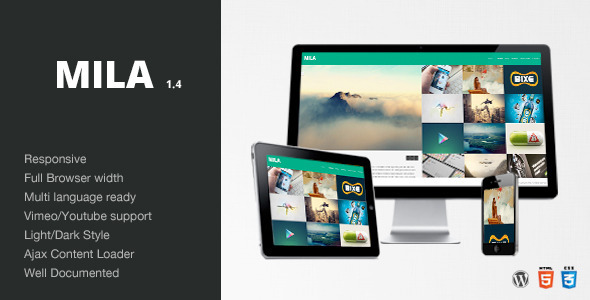 Mila is a masonry based WordPress Theme optimized for a nice and good User Experience. Mila uses a smooth loading action to show off your pages which you can deactivate at any time. With the Theme Options, you can easily adapt the different page layouts to your needs.
Demo | Source
Elegance – Responsive Portfolio WordPress Theme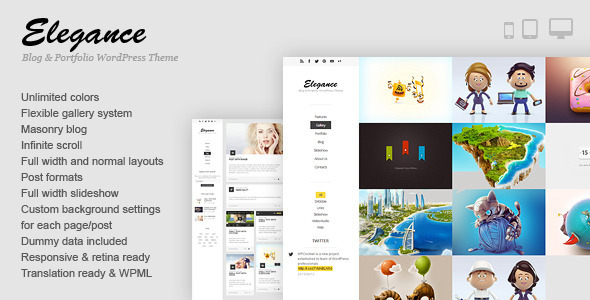 Elegance is a Premium WordPress Theme with fully responsive and retina ready design. Elegance comes with powerful admin panel and extremely flexible gallery system. You can adjust colors for each post/page, set custom backgrounds, custom size for portfolio thumbnails and many more. This theme fits well for designers, photographers, media agencies, restaurants and any other who wants to showcase their portfolio in elegant way.
Demo | Source
Pix – Fullscreen Photography WordPress Theme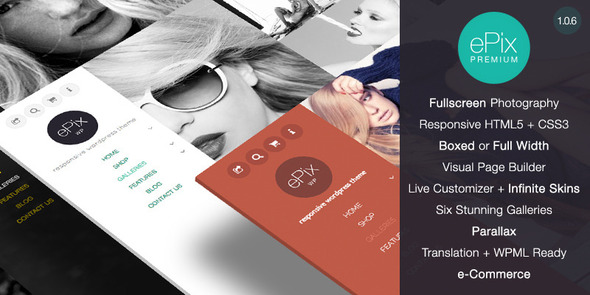 ePix is a powerful multi-purpose / fullscreen responsive photography WordPress theme, packed with a ton of features unique to ePix including the Fullscreen slider ( Awesome for showcasing a photographers portfolio ), stunning galleries, advanced live Skin Editor, Page Builder, Parallax boxed or full-width site layout and so much more!
Demo | Source