One page WordPress themes have become very popular in recent years.Especially portfolio owners mostly prefer one page WordPress themes to showcase their works,teams or even mobile apps and skills in one place.
One page shortly means displaying the whole content in one page so the visitors of your website or blog is not being redirected to another place.As we mentioned above,sections of the theme are all in the same page.
Today you can find dozens of one page WordPress themes around the net and if you don't have time to design and code a WordPress theme then you can buy really amazing themes from Themeforest. Today we bring together best one page WordPress themes for your wish.
Here is the collection of best one page WordPress themes.

Pandora Box – Onepage WordPress Template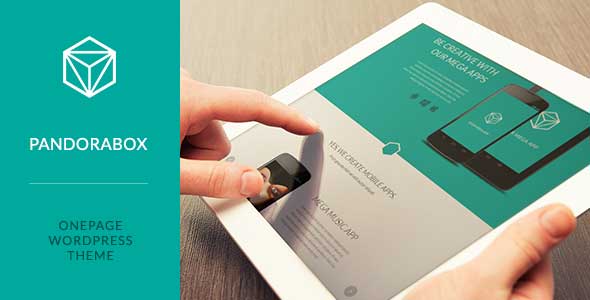 Pandora Box – creative and minimal onepage WordPress Template for mobile developers.
Demo | Source
Pioneer – Onepage Parallax WordPress Theme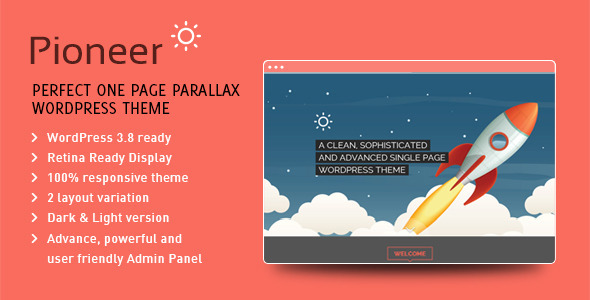 Responsive designs that adapt to smaller devices (iPhone, iPad),W3C valid HTMl5 and CSS3 with cross browser compatibility with awesome animation.
Demo | Source
Jarvis – Onepage Parallax WordPress Theme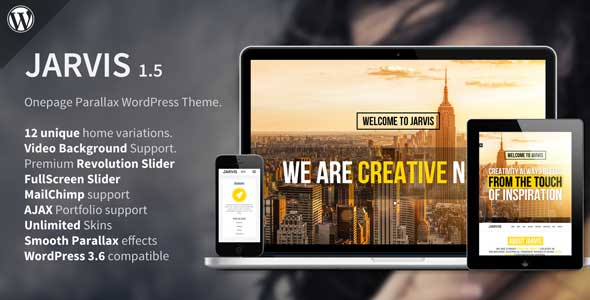 Jarvis is the perfect one page parallax WordPress theme for corporate, agency, nonprofit, freelancer or general business.12 Home Variations, Background Video Support, Mailchimp subscription support, Ultra-responsive, 6 Navigation styles, customizable backgrounds(colors,images or patterns), Font Awesome icons and many more super-awesome features to keep you busy & satisfied.
Demo | Source
Oriolus – Responsive Onepage WordPress Theme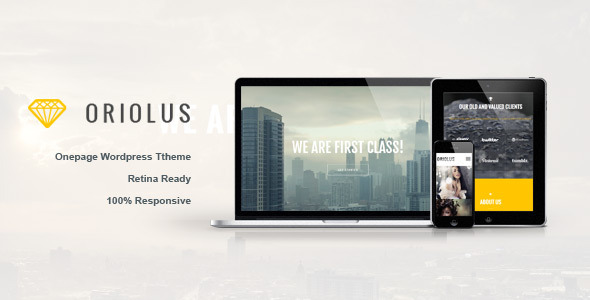 Oriolus – is a simple and clean one page portfolio wordpress theme, perfect for any designer, photographer, illustrator or agency. Oriolus is a Super Clean, Gorgeous Design, Retina ready wordpress theme.
Demo | Source
Ego Onepage Parallax Responsive WordPress Theme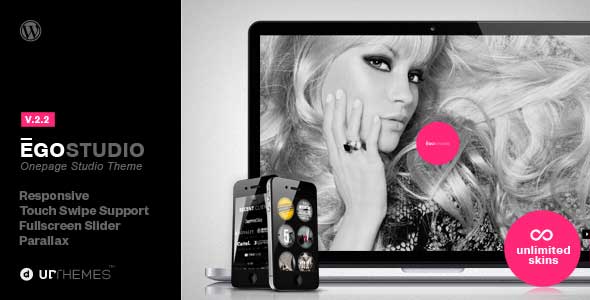 Ego is a sleek, fully responsive, onepage WordPress theme that screams with attitude. It boasts a fullscreen slider with custom captions, an AJAX portfolio and contact form, a blog and tons of styling options. Its the perfect WordPress theme for the freelancer or small design studio that wants to showcase their work in style.
Demo | Source
Norris – Elegant Onepage WordPress Theme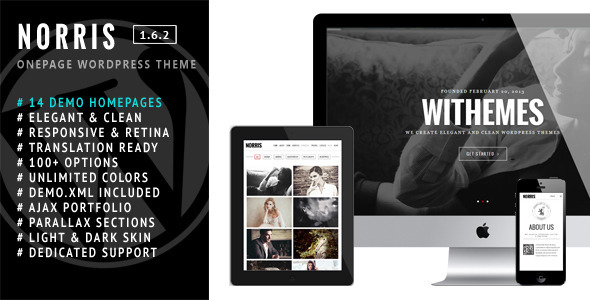 Norris is an elegant & super-clean onepage WordPress theme for corporate, agency, business, personal and organizations. Norris not only has an eye-catching design with all modern standards: Responsive, Retina-ready, Translation ready, HTML5 & CSS3 but also contains everything you need to build an amazing onepage site: 14 unique demo homepages (with DEMO.XML included), more than 100 options for customizing UNLIMITED colors, 500+ Google fonts, background images & patterns, logo upload
Demo | Source
De7igner – Flat iOS7 Inspired OnePage Parallax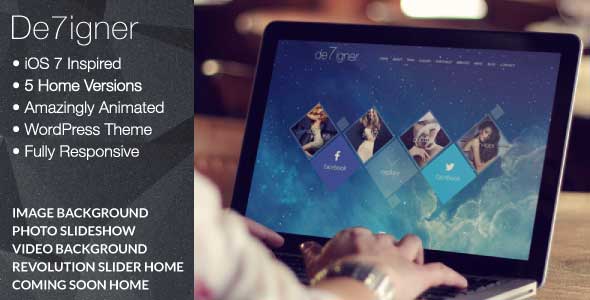 De7igner is the ultimate and professional way for you to present your portfolio or the very best starting point for your own corporate website. If you are searching something different and out of the line, please check out the De7igner – Flat iOS7 Inspired OnePage Parallax WordPress Theme!
Demo | Source
Corsa – Retina Responsive Creative OnePage Theme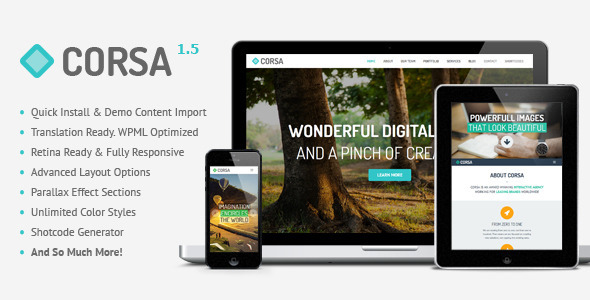 Corsa is modern professional and flexible one page parallax WordPress theme, developed with great attention to details. Theme can be used for any type of website: business, corporate, portfolio, products, marketing, etc. You can modify layout, styling, colors directly from within the backend.
Demo | Source
Duelmotion – Responsive Onepage Parallax Theme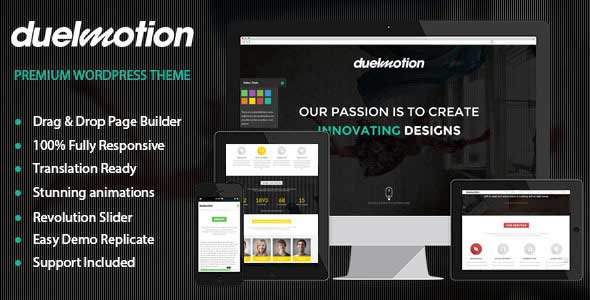 Built with the latest technologies like HTML5, CSS3, jQuery, and with SEO in mind it will help you get on top of Google Searches!Duelmotion is jammed packed with options! Theme options allow you to change the look and feel of site and great collection of Drag and Drop shortcodes to modify layouts and add various elements. Choose any color scheme you like… Pick out any of +2000 icons…
Demo | Source
Metrika — Responsive OnePage WordPress Theme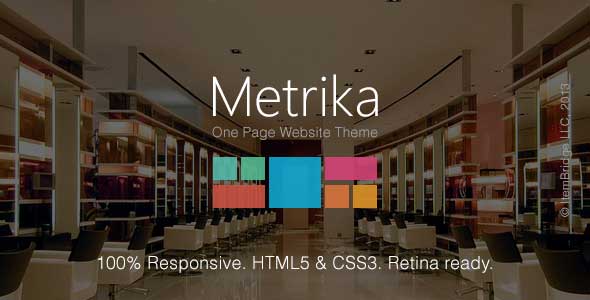 Metrika is a modern, dynamic, high-quality OnePage WordPress Theme. Following the trends in design, we tried to create, first of all, convenient and functional product that will not take a lot of time to configure and setup. And most importantly, it will fit almost everyone. Flat design, simple and expressive animation will make your content unique. One can go to talk about all the advantages and opportunities of the template, but enough to see the live preview and everything will be understandable to you.
Demo | Source
Omni – Onepage / Multipage WordPress Parallax Flat
Omni is a high quality, flat and full responsive WordPress theme for creative businesses or photographers. It's very easy to include pages and separators to a page. Add unlimited pages and separators to each page and sort them to your own liking! It comes with 5 header options, a fullscreen Portfolio, a Parallax header or a Video header, Revolution Slider and a 2D/3D Layer Slider header! Also Omni includes a One Page and a Multi Page version, you can easily switch between the two versions through the Admin Panel.
Demo | Source
Me – OnePage Portfolio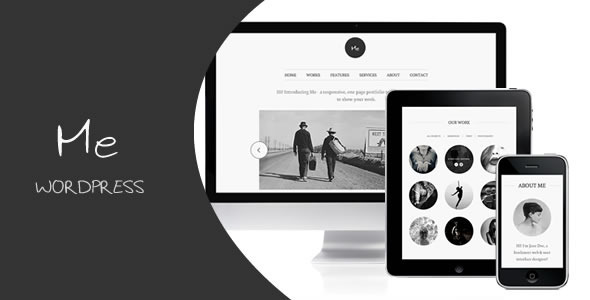 This is the wordpress version of the five start rated html template called "Me". It designed and built with user experience in mind! It is an easy-to-use wordpress theme with detailed documentation, and tutorial videos. If you need a website to showcase your work.
Demo | Source
Meth – A Minimal One Page Portfolio Theme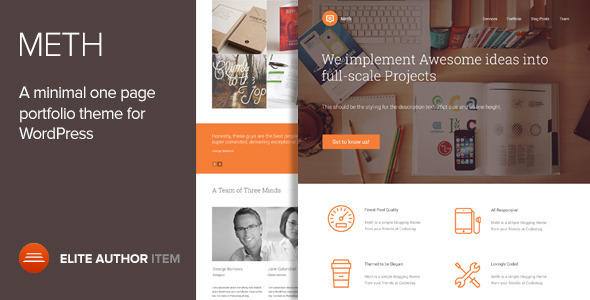 Meth is an extremely flexible, and efficiently minimal one-page portfolio theme for WordPress. You can use it to showcase your brand into a single page, or use it as a full site, with standard inner pages etc. The true power of Meth lies at the widgetized homepage, allowing you to customize, and re-order every widget section and get creative with the possible layout options.
Demo | Source
Argo – Modern OnePage Metro UI WordPress Theme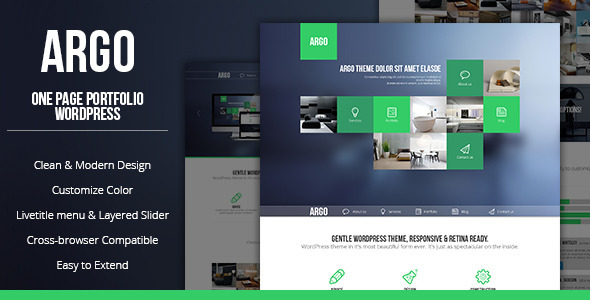 ARGO is a unique and creative WordPress Theme with clean and modern design. It is perfect choice for your corporate agency, creative studio or for portfolio. It can be customized easily to suit your wishes.
Demo | Source
SCRN – Responsive one page / single page portfolio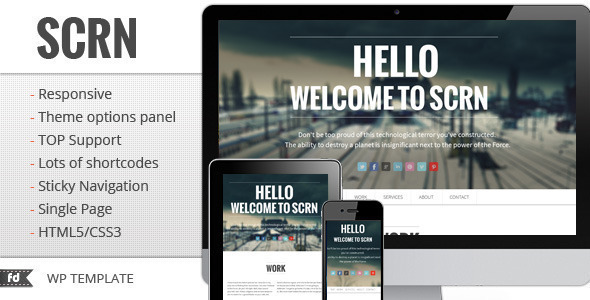 SCRN is a one page responsive portfolio wordpress theme. Perfect to promote your work or your business. Is compatible with all modern mobile devices. Other than the minimalistic single page design, it also has a blog. Now it also supports videos in the porfolios!This one page WordPress theme is seriously what you've been looking for!
Demo | Source
Versi – Onepage WordPress Theme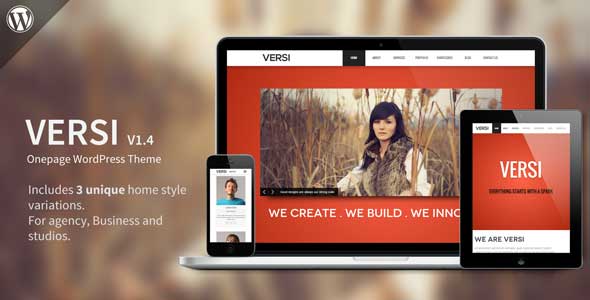 Versi is the perfect one page template for corporate, agency, nonprofit, freelancer or general business.2 Home Variations, Light, Dark & Multi-colored Color/Gradient Skins, Ultra-responsive, 2 Navigation styles, fully customizable backgrounds(colors,images or patterns), Font Awesome icons and many more super-awesome features to keep you busy & satisfied.
Demo | Source
907 – Responsive WP One Page Parallax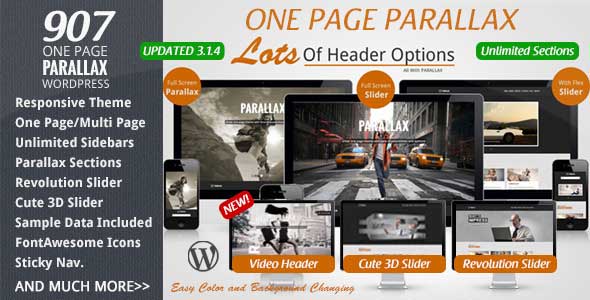 Great one page WP theme with tons of options and features. Not only will the PARALLAX feature be on the main one page, but you can also select a DEFAULT PARALLAX section and even a "page section" to be displayed across all other pages… AND You can change parallax/page sections per blog post/pages, choosing a different one or setting to none. Translation Ready(includes .po/.mo files)
Demo | Source
Haven – Elegant One Page WordPress Theme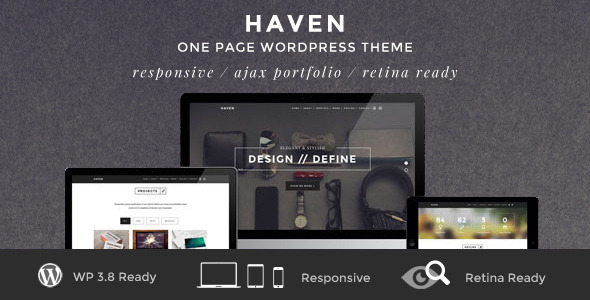 Haven is an effortlessly stunning responsive WordPress theme featuring subtle design elements and many flexible elements. Designed to give your brand or service an air of esteem and confidence, Haven is perfect for personal and business uses.
Demo | Source
DIGNITY – WordPress One Page Responsive Portfolio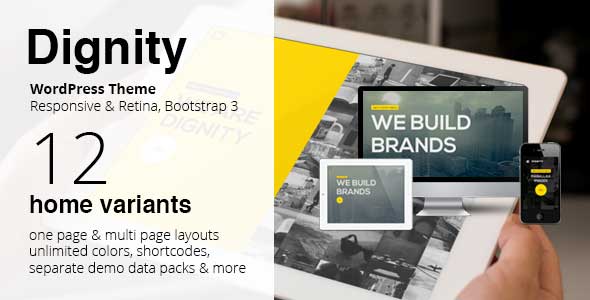 Dignity is a simple & easily reusable web template with a clean design and neat arrangement of contents. A perfect onepage portfolio for all creatives.Featuring 12 home page variants, animated elements, parallax layers, retina ready & responsive layout, fullscreen BG images / BG video YouTube & Vimeo / Fullsceeen Flickr Images BG, AJAX media portfolio, touch carousels and more unique features. You can change colors with a single click. Don't miss the live preview.
Demo | Source
Make – Responsive Parallax Onepage WordPress Theme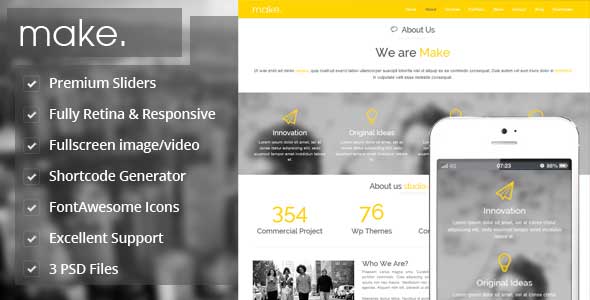 Make is a fully responsive and retina ready for corporate, agency, nonprofit, freelancer or general business. It's built with Bootstrap and well coded so very easy to edit and change things. You can modify layout, styling, colors directly from within the backend.
Demo | Source
Zoo – Responsive One Page Parallax Theme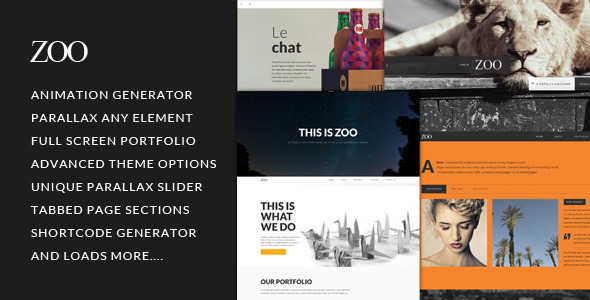 Zoo is the ultimate single page parallax theme. Perfect for corporate, agencies, freelancers or small business. Any element can be parallaxed with zoo, using the powerful animation shortcode generator. Animations are not only limited to parallax effects, you can create all kinds of custom scrolling animations with ease.
Demo | Source
Alamak – Responsive One Page Portfolio Theme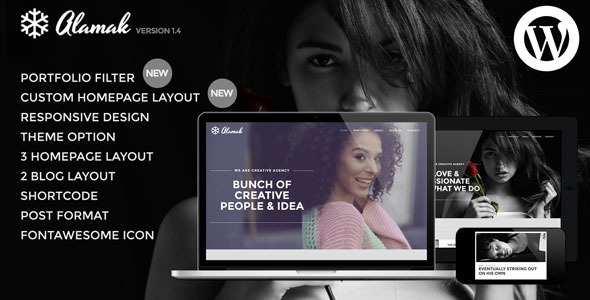 Alamak is responsive one page HTML5 WordPress Theme with clean and elegant design.It can be used for creative digital agent to show portfolio and selling services. Its build based on twitter bootstrap ,so it has powerfull features.
Demo | Source
Profession – One Page CV Resume Theme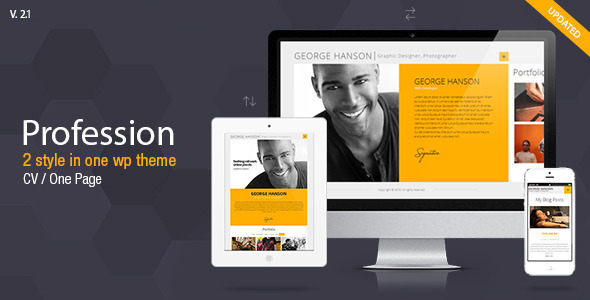 Profession is a super responsive one page CV wordpress theme with unlimited colors and 8 preset colors. You can have an excellent online resume with home, portfolio, resume and contact section. This theme also comes with a beautiful clean blog. Profession's default layout is horizontal on desktop screens and changes to vertical layout in tablets and smart phones. You may change it's layout and use it as a one page theme. You can use quote, image, image slider, video and audio in Profession's portfolio.
Demo | Source
Move – Responsive OnePage Parallax WordPress Theme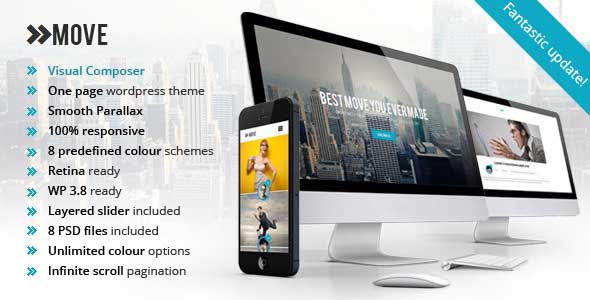 MOVE is clean, fresh and easy to customize, unique one page WordPress Parallax 100% responsive template. It can be used for business and corporate sites, your portfolio site or customize it to suit your wishes.
Demo | Source
Brooklyn – Creative One Page Multi-Purpose Theme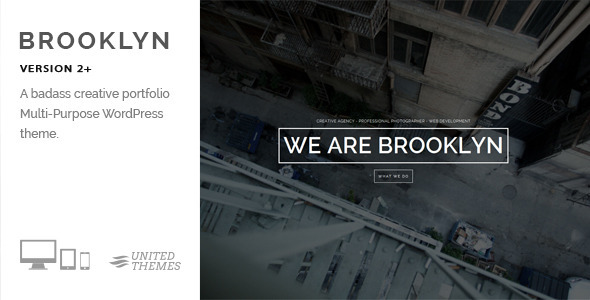 6 demos to demonstrate how powerful Brooklyn really is. Each demo looks unique but has been made with the same amazing simple system. You don't have to decide which of these layouts you like, be creative and start building your own version by purchasing Brooklyn today!
Demo | Source
Kyte – Flat Onepage Responsive WordPress Theme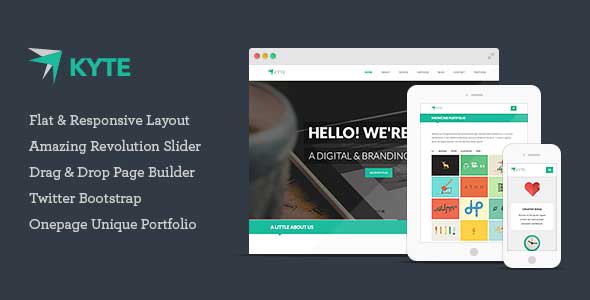 Kyte is a flat, responsive, WordPress Theme built with Twitter Bootstrap with unique portfolio. It can be used both as onepage and multipage. Kyte will be useful to artists, photographers, creative agencies, digital studios, personal freelancers, and any kind of business owners that would like to showcase their portfolio beautifully. Since it is responsive, the layout will adapt to different screen sizes which will make your website be compatible with any device such as smart phones, tablets or desktop computers. 4 premium scripts are included with the total value of $65, which you will get for free with this theme.
Demo | Source
Visia – Responsive One Page Retina WordPress Theme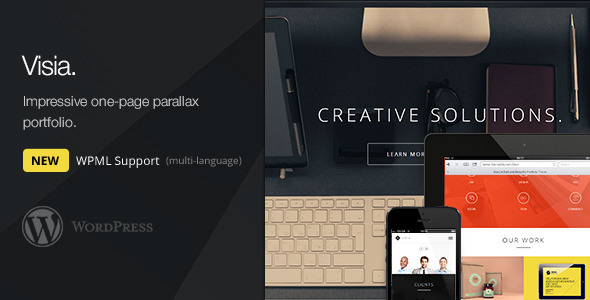 Visia is a fully responsive retina ready single page WordPress theme with a separate blog section and is suitable for any kind of creative or business use. Visia is highly optimized for both mobile and desktop platforms. Visia uses lazy-loading of images assets and compression of all required scripts, meaning not only will your website look great, but it will also be lightening fast. See below for some of the awesome features included in this theme.
Demo | Source
Case / Parallax One-page WordPress Theme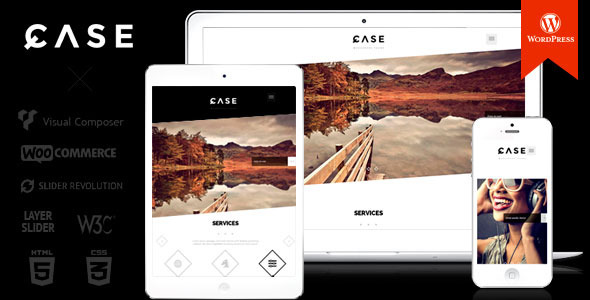 CASE is a stylish and elegant theme. Approach both corporate websites, and for photographers, designers, developers, agencies and many others. The theme has two Builder, and the second one its own popular Visual Composer. Now you can easily create any site and any page. At You have the three powerful and stylish slider.
Demo | Source
OneUp – One Page Parallax Retina WordPress Theme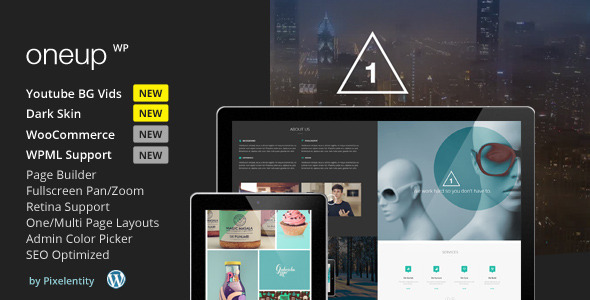 OneUp is a fully responsive HTML5 Retina enabled One Page WordPress Theme suitable for any kind of creative or business use. Built upon the responsive Twitter Bootstrap framework, the theme is highly optimized for both mobile and desktop platforms. One uses lazy-loading of images and compression of all required scripts, meaning not only will your website look great, but it will also be lightening fast.
Demo | Source
QuickStep – Responsive One Page Portfolio Theme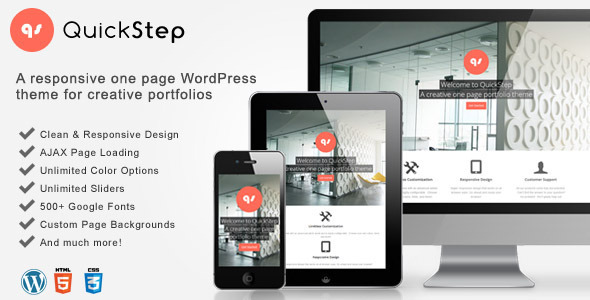 QuickStep is a clean and minimal one page portfolio theme. It uses CSS3 to responsively adapt to different screen widths so it looks good on any device.You can pick and choose all the colors on your site using our built-in color picker. Easily add some character to your site using the pre-packaged vector icons that can be set to any size or color.Content can be separated into different pages, loaded onto one page, or even loaded dynamically into the same page when a link is clicked. Choose from tons of options in how pages transition and at what speed.
Demo | Source
SimpleKey – One Page Portfolio WordPress Theme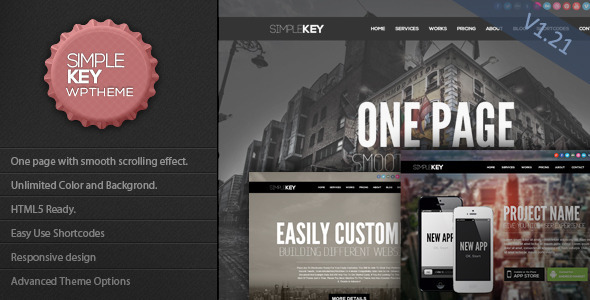 SimpleKey is a multi-purpose one page WordPress Theme. It will suit everyone who wants to show their portfolios or introduct their company services. If you are an iPhone or an Andriod APP developer, you can also use this theme for your APP products introduction, or you can smiply use it for your daily blogging. This theme includes 33 shortcodes – they are easy to use, you will be able to show your portfolios, recent tweets, team introduction, pricetables or a mobile compatibility slider and so on. Detailed help document and example data xml will help you to get started in a smooth way. If you are looking for a unique and easily customizable theme, you are in the right place. Also if you are looking for a top notch support please consider purchasing it.
Demo | Source
NSPIREDISE – Onepage Parallax WordPress Theme
NSPIREDISE is the Premium one page parallax WordPress theme for portfolio, corporate, agency, freelancer or general business. Theme can be used as normal (not onepage) WP theme too!Powerful admin panel with 100+ features, Visual Page Builder module, Portfolio and Team modules, W3C Valid HTML5 & CSS3, Bootstrap v2 based, Parralax, 100% Ultra-responsive, Retina ready, 600+ Google Fonts, Font Awesome icons, unlimited colors and skins, JQuery powered and many more other awesome features to keep you and your WordPress site visitors satisfied.
Demo | Source
HalfCreative – One Page Portfolio WordPress Theme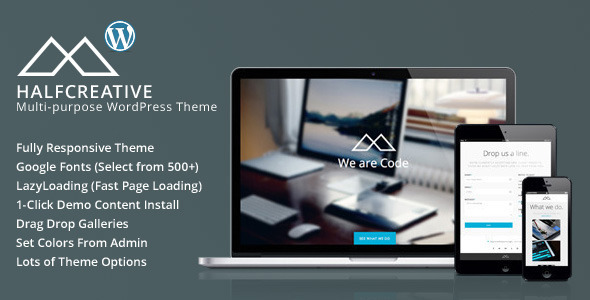 HalfCreative is a clean, minimal and elegant one page portfolio WordPress Theme suitable for any kind of creative and business use. The theme is highly optimized to ensure lightning fast loading time due to lazy-loading of images and compression of css/javascript.
Demo | Source
Mundus – A Business One Page WordPress Theme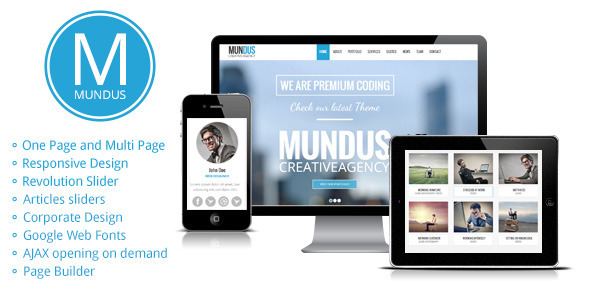 Mundus is a premium responsive WordPress Theme with a clean and fresh Design and innovative AJAX loading of Posts and Portfolio items (you can turn this on and off on demand with one click in Page Builder. Mundus is the most premium and most advanced WordPress Theme we have ever created. It is very flexible, with a clean & crisp design and is suitable for any kind of business. It features a premium Page Builder which will make your life a lot easier when creating new Pages for your Site.
Demo | Source
Eleven – WordPress Responsive One Page Parallax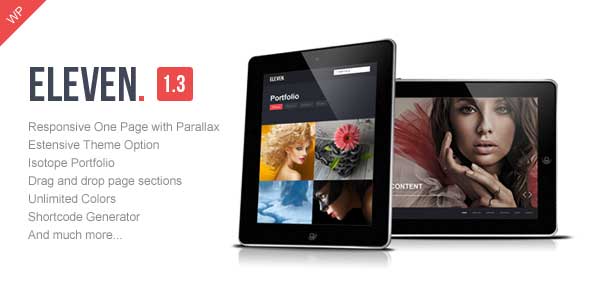 Eleven is a One Page Template with Parallax Effect. Is very easy to customize it. This template is great for creative, digital agency, photography, business, corporate. Modern and clean style.
Demo | Source
Verticality – Onepage Photography Theme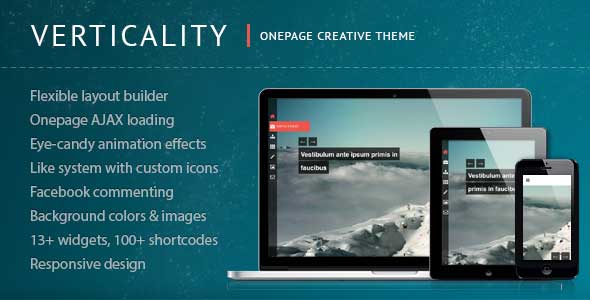 Verticality is a responsive onepage creative photography theme aimed to power complex portfolio and image-related sites or blogs available for a very special price.Verticality uses a framework that permits the site to be accessed on all mobile devices, including iPad and Android powered tablets.
Demo | Source
Nash – Responsive HTML5 One Page WordPress Theme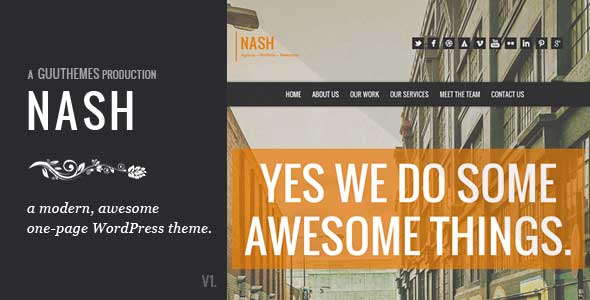 Nash is a beautifully simple, visually stunning, and striking 'One-Page' creative WordPress theme. Perfect for design agencies. The template is fully responsive, and looks amazing on your Smartphone, Tablet, and Desktop. Beautiful typography, gorgeous iconography, subtle CSS3 effects, and those small details that really make you stand out from the crowd.
Demo | Source
Surreal – One Page Parallax WordPress Theme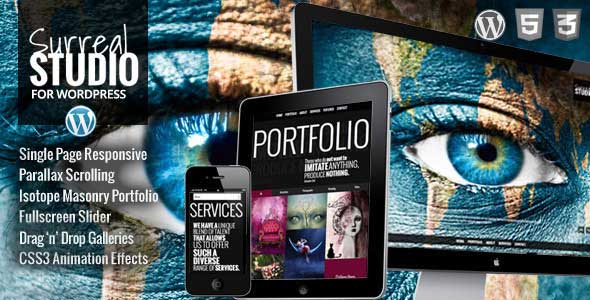 Surreal is a one page theme but with a little different, a surreal twist for maximum impact on your visitors. The theme is suitable for any kind of creative use. The theme features optional one page structure with cool parallax effect on background images. The theme is fully responsive and has been optimized for tablet and mobile platforms. Surreal also employs compression of all css/javascript ensuring lightning fast page loading times, so your visitors are not kept waiting. See below for a more detailed feature list.
Demo | Source
Lightflow – WordPress Responsive OnePage Parallax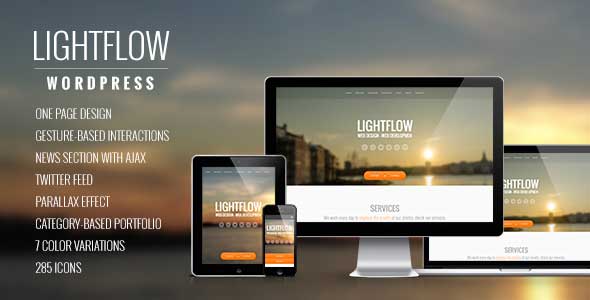 Lightflow is the Aristocratic theme for corporate business. It's a design that helps you to connect modern world customers. This theme achieves you to your target customers and bestow them an amazing user experience.The design can attach the people for improving your brand. Simplicity and Colorful web makes you a classy business to Intimate relation to your customers.
Demo | Source
Myway – Onepage Bootstrap Parallax Retina Theme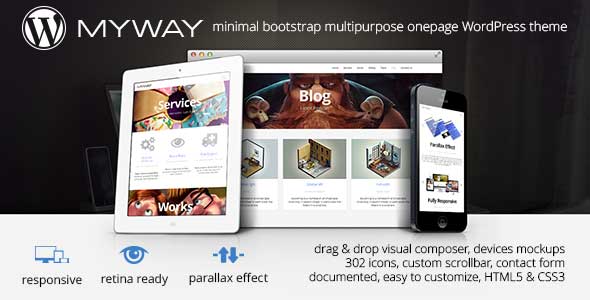 Myway is a clean, single-page, HTML5 & CSS3, multipurpose WordPress theme. Designed for agencies, personal portfolios, an app landing page and similar.
Demo | Source
Candy – Onepage Flat Responsive WordPress Theme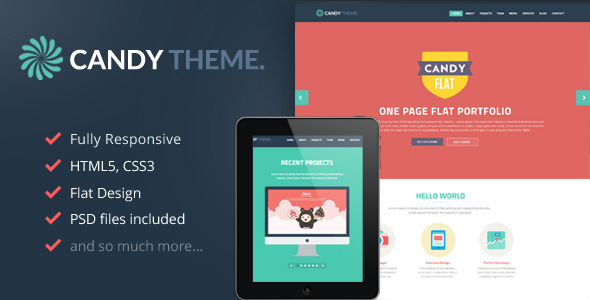 Candy is minimal & flat responsive WordPress One Page Template, perfect to promote your portfolio. With a responsive design it is easily usable with any device (desktop, tablet, mobile phone…).
Demo | Source
Nervaq – Responsive One Page WordPress Theme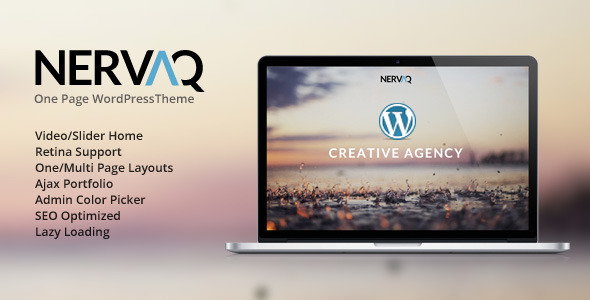 Nervaq is a fully responsive one page portfolio template with a modern, clean and minimalistic design suitable for your service, company or app. Nervaq is highly optimized for both mobile and desktop platforms, it uses lazy-loading of images assets and compression of all required scripts, meaning not only will your website look great, but it will also be lightening fast. See below for some of the awesome features included in this theme.
Demo | Source
Flatible – Single Page WordPress Theme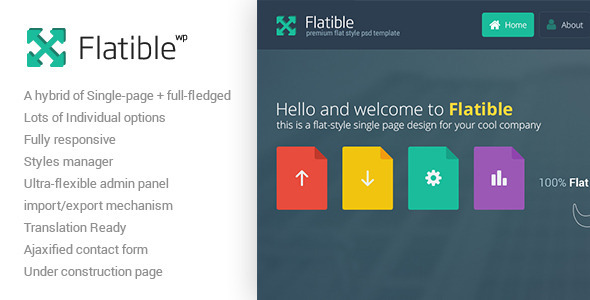 Flatible is a minimal yet creative Singlepage Theme with full responsive layout Flatible is a perfect choice for small/personal websites such as portfolio, small company ,photography, blog, news etc.
Demo | Source
Mustache – Onepage Retina WordPress Theme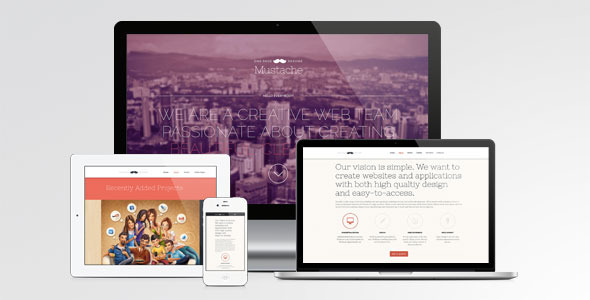 Mustache is a creative WordPress Theme with unique one page design that fits best for resume, portfolio, charity, corporate, creative personal presentation.
Demo | Source
Ronika – One Page/Multi Page WordPress Theme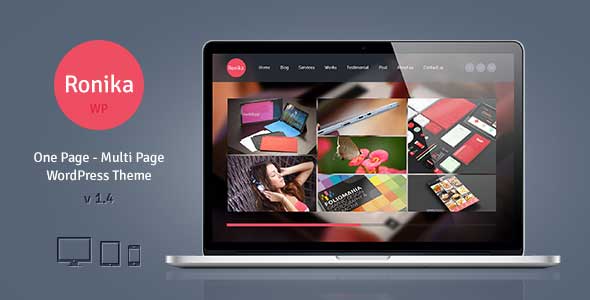 Ronika, It's fresh and bouncy, A One Page/Multi Page theme that lets you not only create a unique home page but create many pages with different color variations and animations, It is a perfect theme for creative agencies, freelancers and the ones who need to showcase their work.
Demo | Source
Red Sky – One Page Multi-Purpose Theme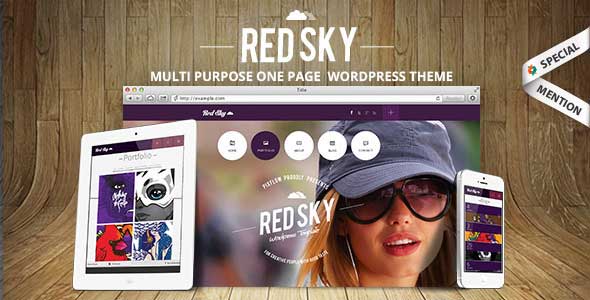 Responsive designs that adapt to smaller devices (iPhone, iPad),W3C valid HTMl5 and CSS3 with cross browser compatibility with awesome animation.
Demo | Source
Dry – One Page Responsive WordPress Theme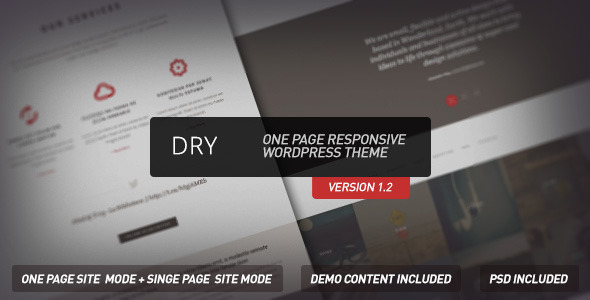 DRY is simple and clean one page portfolio wordpress theme. It's perfect for any designer, photographer, illustrator, creative person or agency. It focuses on displaying a high quality portfolio, large typo presented in a really elegant way.
Demo | Source
Fresh – Portfolio Onepage Multipurpose Theme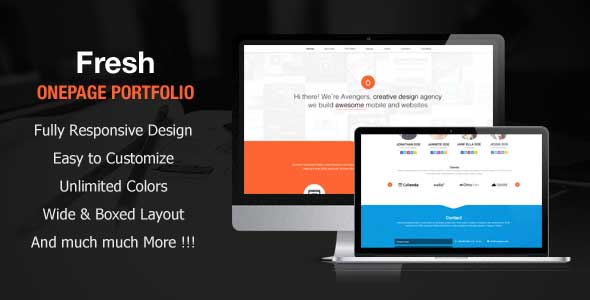 Fresh is wonderful, professional and easy to use template with lots of options and configurations. This theme has been created for people who want to save their own time for create nice and great looking page. Fresh is our simple and clean one page portfolio WP theme. It's perfect for any designer, photographer, illustrator, creative person or agency. It focuses on displaying a high quality portfolio, large typo presented in a really elegant way.
Demo | Source
RENOVA – WordPress One Page Responsive Portfolio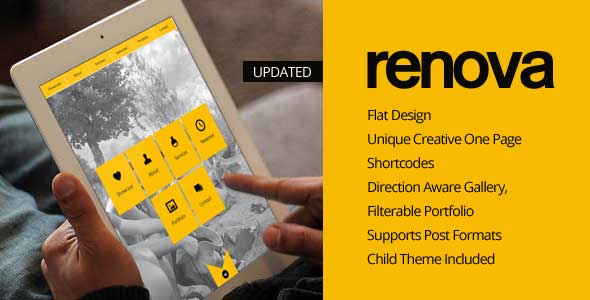 Renova is a highly unique and reusable, one-page creative portfolio theme with fully responsive layout built using Bootstrap framework version 2.3.2. Renova is a one page theme with flat design trend but a advanced blend of uniqueness.
Demo | Source
Reversal – Horizontal One Page WordPress Theme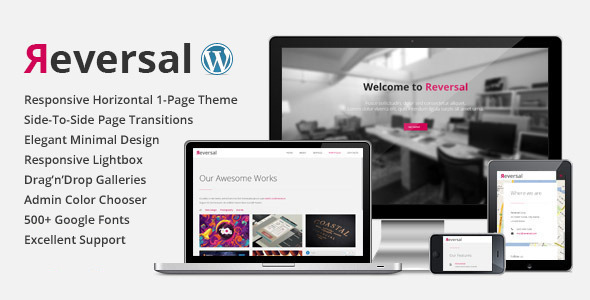 Reversal is a clean, minimal and elegant one page portfolio WordPress Theme suitable for any kind of creative and business use. The theme features optional one page structure with cool side-to-side page scrolling transitions. The theme is fully responsive and has been optimized for tablet and mobile platforms. Reversal also employs compression of all css/javascript ensuring lightning fast page loading times, so your visitors are not kept waiting.
Demo | Source