Today millions of people are writing regularly and share their thoughts with millions of people around the net.But to be honest blogging is by no means easy.You have to be serious and work hard in your blogging life.Well,we will not talk about the tips of blogging here in this post but we will help you choose a suitable WordPress theme for your blog.
Although you can find free WordPress themes easily for your blog it's always good to have a custom wordpress theme or a premium WordPress theme to stand out from the crowd.
So today we have gathered really beautiful WordPress themes,you can either start a new one using the below themes or you can change your existing theme.
Here is the collection clean and beautiful 60+ personal blogging themes.

Vivid – Customizable Responsive Personal Blog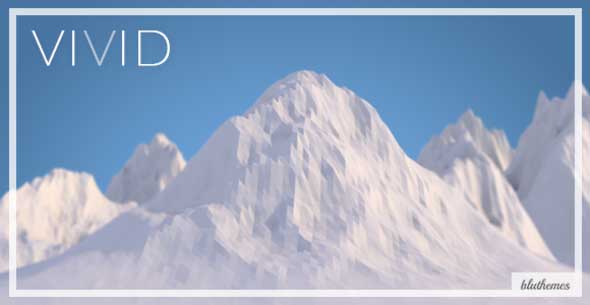 Vivid is an extremely easily customizable WordPress blog with multiple options you can choose from, watch you website change live with our fantastic use of the native customizer from WordPress, alter things like font types, icons, colors, elements and images with a simple click of a button. With superb visual design and great support for mobile and tablet devices you can easily reach all your readers wherever they are!
Demo | Source
Zephyr – Retina Responsive WordPress Blog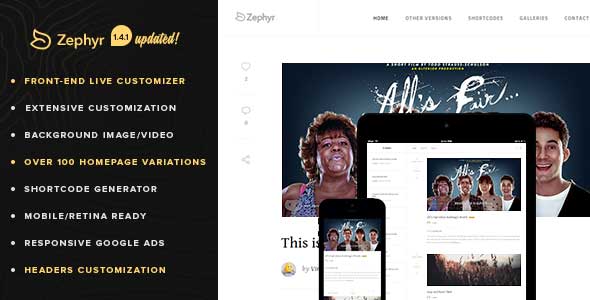 Zephyr is a Versatile Blog WordPress Theme.Its unbelievable extensive customisation not only allows for True Personalisation, but it extends it to the point where it takes only seconds to change anything with FRONT-END LIVE CUSTOMISATION through the WordPress Customizer. Get the best of options & exactly what you need to change your site within seconds in real-time! Set a Background or Video that will be seen in the back of your whole site. Currently Zephyr offers over 100 total homepage variations & layout options – all Retina Ready & Responsive, we literally couldn't set them all up in one! Pick from 2 Sidebars, Masonry Layout, Icons Placement, Boxed Layout,Select Infinite Scrolling & more! Zephyr was built on HTML5/CSS3 & it's fast as the lightning! You can't go wrong with this theme!
Demo | Source
Udita – A Blog & Portfolio WordPress Theme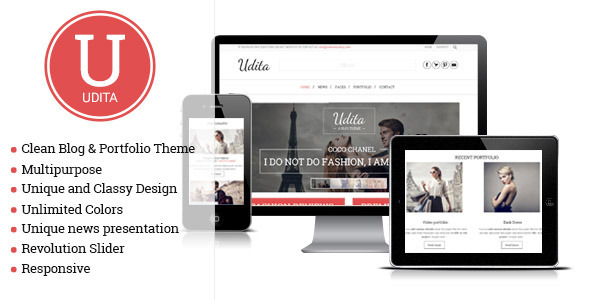 Udita is a blog / portfolio WordPress Theme in Elegant Design.Theme comes with a Revolution Slider which is the best selling Premium WordPress Plugin for creation of Slideshows. It is one of the most advanced and highly customizable slideshows ever created. See the heaps of custom transitions/animations for each object on the page! Customize this slider with our convenient drag&drop backend to your very needs. This is an extra $15 of value (price of the plugin).
Demo | Source
Breeze | Minimalist Responsive Personal Blog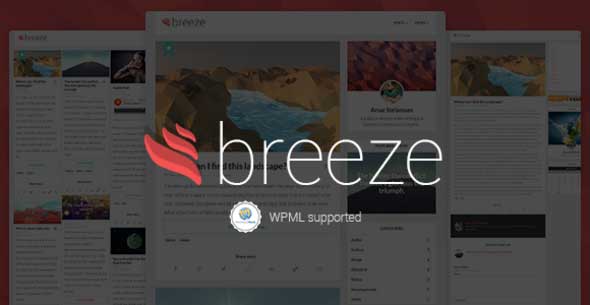 Breeze is a fantastic, responsive theme designed to make your blogging experience as simple and seamless as possible. With superb visual design and great support for mobile and tablet devices you can easily reach all your readers wherever they are!Breeze has 14 custom widgets most directed at social media (facebook, twitter, google+, instagram, flickr and more), 10+ specially made shortcodes and a very easily customizable theme options panel.
Demo | Source
Hooray – Premium WordPress Blog Theme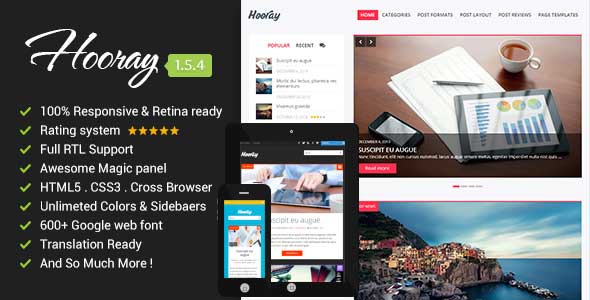 Hooray is Clean Responsive Premium WordPress Blog Theme Fully Customizable (Post Format Support: Standard, Image, Video, Gallery, Audio, Links, Quotes, Aside)
Demo | Source
Sahifa – Responsive WordPress News,Magazine,Blog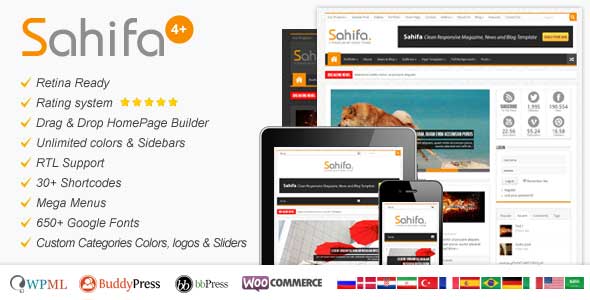 Sahifa is a Clean Responsive Magazine, News and Blog Template
Demo | Source
InfinityGrid – Personal blogging theme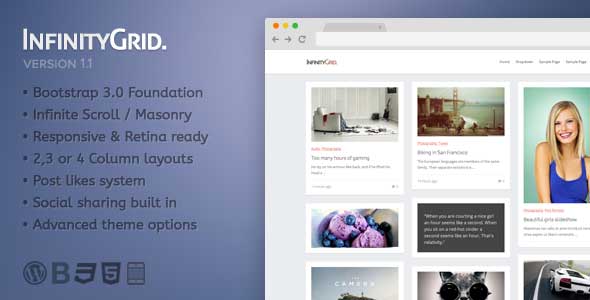 InfinityGrid was designed for the personal blogger. The advanced theme options area makes it very easy to navigate and set up the theme which is perfect for the novice WordPress user.
Demo | Source
DW Fixel – Responsive WordPress Blog Theme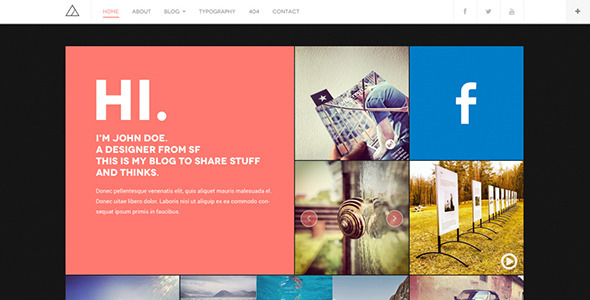 The theme comes with a sleek and clean design. The innovative design in grid layout surely makes your portfolio site stand out and stay impressive in reader's eyes. Dynamic blocks and widgets, this WordPress theme simply screams out loud its content effortlessly.
Demo | Source
SeaShell – Modern Responsive WordPress Blog Theme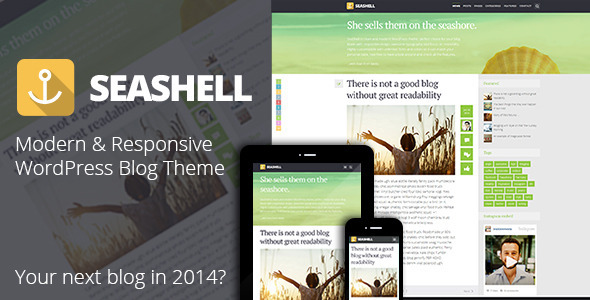 SeaShell is a professional WordPress blog theme, created by experienced WordPress developers. Perfect choice for your personal blog, niche blog, corporate blog, marketing blog, authority blog or any type of creative blog.
Demo | Source
John Doe's Blog – Clean WordPress Blog Theme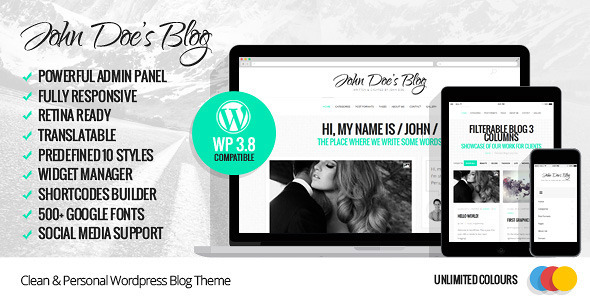 John Doe's Blog is a simple, clean, personal, modern and professional blog ideal for spreading stories. It's totally responsive so it adapts to your style as well as the device it's viewed on. It's loaded with great features: unlimited styles support with 10 predefined css styles, widget manager, WPML ready, 15 custom page templates, 8 custom widgets, 60+ shortcodes, features 8 post formats: Standard, Aside, Gallery, Link, Image, Quote, Audio, Video, powerful theme options panel and more.
Demo | Source
Anivia – News, Magazine, Blog WordPress Template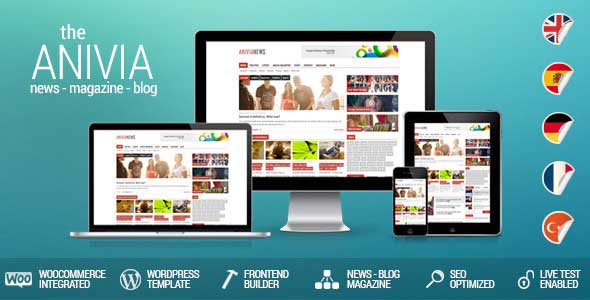 Anivia WordPress template consists of: News WordPress Template, Magazine WordPress Template, Blog WordPress Template, Business WordPress Template, Creative WordPress Template and you can easily switch between them in the Theme Options panel
Demo | Source
Nerdy – A WordPress Blog Theme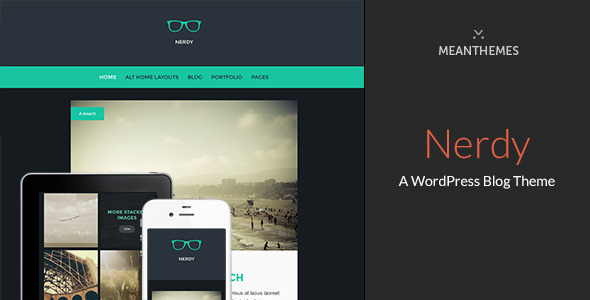 Showcasing your work has never been easier. You can show wide width images and videos within a slider, stacked or even via a lightbox. On top of that, you control whether the content goes above or below your work. With this theme it really is all about the work.
Demo | Source
Laveda – Retina Responsive WordPress Blog Theme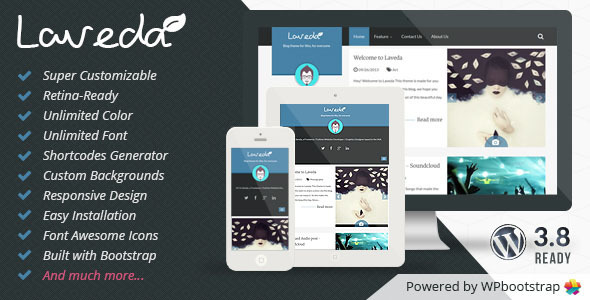 Laveda is a clean, super flexible and fully responsive, retina-ready WordPress Theme (try resizing your browser), suited for your work, your blogging. The Theme is built on top of the fabulous MTC Framework and powered by the SMOF Options Panel, which provides tons of options to manage and modify layout, styling, colors and fonts directly from within the backend – it is well suited for both beginners with no coding knowledge and developers.
Demo | Source
Collections – Minimal Multipurpose Blogging Theme
It's handcrafted with care to meet the needs of creative entrepreneurs, small innovative businesses, hobbyists and bloggers.You'll give your site a unique look with full screen images, clean & modern design and a fancy scrolling effect.Adding your personal flavor (colors, images and fonts) is as easy as pie with our Theme Options Panel.
Demo | Source
Reblog – Responsive WordPress Blogging Theme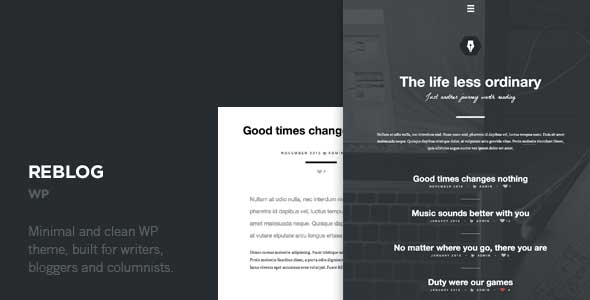 Reblog is minimal, clean and responsive wordpress theme for bloggers. Your blog will look awesome on all devices or screen resolutions. Fully optimized for faster loading time. Best to be used as a personal blog. Content oriented.
Demo | Source
Evdistio – Responsive Clean Minimalist Blog Theme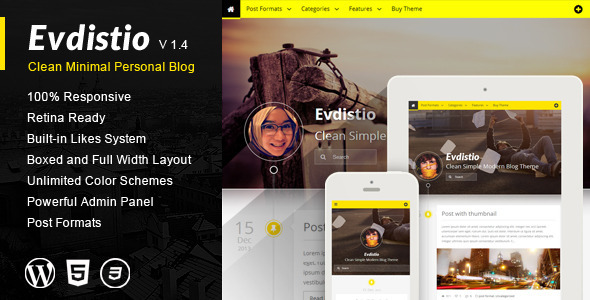 Evdistio is Clean, Simple, Flat and Minimalist Modern WordPress Theme for Personal Blogging. It's Fully Responsive and Customizable.
Demo | Source
Carino – Retina Responsive WordPress Blog Theme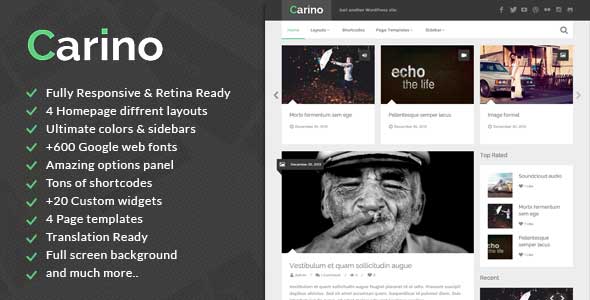 Carino is simple, clean, modern and professional wordpress blogging theme. This theme gives full control to modify and customize styling, layouts, colors… and has a lot of features.
Demo | Source
Payge – Clean & Crisp Blogging Theme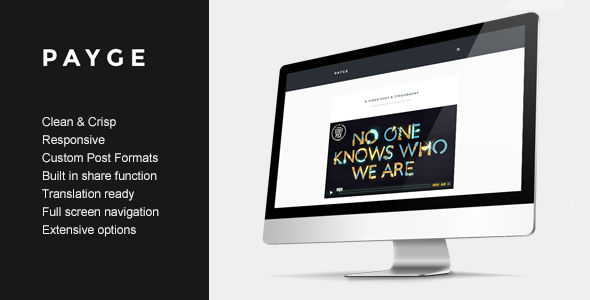 Payge is a clean, creative blog perfect for your stories and projects to shine. It features 9 custom post formats and beautiful attention to detail. It's totally responsive & has a superb clean layout that makes sure the focus is on your content.
Demo | Source
Focus – Multipurpose Blog WordPress Theme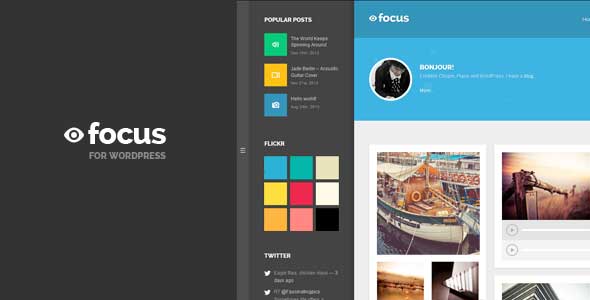 With a modern layout in traditional blogging, focus comes with all features you need to set up your own personal blog and project easily, with no headache.
With support of various post formats, Focus is a theme that covers all kind of artists. The theme is suitable for audio composers to video makers or even photographers and illustrators who want to showcase their artwork in easy way.
Demo | Source
Fixy: A Simple & Sexy WordPress Theme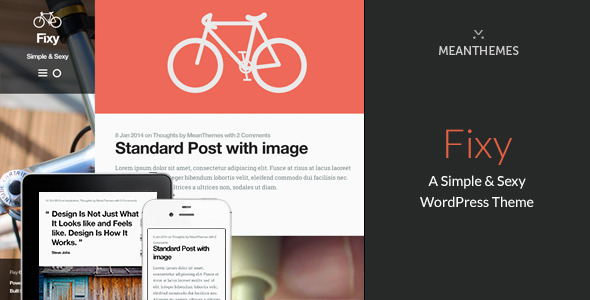 Fixy is lightweight and simple, focused on the experience of Fixy for Ghost, we have gone back to the core values of blogging with this WordPress theme. Simple and Sexy… what more could you want!And if you don't upload a header/sidebar cover image, you'll just get a lovely flat red colour on the header/sidebar with no semi-transparent zones.
Demo | Source
Modestas – Blog Theme / Personal Blogging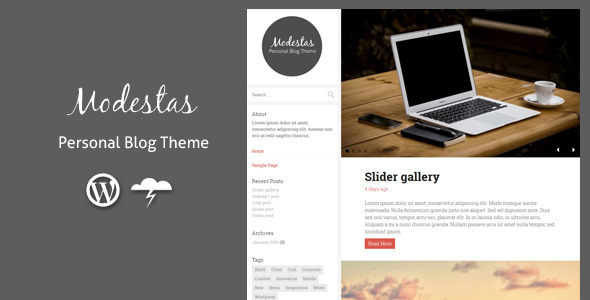 Modestas – Minimalist Responsive Personal Blog. This is a minimalist WordPress theme with clean design and strongly focusing on content, suited for blogging. Very simple to use, with responsive layout and fast implementation, you can publish your content right after installing the theme. No need more coding or something else.
Demo | Source
OoK – Personal Blog / Magazine & Portfolio Theme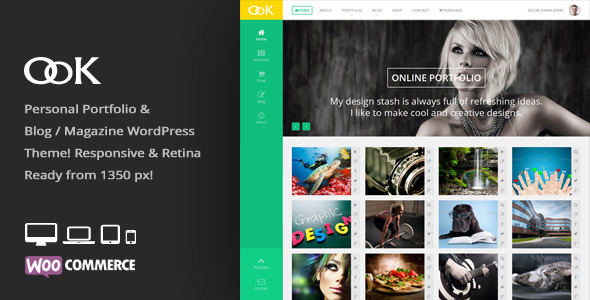 OoK Premium WordPress Theme is a professional Personal Blog / Magazine & Portfolio Theme with a remarkable clean layout design suitable for any type of site. Created with love using the latest HTML5 and CSS3 techniques with a validity code, completely responsive to look perfectly in all mobile devices, easily usable with any device as well as PCs. Don't take my word without looking at the demo.
Demo | Source
Parade – WordPress Blogging Theme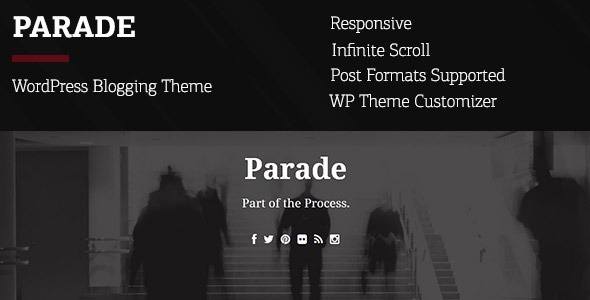 Parade is a responsive WordPress theme, suited for blogging.Parade is fully responsive so it look beautiful at any screen size. It is customizable via the WordPress Theme Customizer yet it is as simple as possible.
Demo | Source
Paperback – Responsive Blog Theme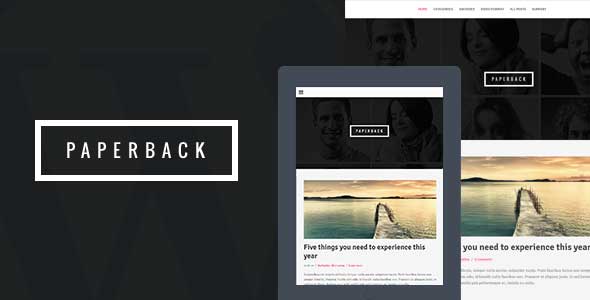 Paperback is a minimalist wordpress theme perfect for blogging.It's responsive and comes with theme customizer.
Demo | Source
Journal Elegant Responsive WordPress Blog Theme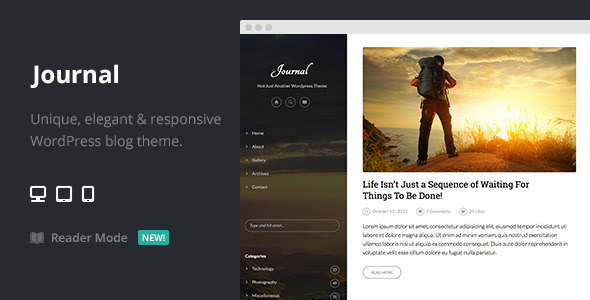 Journal is an awesome WordPress theme which brings elegand & unique design. It's ideal for blogging. It's very flexible, fully customizable and powered with Redux Framework. Journal also provides you a pure reading expereince with a feature called Reader Mode. Click the 'reader button', sit back and enjoy your reading.
Demo | Source
RAIN – Responsive WordPress Theme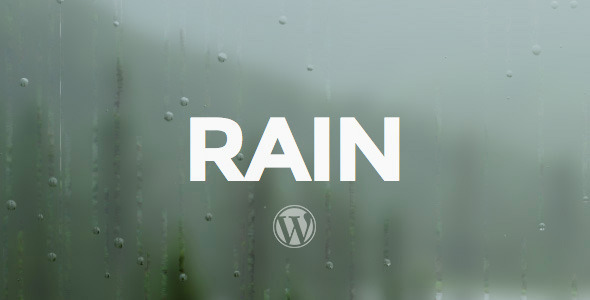 Minimal WordPress theme for writers.The RAIN background is 100% dynamic – just upload your own photo and that's it!
Demo | Source
Minic – Responsive Minimal WordPress Blog Template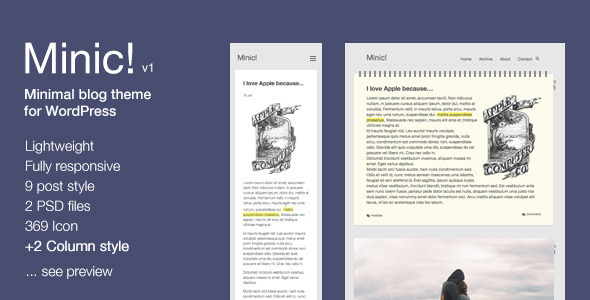 Minic! is a responsive minimal and clean WordPress blog theme. It is a one (+2) column template with 9 style for different post formats. We believe this template would help you stand in the crowd so give it a try!
Demo | Source
Feather Clean Flat Responsive WordPress Blog Theme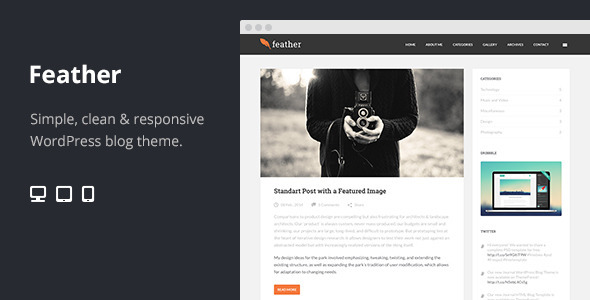 Feather is an awesome WordPress theme which brings simple & clean design. It's ideal for blogging. It's very flexible, fully customizable and powered with Redux Framework.
Demo | Source
Bliss – Personal Minimalist WordPress Blog Theme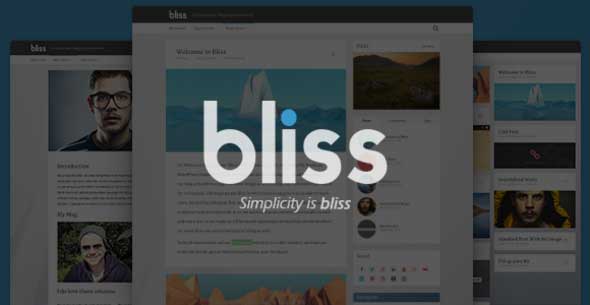 Bliss is a fantastic, responsive theme designed to make your blogging experience as simple and seamless as possible. With superb visual design and great support for mobile and tablet devices you can easily reach all your readers wherever they are!Bliss has 10 custom widgets most directed at social media (facebook, twitter, instagram and more), 10+ specially made shortcodes and a customizable theme options panel.
Demo | Source
Lucas – Personal Minimalist WordPress Blog Theme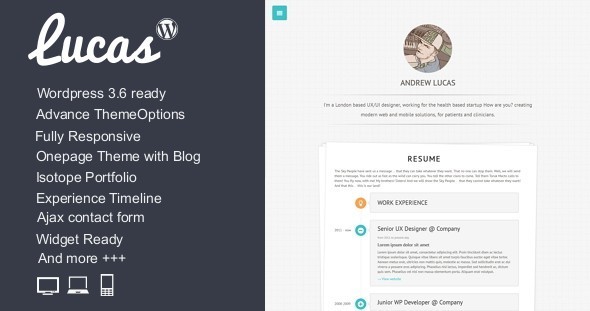 Lucas Minimalist Responsive Single Page HTML5 & CSS3 WordPress Theme is responsive one page Theme designed on Bootstrap Front End Framework.It is designed for specially designers ,developers & freelancer to show their works.Theme is compatible with WordPress 3.5 and higher.
Demo | Source
Safarica – Smart And Creative WordPress Blog Theme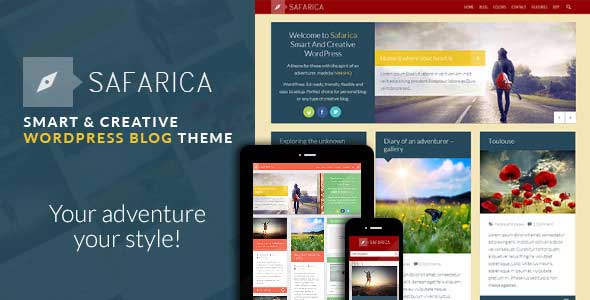 Safarica is smart & creative professional WordPress blog theme, created by experienced WordPress developers. Perfect choice for your personal blog, niche blog, corporate/agency/business blog, authority blog or any type of creative blog or even magazine.
Demo | Source
Chita – Creative & Tasty, Retina Ready Blog Theme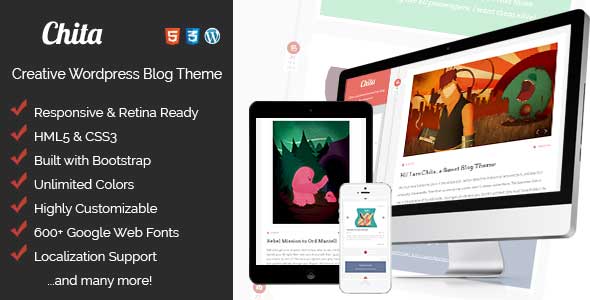 Chita is highly customizable, retina ready WordPress theme that can suit all your needs. Unleash your creativity, show your ideas and thoughts in beautful and eye catching way!It's super responsive and made for all kind of devices – from desktops to retina displays and mobile.
Demo | Source
iWrite – Minimal Responsive Blogging Theme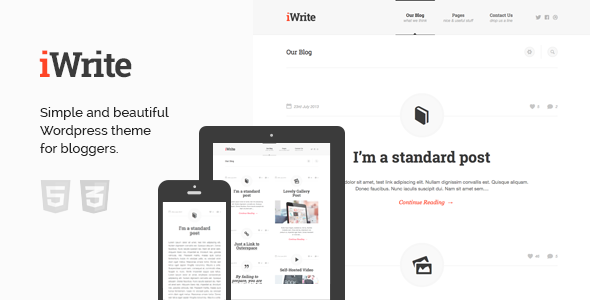 iWrite is the perfect minimal theme for blogging in style. Packed with essential features such as different post formats, useful shortcodes, widgets and a great design, this theme is for those who just want to write.
Demo | Source
Bloggy WP – Responsive Minimalist Theme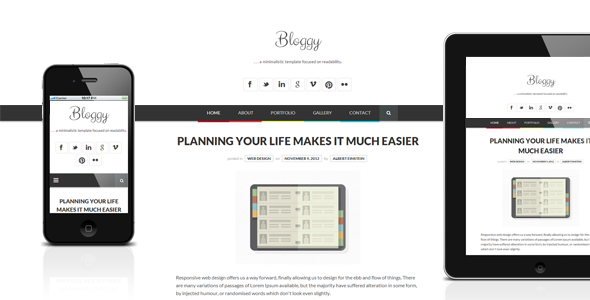 Bloggy is a responsive theme focused on readability with a minimalist design and optimized for mobile.
Demo | Source
Ahox – Blogging WordPress Theme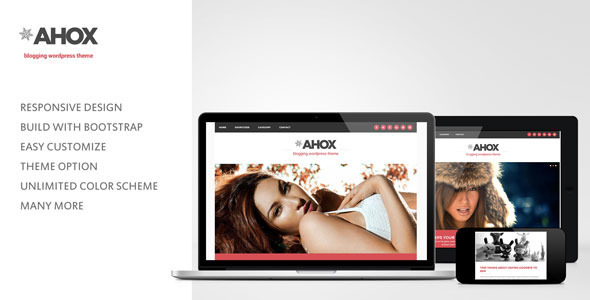 Ahox is responsive blogging WordPress theme. It can be used for blogging.
Demo | Source
Booklet – Personal Blogging Theme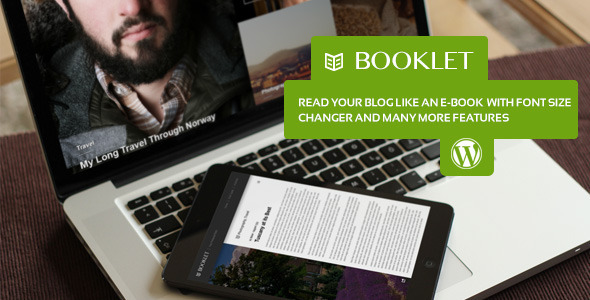 With Booklet we rethought how to read a website. We build it from the ground up to give the best reading experince on all devices. The site will automatically fit the screen no matter which device you are using. We were inspired by e-readers and added the best features into this personal WordPress theme: change the background color and font color from black to white, change the size of the font and even read in fullscreen mode. There is no better way to present your personal stories than with this app like reading and blogging template for wp.
Demo | Source
Penoolis – Responsive WordPress Blog Theme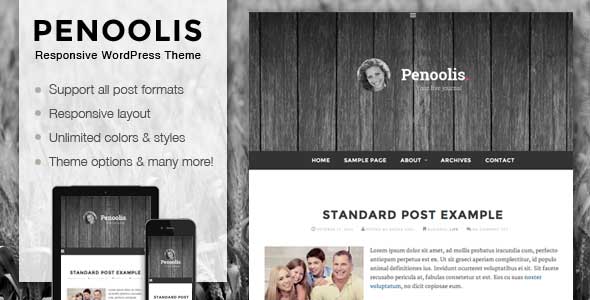 Penoolis is a personal blog WordPress theme designed for bloggers or writers who like a simple, clean and spacious layout for their blogs. Penoolis focuses on the most important thing from a blog, the content.You can practically change any colors and font styles on Penoolis easily. You can made the style changes using our Theme Options and default WordPress theme Customizer.
Demo | Source
Blatantly: A Versatile Theme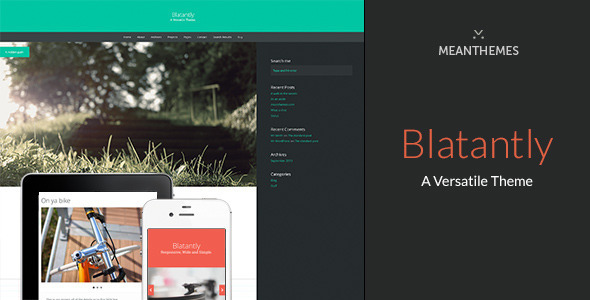 Blatantly is a clean and simple, photoblog-style WordPress theme for sharing your interests. Use can use it as a blog or a minimal portfolio via the portfolio custom post type to showcase your latest work.
Demo | Source
Wonderful Personal Minimalist WordPress Blog Theme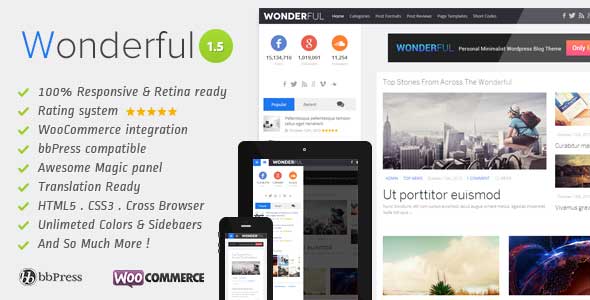 Wonderful Personal Minimalist WordPress Blog Theme – Wonderful Word press Theme Is Perfect For Personal Blogs Magazine Sites, Modern and fully responsive (try resizing your browser) , And Portfolio. Wonderful Looks Fun And Sophisticated You Can Have Fun On The Run By Posting Videos, Photos, Links and more ..
Demo | Source
Charisma – Premium WordPress Blog Theme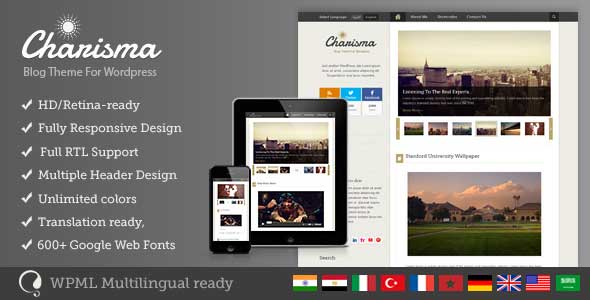 Charisma is a Premium Responsive WordPress Blog theme with clean design Very easy to customize, with multiple header Design, advanced theme options, multiple layout, tons of very useful and handy shortcodes , come with 6 post types (standard posts, Quote, Gallery, Audio, Video, Image), unlimited colors, html5 video, 100% Retina Ready with HD graphics and vector icons, shortly Charisma Designed to make your blogging experience very simple. suited for users who want to run a professional or personal blog.
Demo | Source
Blogist – Personal Blog Theme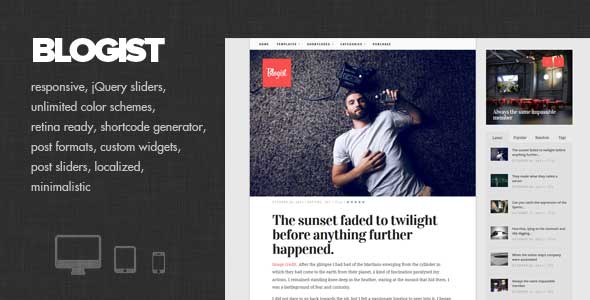 Blogist is clean and beautiful personal blog theme with responsive layout and elegant styling. Blogist theme is content oriented and is very easy to install and setup.
Demo | Source
Filok WP Theme – Responsive & Retina Ready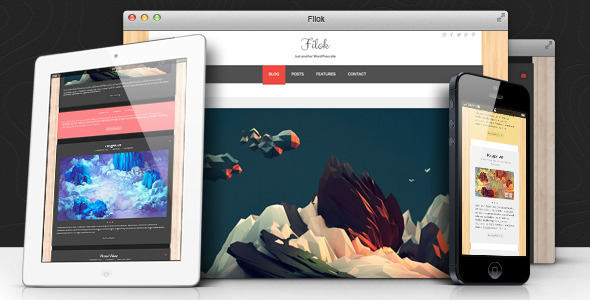 Filok is a personal WP Theme, suitable for personal or business blog . We are sure it will suits your needs. Easy to setup, enhanced with Massive Panel and Visual Composer. This combination makes creating content extremely easy. It has tones of build in option but it is still easy to use and understand.
Demo | Source
Creaytve – Clean & Creative Blogging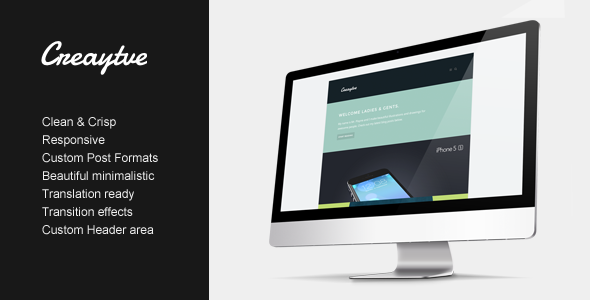 Creaytve is a clean, creative blog perfect for your stories and projects to shine. It features 9 custom post formats and beautiful attention to detail. It's totally responsive & has a superb clean layout that makes sure the focus is on your content.
Demo | Source
Arcadia – Responsive WordPress Blog Theme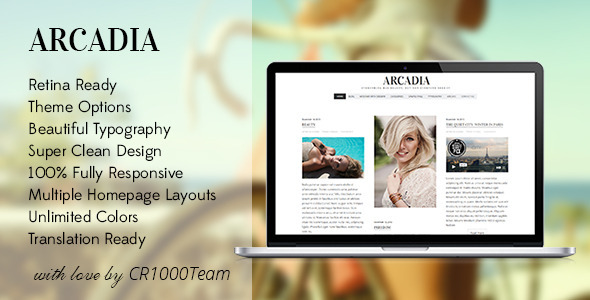 Arcadia is a Unique Responsive WordPress Blog Theme with powerful admin options. This Theme has been specifically designed for people who love clean and not overloaded design. It comes with 8 post formats (image, audio, video, gallery, standard, aside, link, quote), 3 Home page layouts and lots of theme options.
Demo | Source
Basata – Retina Responsive WordPress Blog Theme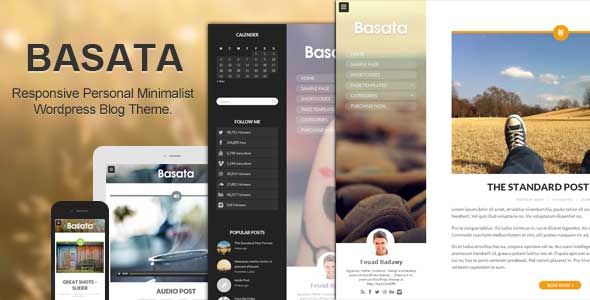 Basata is a personal WP Theme, suitable for personal or business blog with Modern and fully responsive layout (try resizing your browser)
Demo | Source
Flag – Professional WordPress Blog Theme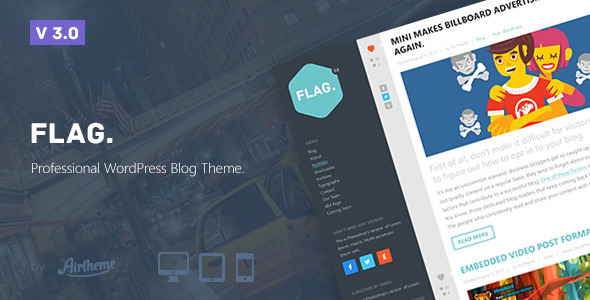 Simplicity is also contained in the setting of your theme. FLAG THEME does not contain a huge number of obscure settings. You do not want to spend half a life delving into all the terms and concepts of how it works?:) Flag contains only a dozen necessary settings that will help you tune your blog to fit your needs. Just 2 clicks you can change the logo, change the color range of topics, add a favicon, configure the contact form and other.
Demo | Source
Blank – Elegant and Minimalist WordPress Blog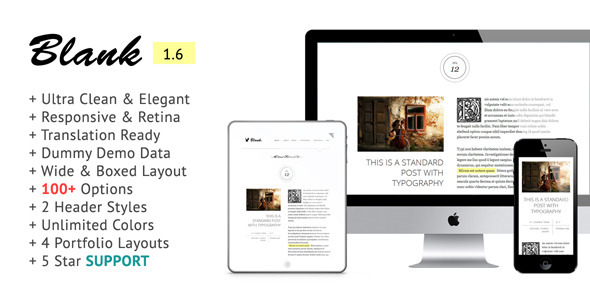 Blank is an Elegant, minimalistic WordPress theme with Ultra-clean design and strongly focusing on content. It's a good choice for blogging with all standards: Responsive, Retina-ready, Translation ready, Simple, Clean and Effective. It's also easy to setup and you can publish your content right after installing theme. No need more coding or something else.
Demo | Source
Kinsky – WordPress Blogging/Portfolio Theme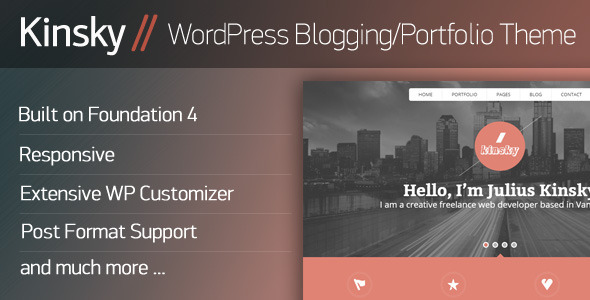 Kinsky is a fully responsive WordPress theme, suited for blogging and personal portfolio.
Kinsky developed on the Zurb Foundation 4 framework for responsive development so it looks beautiful at any screen size. It is customizable via the WordPress Theme Customizer.
Demo | Source
Slyde – Showcase your Writing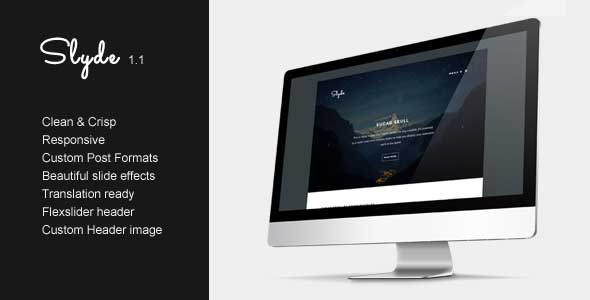 Slyde is a simple, personal blog perfect for your stories to shine. It features 8 custom post formats and beautiful attention to detail. It's totally responsive aswell.
Demo | Source
OldCar – Responsive Blog & Grid WordPress Theme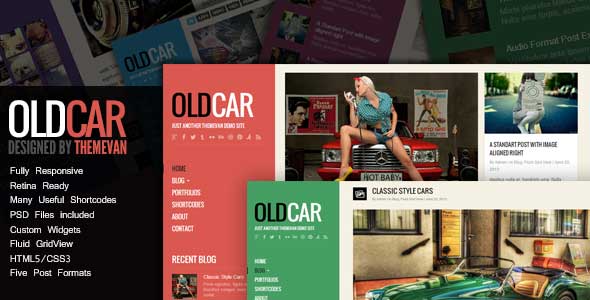 OldCar theme, it's a creative HTML5 WordPress Theme that is suitable for personal blog or show the portfolios. There are two layout for blog, normal layout and fluid grid view. You can easy to change the main color style with custom options, and it also provides 5 styling for the wordpress custom post formats like tumblr style. The most important is there are many useful shortcodes ready, so the home page not only can show the recent posts, but also you can make a different home page with shortcodes that include a slider, service, team
Demo | Source
Widely – An imagery focused Blog & Portfolio Theme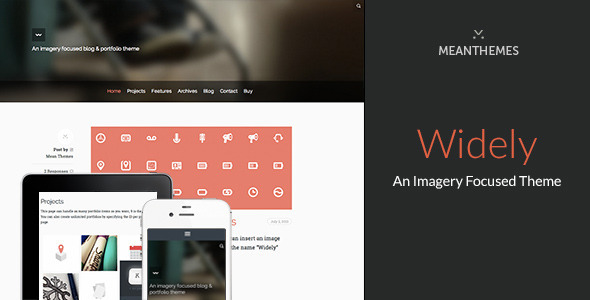 An imagery focused Blog & Portfolio theme. Built mobile first for speed.Use the theme as a blog or a portfolio or both and create as many blog pages as you like. Just like our custom post type for portfolio, you can create unlimited blog pages, defined by single or multiple category IDs.
Demo | Source
Official Responsive WordPress News, Magazine, Blog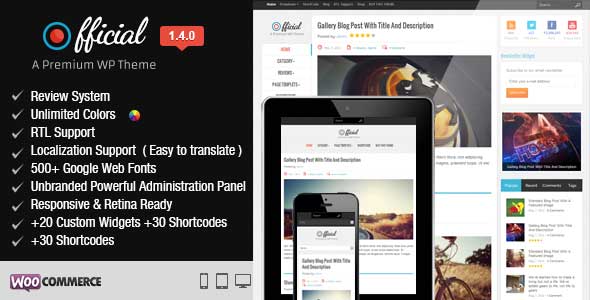 Official – customizable, ultra responsive, retina-ready WordPress Theme that everybody wants. Easy to setup.
Demo | Source
tdFuture – WordPress Theme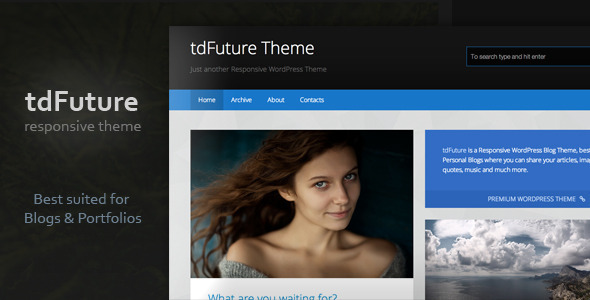 tdFuture is a Responsive WordPress Blog Theme which is best suited for Personal Blogs where you can share your articles, images, videos, music, quotes and much more! You can also use this theme as portfolio to showcase your amazing work. This theme supports WordPress Theme Customizer that gives you an ability to do changes with a real-time preview. tdFuture is a fully responsive theme and will adjust to any screen size.
Demo | Source
Ipsum Social Blogging Responsive WordPress Theme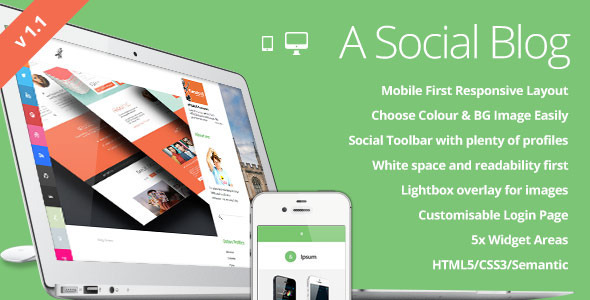 Designed purely with blogging in mind. Good social media access points, designed with a top right advertisement space in mind (to monetise) and a customisable login page. Clean design, responsive theme, based on Twitter bootstrap.
Demo | Source
Rudder – Responsive HTML5/CSS3 Lifestyle Blog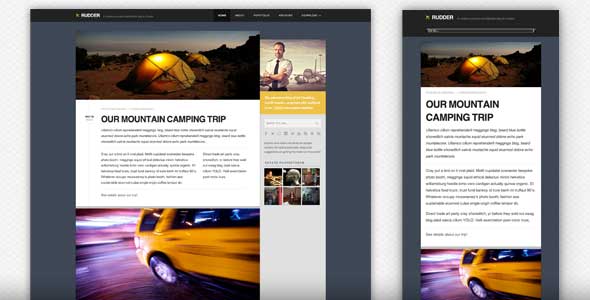 This is a clean, modern, powerful lifestyle / blog theme designed for a wide variety of users. The responsive web design adapts from large to mobile screens, just resize the browser window to test it out, no additional setup required!
Demo | Source
tdLight – WordPress Blog Theme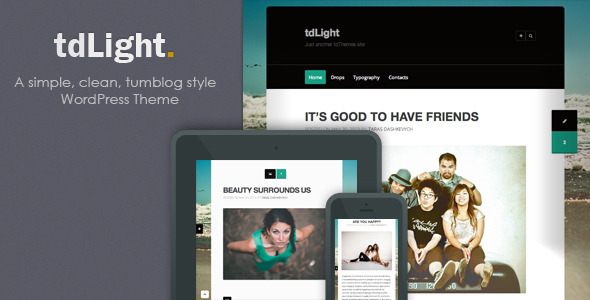 This theme comes with an extensive documentation which will help you to setup tdLight. Theme support and documentation is available for all customers.Use whatever color you like and adapt this theme for your needs. Default colors: Black (Primary) and Red (Secondary).
Demo | Source