You probably browse through their great collections of website design. Now you can go to the Awwwards NYC conference and immerse yourself in web design and rub elbows with some pretty awesome designers for two days.
But you need to mark your calendars now. Tickets for the event – June 16 and 17 in New York City – are likely to sell out.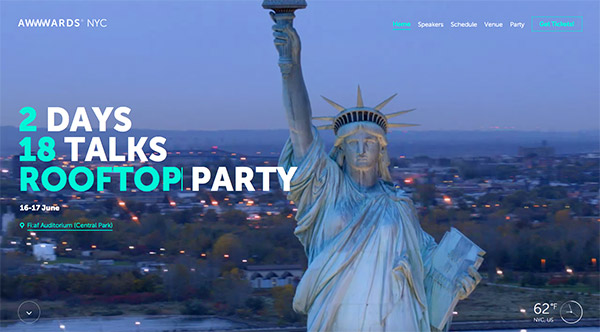 Why Awwwards NYC?
This is the top ticket for a website design conference this summer. You will be in the company of some of the best in the business and get to think, share and be creative.
Here are a few things you can expect to take away from the event:
Learn about new trends in web design
Learn advanced front-end techniques
Refine your skills – SVG, JavaScript, WebGL
Be inspired
Experiment and tinker with projects
Tune in to web typography
Learn from case studies featuring some of the best designers and agencies around the world
Speaker Lineup and Schedule
This conference is going to be packed – and I mean seriously packed – with creative inspiration. There are 18 talks on the schedule.
The talks cover a wide range of topics and the conference is designed unlike many others in that you don't have to choose between a couple of great speakers at the same time. The schedule is set up so that you can actually go see every one of the speakers. (And while that may seem like a lot, you'll be full of so much creative adrenaline, that you won't miss anything!)
Here's a look at who will be there:
Matias Corea: Co-founder of Behance, designer and investor
Mike Monteiro: Design director and co-founder of mule
Anton and Irene: Digital, UX and art directors
Mike Kus, graphic and web designer and illustrator
Jon Burgerman, award-winning doodler
Sherine Kazim: Executive creative director for Huge
Mark Pytlik: CEO of StinkDigital
Edu Pou: Chief creative officer at the barbarian Group
Diana Mounter: Product designer at Github
Rob Trostle: Executive design director at Droga5
Natasha Awasthi: Business designer and writer
Shaun Tollerton: Product designer at UsTwo
Olof Schybergson, CEO and founder of Fjord
Benjamin Guedj: French digital art director
Dave Snyder: Executive creative director at FirstBorn
Min Lew: Creative director and partner at Base Design
Hannah Donovan, design founder of Product Tiger
Tom Krcha: Creative Cloud evangelist at Adobe
Jose-Manuel Villanueva: Product designer at UsTwo
The conference starts bright an early both day with the doors opening before 9 a.m. Then the schedule is packed with talks. The schedule starts with Mike Monterio and his talk," Let Us Now Praise Ordinary People," and never slows down.
And you won't get antsy in your set. Most of the talks are designed to be short features, lasting only 30 minutes. The flow and pace will help you think about one topic before bouncing on to the next item on the agenda. Plus there are breaks and networking opportunities scattered throughout each day.
Then, just as you think things are winding down, the event moves to happy hour-style networking on Day 1 and a giant rooftop after-party to wrap up the event.
Find the full schedule here.
Rooftop After-Party
So you probably all want to know about the after-party, right? It's is a not-to-be-missed event.
The party is at the rooftop of 230 Fifth, where you will be able to look out over the stunning New York skyline from the largest outdoor rooftop garden in New York. Situated near the Empire State Building, from its open air terrace you can unwind after the conference with like-minded people enjoying an open bar and 360-degree views of the city.
And if you can't make the full conference, tickets for just the after-party are available.
Date and Location
Previous Awwwards events have been hosted in premier locations around the world – Paris, Barcelona, Amsterdam – and the New York conference is no different. The venue is the Fi:af Florence Gould Hall Theater in the heart of Manhattan. Fi:af is the French Institute Alliance Francaise and it's just a stone's throw away from Central Park.
It's the perfect setting for city-dwellers, business travelers or if you are making a vacation of the trip.
The beautiful Beaux Arts building was chosen to host the event for its fame as a vibrant cultural force for New Yorkers. Its Haussmann Paris style architecture a perfect background for the coming together of designers, innovators and creative minds.
Tickets
Now that you are ready for Awwwards NYC, you need to head on over to the website and get your tickets. There are multiple options available (and they will sell quickly).
Conference + Rooftop Party: $575
Rooftop Party Only: $150
Executive Ticket with VIP Treatment: $1,150
Conclusion
If you were thinking about attending a design conference this year, this is the one to save the date for. The speakers are going to be incredible, the setting is phenomenal and you are sure to walk away completely inspired. So mark your calendars now; it's going to be a creative summer!