The increased penetration of internet usage has created huge dependency on it. This virtual entity has turned into a living world for us. As a result of this, radical changes are seemingly taking place in the web applications and influencing the way businesses are operated. There is a visible shift from old models to grid and cloud-based models.
To match the pace, excellent quality web applications have to be developed which can act as the interface for the consumers or target audience of particular services/ products provided by the business groups. Any web application can do its job only if it is designed to meet essential needs of the consumers with a simple, responsive and easy-to-use interface. For this, a designer has to put his or her best web development and designing skills to use along with keeping a few points in mind.
These points are related to the development and designing phase of the web application and include blank state, UI speed optimization, display of quota/ usage, stages of user interface (UI) elements, smart use of visuals, proper display of information and instructions, upgrading or downgrading the plan, choice of accurate cursor pointer and alternative attributes and finally, finished state.
Since both professionals and novice can use web application interface, it becomes all the more important for a designer to be careful and study every element from close quarters. To help you with your task, some examples of web application designs are being shared here. You can look for them to get inspiration for your own web application interface design.
Best Examples of Web Application Design
Jamiq, FreshBooks, CrazyEgg, Donor Tools, Wufoo, Freckle, Pulse, Mint, Harvest, iPlotz, PollDaddy, Campaign Monitor, Designer Pages, OneHub, and Wistia are some of the finest examples of web application interface design that can be seen online.
If you look at Jamiq, you will see it's a monitoring tool designed to track the high ranking search engines and social media platforms in all languages. FreshBooks, on the other hand, is created to help small businesses and freelancers track invoice and time faster. CrazyEgg helps users to know where the clicks are being done on a website.
Similarly, Donor Tools is an application which has been created for non-profit organizations and charity houses to find out donations and fund raising targets. Wufoo is useful in designing web forms in faster and fun ways. With the help of this application, you can create registration forms, invitations, online surveys and contact forms.
All in all, each of these examples reflects different types of requirements and purposes for which they've been created.You need to analyze all of them separately in minute details and find out which of the elements can be best utilized in your own product. This process may take a bit of time. But don't hesitate. The time is really worth it. You cannot afford to leave any stone unturned if you want to achieve your goal.
To help you with this a bit more, some more examples of coolest web application design are being provided here. These consist of Admin Panel Template, GrooveShark, TodoTweet, CoTweet, Aviary: Phoenix, 280 Slides, MyClientBase, Pixlr, Tachyon HTML5 Admin Template, BuySellAds, Kuler, Peepnote, Artician, Cleanity and Postmark.
All the above-mentioned examples of the web application design are selected on the basis of their simplicity, color schemes, overall design and usability. Take a close look at them and just get inspired.
Postmark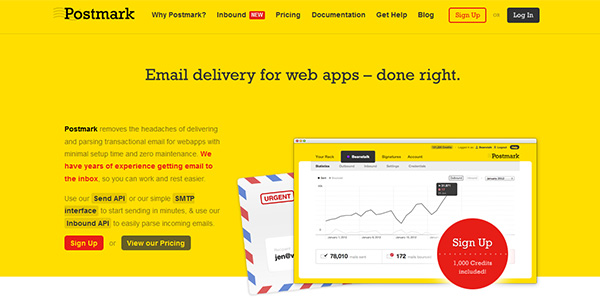 Postmark leverages a quite vibrant color palette that naturally separates each section from another. Horizontal stripe layout lets highlight information hierarchy and makes key points evident and eye-catching. A photo of Head of Development adds an extra human touch.
Buffer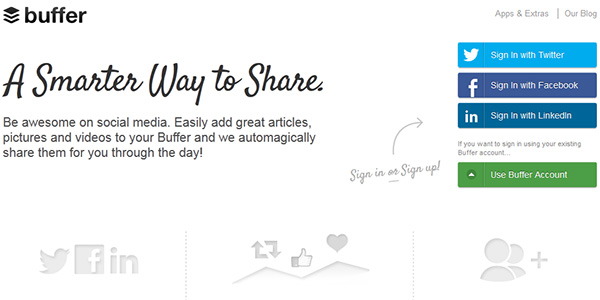 Buffer interface constantly undergoes changes. Not only does the team try to react to customers' demands and desires in time, providing them with a comfortable environment and first-rate service, but it also indicates that they are on trend and perfectly aware of modern requirements. Thus, the current version of the website features a one-screen landing page that is split into 2 equal parts to embrace the information more efficiently and at the same time be in vogue.
Freshdesk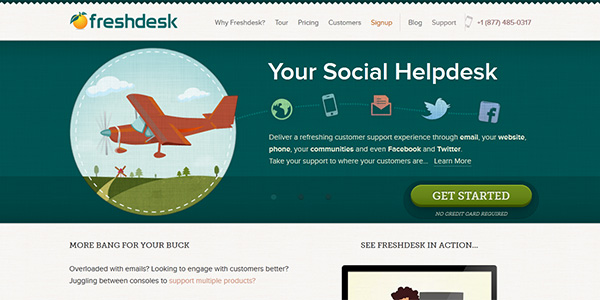 Freshdesk radiates of positive emotions and friendliness that instantly lure into. This is mainly because of a lovely image backdrop used for a header that features 3 funny children. In artificial World, utilization of such type of visuals usually adds particular warmth that is hard to resist.
Mint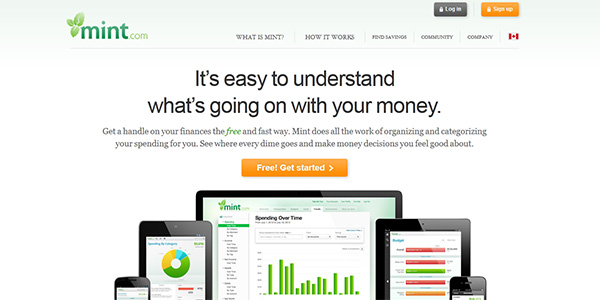 Mint welcomes an online audience with a huge image-based header section that shows a promising tagline. Those who explore the website through a tablet or cell phone will be glad to know that there is a free app that is suitable for small screen.
MailChimp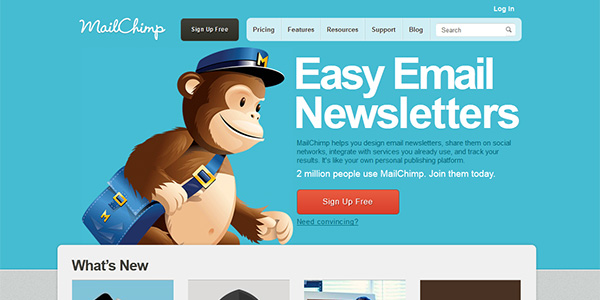 All these years a splendid cartoonish mascot has marked the front page of the design and set the tone, yet recently the team has changed homepage appearance to satisfy current tendencies. Now the homepage looks more dynamic, clean, refreshing and stylish and without an illustrative aesthetics, to which we are accustomed to. Here, the essential information is always on focus.
Skyclerk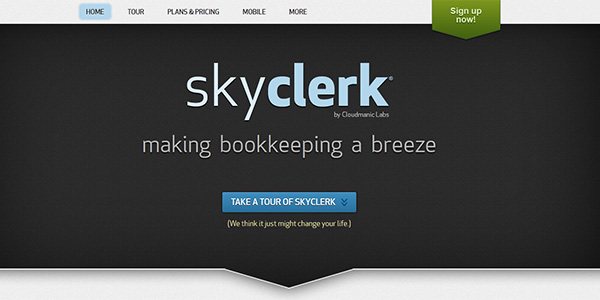 Skyclerk has a modest businesslike general feeling that benefits the project. The coloring, typography and graphics complement each other thereby strengthening the harmony.
Campaign Monitor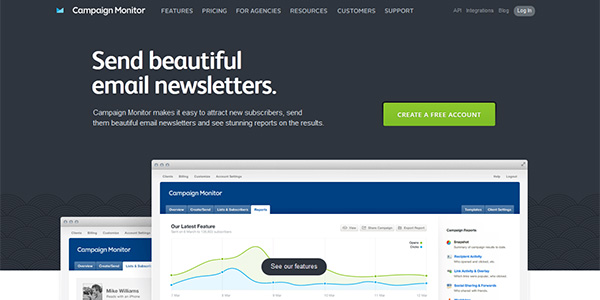 Campaign Monitor boasts of a well-balanced homepage layout that handles data on a high level. Although the project has a feel of typical service web interface that demonstrates data line by line and is populated with some images and complementary graphics, yet it works well in this case.
Blinksale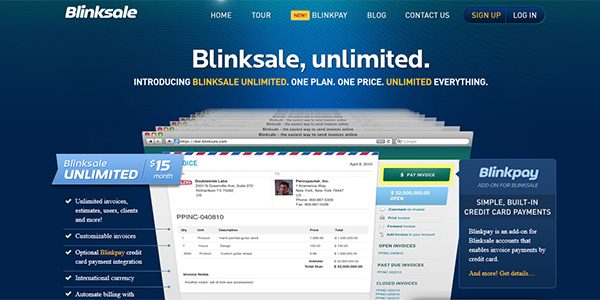 Blinksale is a great example of a website design that is faithful to the traditions. Its interface has not changed for several years, and, it still looks eye-pleasing and appealing. Although it features old-fashioned gradient buttons and coloring, yet in such a way it indicates stability inherent to the company.
Proposable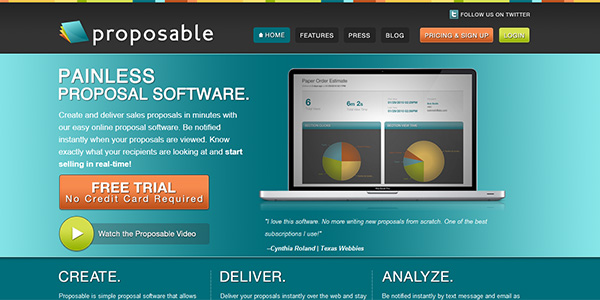 Proposable prefers a more minimal approach that does not overwhelm online visitors with a clutter and unnecessary data. Light coloring, flat style and the well-thought-out amount of white space help to unify all elements together and make the website a comfortable place for users.
SolidShops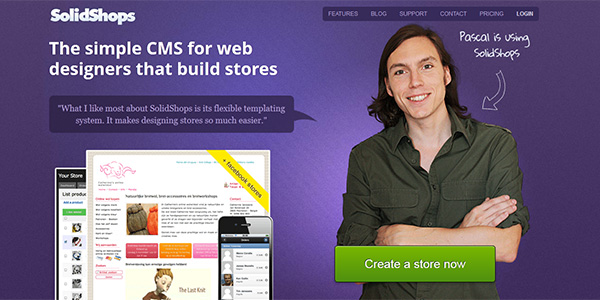 This is another web service that saves its design untouched. Although it could use some sprucing up to meet current trends, nevertheless, it is quite comfortable to move around. Moreover, all the necessary information is on a surface so that users get a clear idea of the project.
HootSuite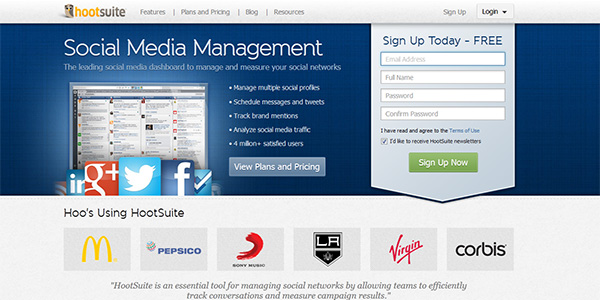 Hootsuite gives enough prominence to integral points. There is no long scrolling, dynamic features or comprehensive tables, yet it is only for the best since the information is correctly structured and well dished out. Moreover, if you view the website through a tablet or a mobile phone, you can always download a special free app for a better experience.
MyEnergy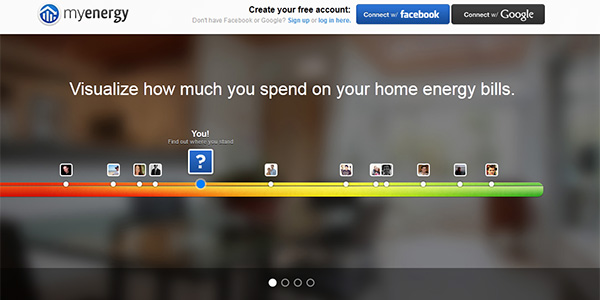 MyEnergy is based on a series of sections that are located one under each other. It is a traditional way of shedding the light on the project. Thus, the information is displayed sequentially; important things are sitting on the top, and the aesthetics are visually pleasing.
Squarespace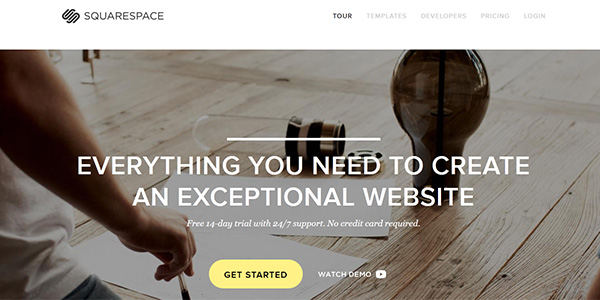 Squarespace looks trendy, sleek and polished. The contrasting black and white coloring easily distinguishes data blocks, generous amount of white space improves user experience, flat style creates a nifty aesthetics and semi-realistic device mockups that are used for displaying default samples transmit the idea.