Invoicing is one of the most important part of businesses.Everything is going digital and online now and you have to care about your payments,billings and customer services for your business success.Not only for professional business owners but freelancers must also care all these things.
Today we have gathered most popular online invoicing tools and applications for all freelancers.The list below contains premium invocing tools as well free ones.
Just take a look at the below tools and find the best one for your business.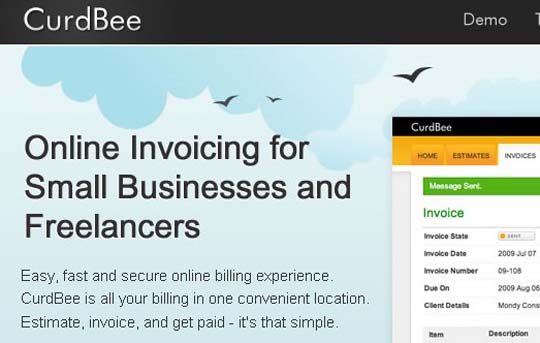 Online billing software for small businesses and freelancers to simplify your invoicing needs. Send professional invoices online and get paid.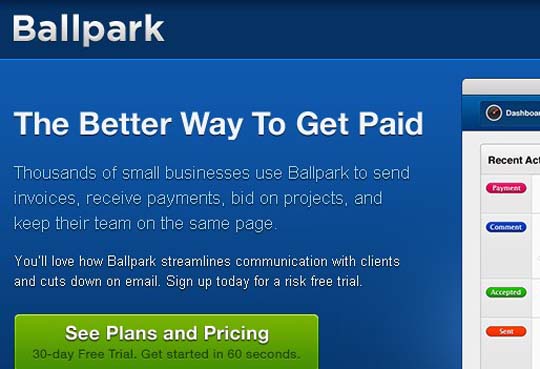 Use Ballpark to send invoices, receive payments, bid on projects, and keep their team on the same page.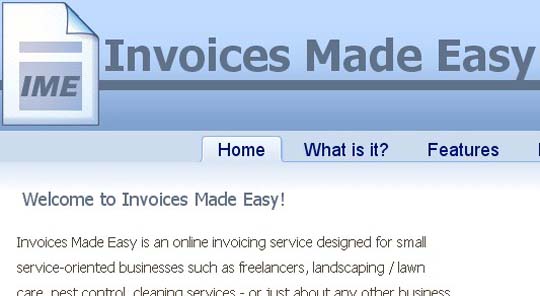 Invoices Made Easy is an online invoicing service designed for small service-oriented businesses such as freelancers, landscaping / lawn care, pest control, cleaning services – or just about any other business that regularly invoices customers for its services.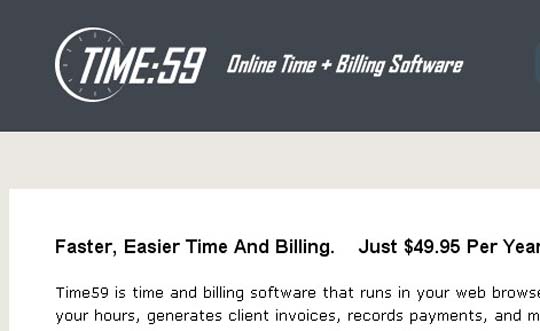 Time59 is time and billing software that runs in your web browser. It keeps track of your hours, generates client invoices, records payments, and maintains client balances. You can access your Time59 account from any computer with a web browser, as well as many mobile devices.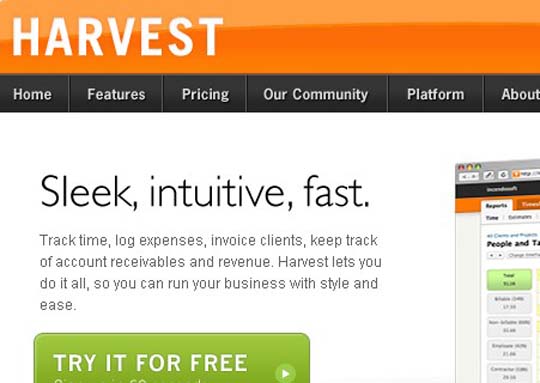 Harvest lets you and your staff track time, log expenses, and create invoices in one simple, integrated workflow. Set yourself or your team up on Harvest in just a few minutes,and instantly start tracking time and expenses.Use the Harvest graphical reports to see the distribution of your company's resources in a visual, intuitive way.
Quickly create an invoice, and with just a single click, bill your client.You'll see your revenue come in faster with Harvest.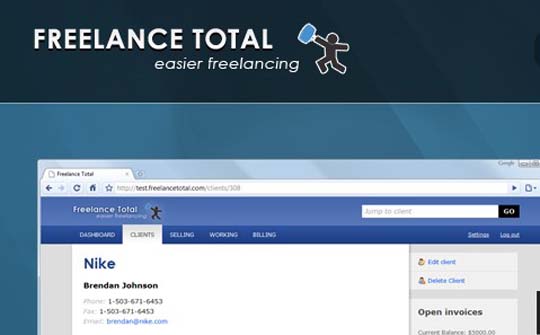 Freelance Total is web based software that takes care of your clients, projects, time, invoices and leads – So that you can focus on doing work.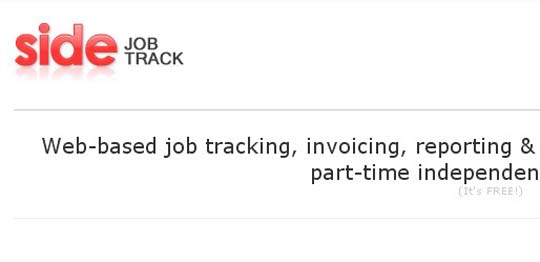 With Side Job Track you can quickly and easily manage your side jobs with simple, straightforward project tools. Side Job Track's flexible data entry lets you to decide how to best fit your specific needs. If you have access to a web server, you can even create completely customized estimate and invoice templates.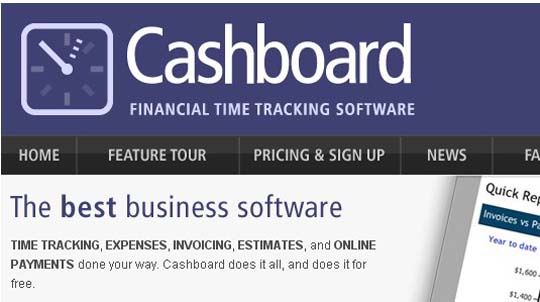 Free estimate, invoice, time tracking, and payment processing software.Track hours as you work, then create invoices with a couple of clicks.Cashboard reminds you when it's time to bill your clients and can even invoice them automatically using a schedule.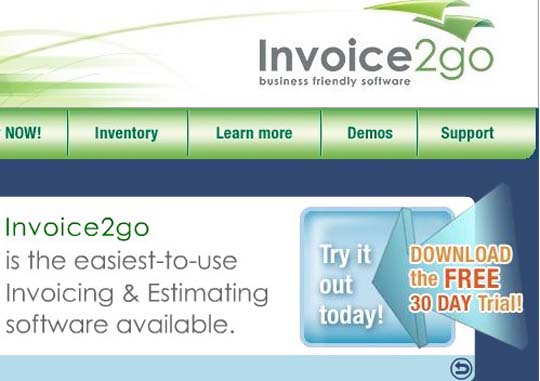 Invoice2go is the ready-to-go software for creating invoices, purchase orders, quotes and all types of business documents.hether you create one invoice a month or a thousand a week, now you can easily run your business without having to learn complex accounting software. Invoice2go is the fast and easy way to invoice, estimate, bill, collect and report.There are over 300 Templates to choose from. It's actually fun going through and choosing your template and designing your invoice.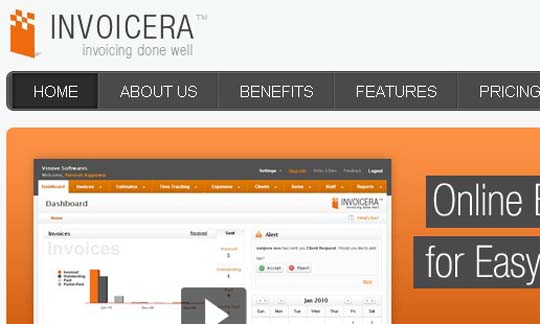 Easy online invoicing application helps you send professional invoices online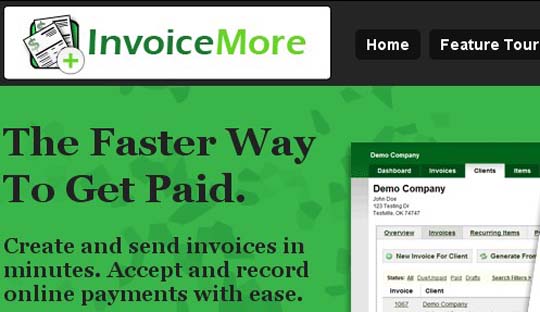 InvoiceMore is an online billing and invoicing service provided by Actridge, LLC for small businesses and freelancers. It provides a simple web interface for creating and sending invoices to clients and recording payments for them. You can email and generate PDF invoices, print and snail mail them, and just keep track of your clients and their payments in an easy and organized way.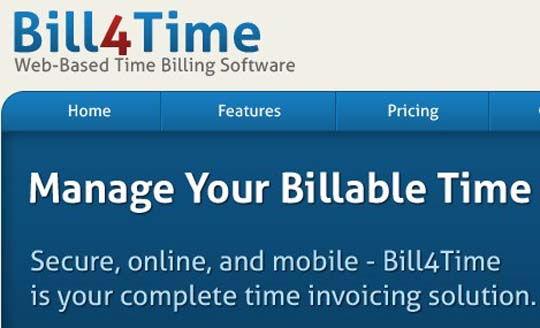 Quality web based time management and time billing software for lawyers, accountants, consultants, and other time billing professionals.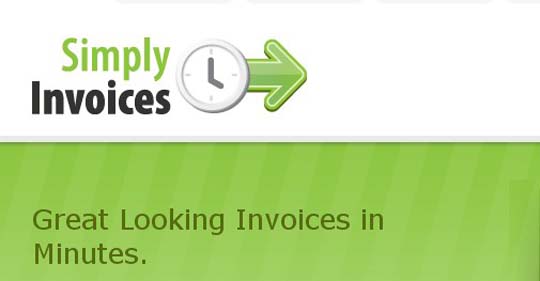 Great Looking Invoices in Minutes.Simply Invoices is the easiest way to create invoices from the time you've logged in your Harvest project.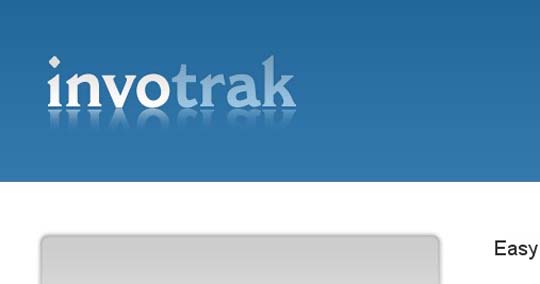 Invotrak is an online invoicing, time tracking, and project management application that's free to get started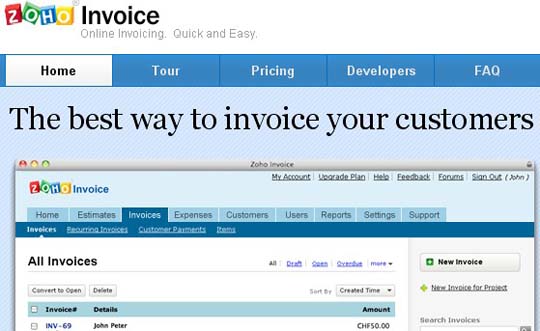 Zoho Invoice is an easy-to-use online invoicing software that helps you send invoices for your projects and customer expenses, receive payments and track the overall health of your business quickly and efficiently. It makes invoicing and following-up really easy – reducing the time it takes you to manage the paperwork and get paid, so you can remain focused on your customers and your business.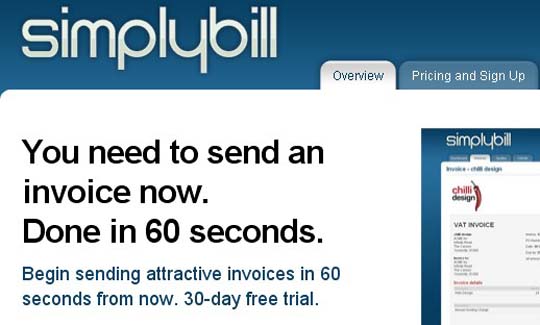 Simplybill is for anyone who needs to send an invoice. It works equally well for people who bill for their time, and those who bill a set price for a product or service. Or a mixture of both. There's a FREE TRIAL.Simplybill is a web-based application so there's nothing to install and no server/platform requirements to worry about. You'll need a modern browser (such as Internet Explorer 6 or above, Mozilla Firefox, Safari or Opera) to use Simplybill.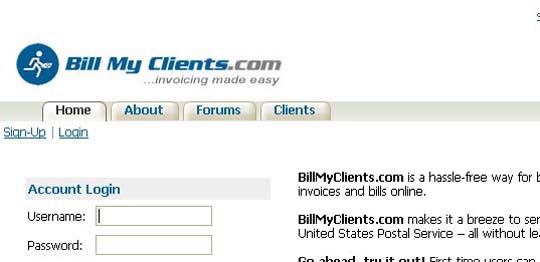 BillMyClients.com is the easy way to create and send invoices and bills to your clients.No matter what business you're in.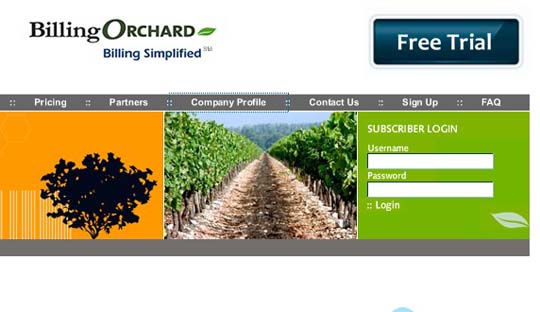 BillingOrchard is designed specifically for the SME (Small to Medium-sized Enterprise) community. BillingOrchard is the ideal solution for an SME requiring management of time-based and recurring client billing. It is a complete, online billing application that maintains hourly service billing, along with flat fee and recurring billing, such as web hosting or domain registration, thus freeing up time to spend on development services rather than accounting functions.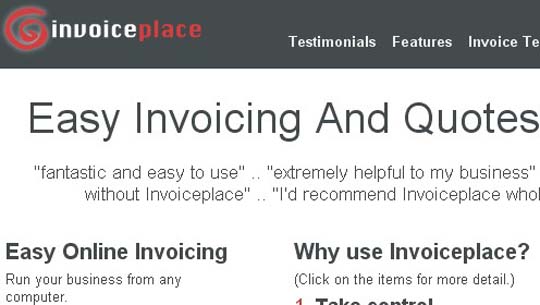 Create invoices and quotes for any type of product or service. You can use Invoiceplace no matter what you sell be it paint, jumping castles, hardware supplies, or cell phones.Similarly if you provide freelance design services, video production, professional photography, cleaning services or car repair then Invoiceplace will also save you time and help you manage your billing.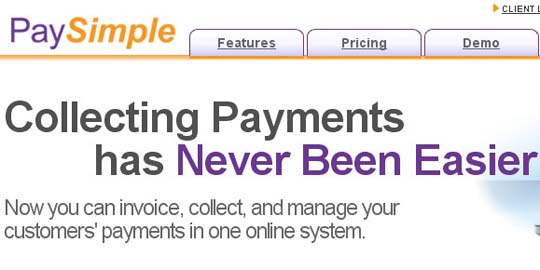 Invoice, collect, and manage your customers' payments in one online system..Set up recurring billing or send electronic invoices Accept credit cards and ACH/echecks online Securely store data, automatically deposit funds Get started with an account in 15 minutes or less with our Simple Sign-Up application.All information is securely stored with 256-bit encryption and SSL protection.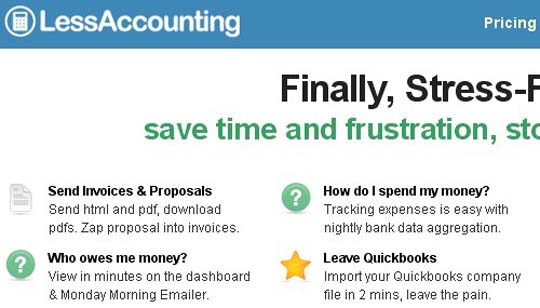 Less Everything, Inc is based out of Jacksonville, Florida. The company has been a successful web firm for several years and began pursuing Ruby on Rails product development in 2007.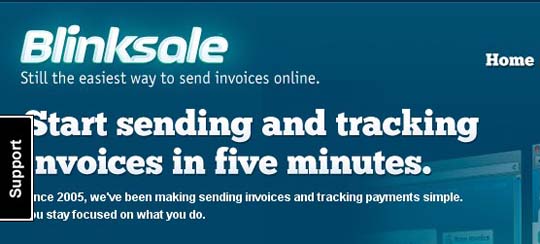 Send elegantly formatted invoices.Customize invoices with your own CSS.Automate billing with recurring templates.Import your clients from Basecamp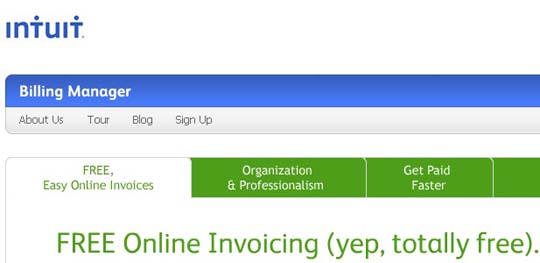 Intuit Billing Manager is the fast, easy, FREE way to Get Paid. Create customized, professional invoices and send them by email. Save time by tracking overdue payments and invoice status.All in one place.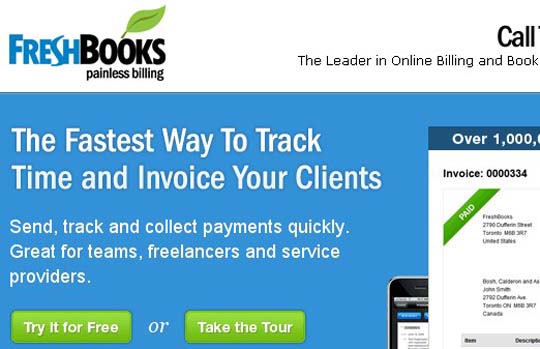 You can send an invoice a few seconds after creating your account no matter what level of experience you have.Your data deserves to be safe, secure, and accessible to you. We also believe you own your data, we do not. Your data will be easy to export any time you want it.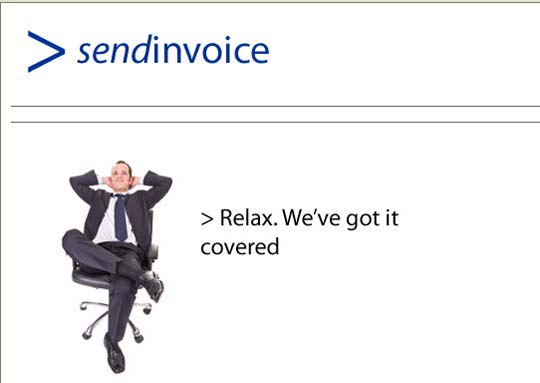 They have 5 plans from free to 59.90 Pounds.You can upgrade, downgrade, or cancel at any time for any reason.30-day money back guarantee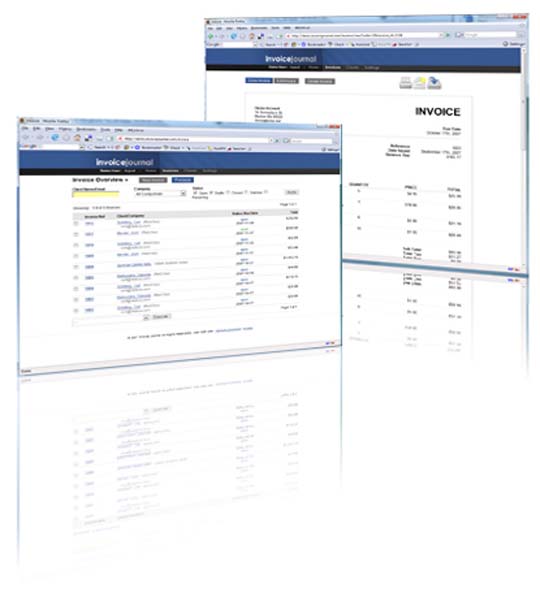 Invoice Journal is a web application which means that you can send invoices from a deli in Spain, the beaches of Bora Bora, or your small cramped office back home.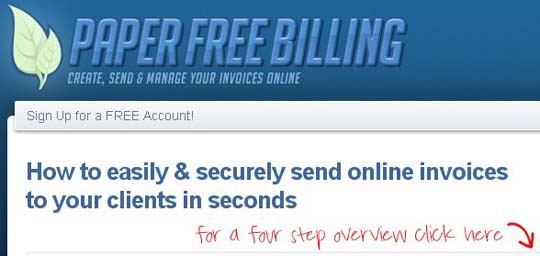 Paper Free Billing is an easy to use, safe and convenient way to send and manage your invoices online. Paper Free Billing is the perfect solution for independent developers, graphic artists, photographers or anyone that bills their clients directly without the need for a costly, complex invoicing system like QuickBooks or Cannybill.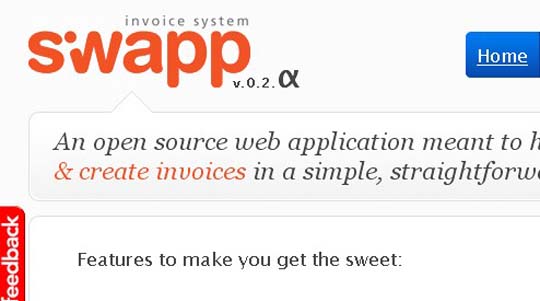 An open source web application meant to help manage & create invoices in a simple, straightforward way.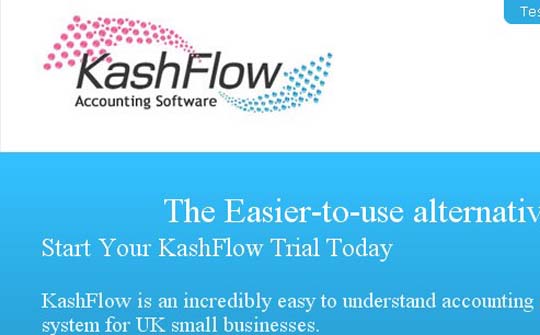 KashFlow is an incredibly easy to understand accounting system for UK small businesses.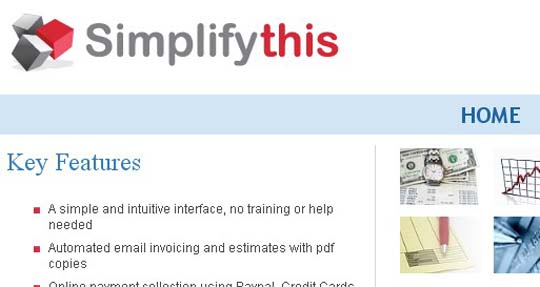 Use SimplifyThis Easy billing system to bill clients from anywhere. Send invoices online and let clients easily make payments to your online bills.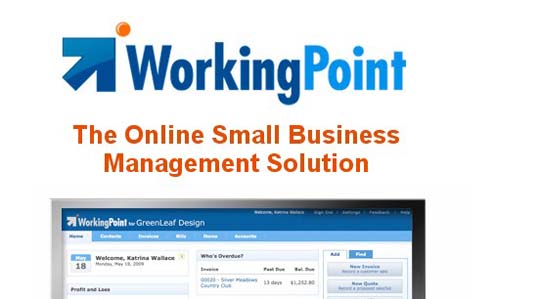 Small business accounting and online invoicing software provided by WorkingPoint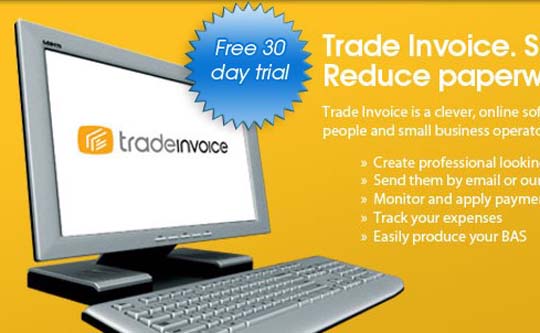 There is no need to purchase, install or download any expensive software. Simply login to the system via any internet connection and you instantly have the ability to utilize Trade Invoices many features.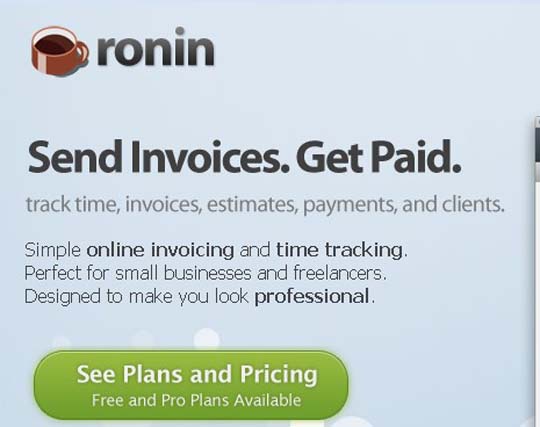 Ronin is a flexible application designed for creative professionals looking for an easy, affordable, web-based way of managing clients and invoices.Located in Mountain View, CA. We're a Silicon Valley company without the Silicon Valley attitude.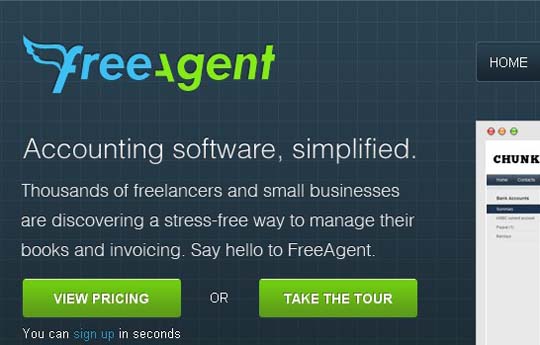 Online accounting software for small businesses and freelancers. 30 day Free Trial.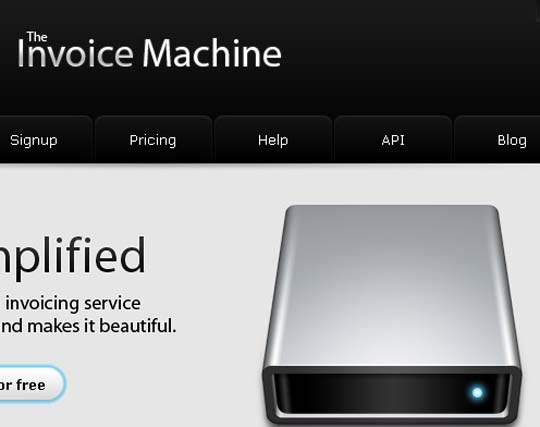 Send invoices directly to your clients. You can attach the invoice as a PDF file to an email.The Invoice Machine comes with a billing timer. Just let the timer tick in the background while you do your work.Customize your emails. You can have The Invoice Machine automatically send out thank you and reminder emails.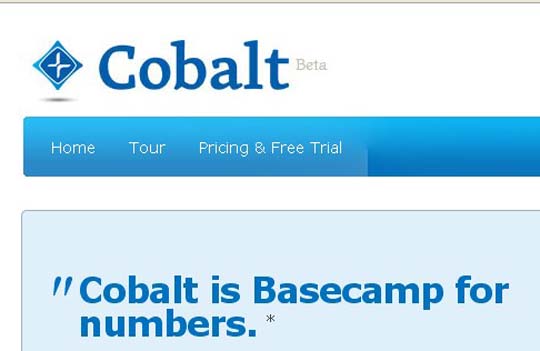 Cobalt is not full featured accountancy software but a beautifull tool to keep track of your bills and payments. If you use Cobalt you save money.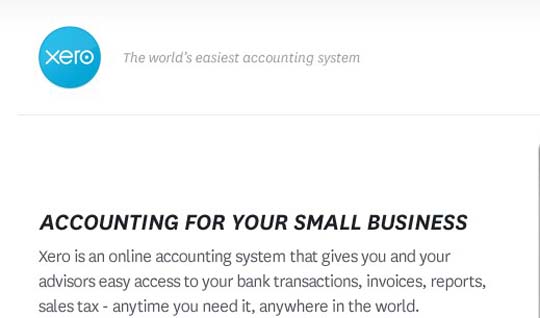 Xero was founded in July 2006 by successful technology entrepreneur Rod Drury and specialist small business accountant Hamish Edwards. Xero is listed on the New Zealand Stock Exchange and is a fast growing company with offices in Wellington, Auckland, Melbourne, Sydney, Brisbane and London.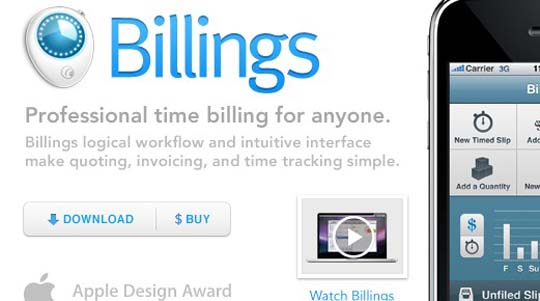 Billings combines powerful features with stylish designs so you can send elegant invoices right out of the box. Choose from any of the customizable templates, or create your own with the built-in WYSIWYG designer.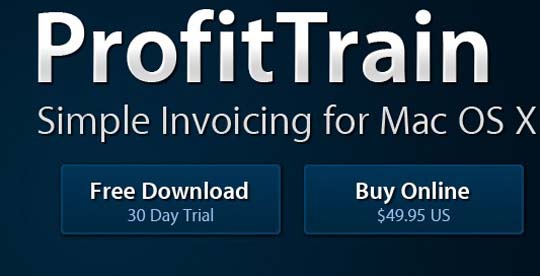 A simple invoicing tool for Mac OS X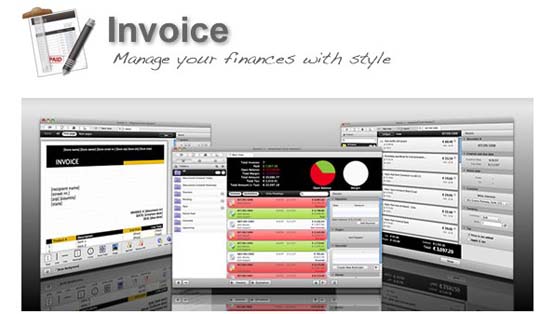 It has many features and many users recommend KEDISOFT.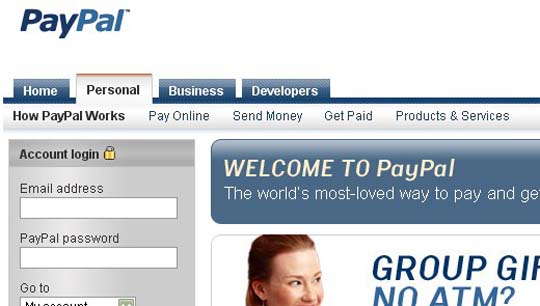 One of the most used system and it has many advantages.One of them is you directly get the money to your bank account.